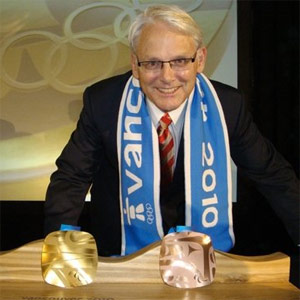 Mi'kmaq Chief Misel Joe said the children in his community need an apology from British Columbia Premier Gordon Campbell after an invitation to sing at the opening ceremonies of the 2010 Olympic Winter Games in Vancouver was rescinded.
"There's no shame in making a mistake, even for a premier," Joe said.
Two years ago, Campbell heard the Se't A'newey First Nation Choir, which is based in Conne River, Newfoundland, sing at the National Aboriginal Women's Summit in Corner Brook.
Campbell, according to various reports, attended the event with Newfoundland Premier Danny Williams and was so impressed by the choir that he invited them to sing at the opening ceremonies for the 2010 Winter Olympic Games in Vancouver.
Joe said, "I was floored when Campbell said, 'I want you to perform at the Olympic Games in 2010' and then invited them."
There was never an official invitation, but the children in the choir and the people in the community took Campbell seriously, said Joe. "You don't make those kinds of promises to children and not have them take you serious."
'Your talent has to be known'
Others, including Newfoundland Premier Danny Williams, appear to have also taken Campbell seriously.
A 2007 article in The Coaster, a newspaper serving a region of southern Newfoundland known as the Coast of Bays, quoted Williams saying, "It's great, it's not only national exposure, it's international exposure at probably the single most important event that's going to take place in this country in the next four years."
The Olympic performance would be good for the community, he said. "Every time I speak nationally at aboriginal functions and other functions I always speak about Conne River and what a model it is for the rest of the country. Now they'll be able to see some of the children and young people who have been produced in that great community."
The same article quoted the choir's conductor, Brenda Jeddore, saying Premier Campbell assured her that he was serious and said "Your talent has to be known to the world."
The invitation was an honour and a blessing and "did so much for the children's self-esteem," she said.
Two years preparing
The choir, which has performed as far away as Japan and is scheduled to sing for Prince Charles and Camilla, the Duchess of Cornwall, during the royal couple's November visit to Canada, spent two years preparing and raising money for the trip.
Then this week, four months before the Games, Joe learned through Newfoundland officials that despite Campbell's invitation, the choir was not welcome to sing at the opening ceremonies.
"He had no authority to make that promise or invitation," said Joe. It's up to Olympic officials, not the premier, who sings at the Games, he said. The message was clear that Campbell's promise was worthless, he said.
As a chief, Joe said he knows politicians sometimes make promises they can't keep. "Aboriginal people, we know that. We've been living that for 600 years." For children though, it is harder to accept, he said. "To make that promise and not follow through in some way, that's something our children will live with all their lives."
Campbell was returning today from Greece, where he attended a ceremony to light the Olympic torch, and was unavailable for comment.
'Dealing with the hurt'
A spokesperson in Premier Williams' office said Williams was campaigning in a byelection and was unavailable. Questions on the matter should go to VANOC, the committee organizing the Winter Games, she said.
VANOC media officials did not respond to queries by posting time.
CBC Newfoundland interviewed choir member Shannon Jo Hinks, a Grade 12 student. She and other choir members had been preparing traditional songs and clothes for the performance, she said, and couldn't believe the performance was cancelled. "I was really, really upset," she said. "A lot of us ... just looked at each other and we're like, 'What, we're not going now? Why would they do that to us?' "
The St. John's Telegram quoted an e-mail from a community member: "A part of each and every one of these children died last night."
Joe said he is writing a letter to Campbell and would encourage Williams to do the same. "We're just dealing with the hurt that's taken place right now," he said. "We are trying to deal with it as best we can in our community."