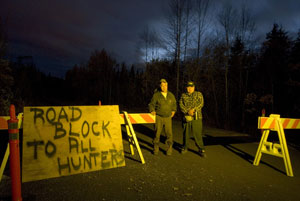 It's a crisp mid-October day and moose brisket simmers over an open fire at the site known as Eight Mile on the Telegraph Creek Highway. A black pickup rolls to a stop at the orange barricade and Fred Moyer springs to attention, rushing his lanky frame over to the vehicle. Raised voices and occasional laughter emerge from the quad-toting couple. Eventually the pickup reverses, turns, then roars back toward Dease Lake.
Moyer's shoulders sag as he returns to the fire. He's just turned away his cousins.
"I even turn our own people away. I say, 'If I can't go hunting, why should you?'" he says. "It's sad, but it has to be this way."
Members of the Tahltan Nation say they will continue blockading two major hunting areas in northwestern B.C. until Environment Minister Barry Penner agrees to discuss what the nation describes as unchecked hunting in its traditional territory.
However, in a meeting held Wednesday, the Tahltan were told by government spokespeople that the province would not negotiate while barricades are in place.
'This isn't just about moose'
"They told us that the minister and senior level officials aren't going to meet with us until the barricades come down. We said, that's impossible because we're practising wildlife management," Tahltan Central Council chair Annita McPhee says, adding that the government said it will cut funding for social or cultural proposals while roadblocks are up. "I just said, what's one thing got to do with the other? Are you trying to punish us for protecting our moose?"
An hour south on Highway 37, Iskut residents are occupying a second blockade at the Klappan Road turnoff. Erected four years ago when the Klabona Keepers Elders Society fought to keep Royal Dutch Shell from exploring for coalbed methane in the area known as the Sacred Headwaters, activity at the turnoff was almost non-existent until round-the-clock blockading began again in late November.
While hunters and coalbed methane might appear worlds apart, they share a common threat to the Tahltan's partially subsistence lifestyle.
"This isn't just about moose," Moyer's mother, elder Lillian Campbell, says around the Eight Mile campfire. "It's about bears, it's about wolves, it's about salmon -- it's about our culture."
Campbell was a key player in the nine-month elders' sit-in that took place in the Telegraph Creek band administration office nearly five years earlier to protest then-chief Jerry Asp's cozy relationship with industry and government. Known as Tiger Lil, she was arrested at the Iskut blockade in 2006, although charges against her were subsequently dropped.
Unlike past disputes that saw the Tahltan Nation divided, the hunting blockade has the support of the Tahltan Central Council and local band councils, McPhee says.
Around the campfires at Dease Lake and Iskut, the blockaders tell stories about carcasses left with their racks removed; they talk about the drop in moose populations over the past 30 years; they talk about what they believe is a lack of solid science to accurately determine current moose numbers. And they talk about what they see as a removed government that appears willing to reap northern resources without giving back to residents.
"We're trying to save our land -- not just for us, but for the kids, the babies and the unborn," elder August Brown says. "It's not for us, it's for the young people. Not just for the native people, it's for all people."
Hunters, First Nations say science lacking
For the most part, blockaders say the hunters they turn away have been sympathetic to the closures. Management units within Skeena Region 6 -- the province's northwestern quadrant stretching from Stewart to the Yukon border -- carry the longest open seasons in the B.C., from mid-August until mid-November. Hunters from across the province, particularly those turned down for limited entry licences elsewhere, converge on the area during the moose rut, when the animals act like love-starved lunatics.
When the blockade went up earlier this month, it took mere days for resident hunters to clear out of the area, providing a swift blow to hunting-reliant businesses like Tatogga Lake Resort, located a kilometre from the Klappan turnoff. Stopping in at the lodge after eight days hunting the Dease River, Eckard Mendel, vice president of the Bulkley Valley Rod and Gun Club in Smithers, blames the conflict on a lack of reliable population counts.
"As a hunter and on a personal basis, I have the most to lose if I don't establish that there's sufficient animals to be hunted," Mendal says. "We need to find methods so that there's an opportunity for harvest based on scientific information."
Upgraded highway helps hunters
Shortly after the blockades went up, the Stikine River at Highway 37 became a popular access point for boating hunters. Although the area has since cleared again, Terrace residents Paul Hanna and Dave Clunas pack supplies into their boat on the Stikine riverbank. The pair has limited entry licences and plan to head about 80 kilometres up river.
"These guys' concern up here, it's a pretty legitimate concern," says Hanna, who adds he has been amazed by hunting harvest numbers published for previous years. "The numbers are staggering."
As Hanna points out, recent upgrades to Highway 37 provide easier access to the region. Similarly, Royal Dutch Shell sunk $8 million last year into upgrading the Klappan Road -- originally constructed as a rail grade back in the 1970s -- to uphold its tenure in the area, facilitating access into the Klappan area. "People did come before, but not in droves. I think access is a really mixed blessing for northern communities," he says.
Ministry refusing to budge
Within the five management units encompassed by the Tahltan territory, the Ministry of Environment says 166 moose were harvested in 2007, a number it says represents a "small fraction" of what is taken throughout Skeena Region 6 annually. Also in 2007, 527 hunters, representing 4,249 hunting days, visited the Tahltan territory, compared with 4,200 hunters spending 29,500 days in the Region 6's total 29 management units.
Despite Tahltan assertions that the last population study for moose in the area was 1982, the Ministry of Environment insists that data from about seven inventories completed in the Dease Lake area since 1978, including one in the Klappan in 2001 and in Spatsizi Plateau Wilderness Provincial Park in 1990, show a healthy moose population for the area.
A ministry spokesperson confirms that decision-makers won't sit down with the Tahltan until barricades come down.
"The Minister will not meet with the Tahltan Nation while roadblocks are in place," Suntanu Dalal says. "At this time, there are no formal moose hunting regulation change proposals being considered within Tahltan traditional territory."
In the meantime, Moyer busies himself fortifying a lean-to next to the fire for the elders, one that will likely last into next season, and talks about a third blockade at the Jade/Boulder Road just south of Dease Lake for next year.