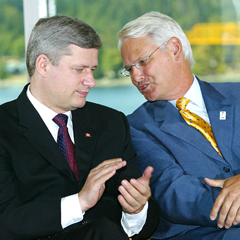 British Columbia is poised to push Prime Minister Stephen Harper to the cusp of a majority in the next federal election, provided that certain 2008 voting patterns continue.
Conservatives won 22 of B.C.'s 36 seats in the House of Commons in October of 2008. That was a gain of five seats over the 2006 election, and helped lift Harper to within 12 seats of a majority.
With Harper running well ahead in national polls and election rumours falling like maple leaves over Ottawa, Conservative political strategists are focusing their sights not on the seats Harper won in 2008, but on the five B.C. ridings in which his team racked up significant second-place finishes.
Conservative candidates came within 22 votes of winning South Vancouver last year, and within 68 votes of carrying a suburban Victoria electoral district. Altogether, a shift of as few as five percentage points in the Conservatives' favour would have awarded Harper another five B.C. ridings in 2008.
These five ridings are destined to be among the hottest battlegrounds in the next federal election, whenever it comes. And if Harper's Conservatives can pick up five seats in B.C., pick off another seven in Ontario, and somehow hold on to most of his 10 in Quebec -- then the election after next could be a long time coming.
Five ridings within five points
Conservative Party candidates came within about five percentage points of winning five B.C. electoral districts in 2008. Winning the following ridings will be near the top of the Tory to-do list in the next election:
In Vancouver South, Conservative Wai Young came within 22 votes of toppling Liberal MP (and former premier) Ujjal Dosanjh. Watch for the Tories to build on their recent success among immigrants in this Fraser River riding, where Chinese-Canadians comprise 45 per cent of the population, and Indo-Canadians another 13 per cent.
In Esquimalt-Juan de Fuca, Troy DeSouza came within 68 votes of beating Liberal MP Keith Martin. There were 67 disputed ballots. (DeSouza, a lawyer, called off a recount after it became apparent that even if he won the dispute, he'd lose the race.) Like Vancouver South, this suburban Victoria riding will likely emerge as a battlefield in the proxy war between Ignatieff and Harper.
In Burnaby-Douglas, Conservative Ronald Leung finished only 798 votes behind New Democratic Party MP Bill Siksay. That's a difference of less than two per cent.
In New Westminster-Coquitlam, Yonah Martin lost to NDP incumbent Dawn Black by 1,488 votes, or about three per cent. Martin was appointed to the Senate in January. Black subsequently moved to provincial politics, which could level the playing field for the next campaign.
And in Newton-North Delta Conservative candidate Sandeep Pandher lost to veteran Liberal MP Sukh Dhaliwal by 2,493 votes -- a margin of five per cent. NDP candidate Teresa Townsley finished less than four points behind Pandher, increasing the likelihood of yet another hard-fought three-way contest in this suburban swing riding.
Burnaby has historically been an NDP stronghold regarded as out-of-reach for the Conservatives because New Dems are far less likely than Grits to occasionally vote Tory. But Metro Vancouver's real estate boom has altered the demographics of these fast-growing suburban ridings.
As a Conservative Party insider put it during an interview with The Hill Times: "I'd be looking at anything that's even remotely close, even if it's not a historic Conservative seat."
No such easy pickings for the Grits
Federal New Democrats hold nine seats in British Columbia. In addition to defending those ridings, the NDP have two second-place finishes of their own to build upon:
In Surrey North, NDP candidate Rachid Arab finished only three per cent behind Conservative MP Dona Cadman, the widow of former Independent MP Chuck Cadman.
And in Vancouver Island North, NDP candidate Catherine Bell finished just 4 per cent behind Conservative MP John Duncan.
The Liberals hold only five B.C. seats in the House of Commons. And there was not one riding in the province where in 2008 the Liberal Party of Canada finished within striking distance of the victor.
Saanich-Gulf Islands was the Liberals' best second place finish. Liberal activist Briony Penn finished only four points behind Minister Gary Lunn. But that statistic gap belies the unique nature of that coastal riding, which has repeatedly pitted a Liberal, a New Democrat and an unusually strong Green candidate against Lunn; and repeatedly reelected a right-wing MP formerly known as "30 per cent Gary."
In North Vancouver, Liberal MP Don Bell lost to Conservative challenger Andrew Saxton by only five per cent. Bell, a former North Vancouver mayor, had held the seat for four years. But prior to Bell's tenure, the riding had spent 30 years in Reform, Alliance and Conservative hands.
And in Vancouver Kingsway, Liberal challenger Wendy Yuan finished six per cent behind New Democrat Don Davies, and about two points ahead of Conservative challenger Salomon Rayek. But the curse of David Emerson continues to inspire visceral anger all along Kingsway. (Emerson, who never lived in the area, was parachuted into the once-safe seat by Prime Minister Paul Martin in 2004, but defected to the Conservative Party immediately after Harper was elected in 2006.)
To put Liberal Party prospects in perspective, consider this: A shift of as few as 4,875 key votes would have awarded Harper five more seats in 2008. It would have required almost twice as many votes for the Liberals to gain even these three seats.
Harper holds 18 safe seats
While Metro Vancouver and the Victoria suburbs play host to the majority of B.C. battlegrounds, much of rest of the province remains firmly in Tory control.
Fully 18 of the 22 seats currently held by Conservative candidates are virtually unassailable. In 2008, the Tories carried more than half the popular vote in 13 ridings, and won by safe margins of more than 10 per cent in another five.
Federal New Democrats hold only five such "safe seats" in B.C., with only one riding (Vancouver East) won by more than half the vote.
And the federal Liberal Party failed to win even one B.C. riding by a safe margin of 10 per cent in 2008. Veteran MP Hedy Fry came the closest, winning a four-way race in Vancouver Center by a 9 per cent margin.
"The Conservatives have a number of ridings where they rack up so much support that it's ridiculous," observed Dennis Pilon, a political scientist at the University of Victoria.
Pilon noted that the Conservative's cushion of safe seats could allow the party to shift more resources to a short list of swing ridings, while the competition would be forced to spread equally capped resources across a much greater area.
Voter fatigue favours Harper
No one supposes that a 2009 or 2010 federal election would mimic the 2008 contest. But with three of four party leaders unchanged -- and Ignatieff sagging in the polls -- it's not hard to see why Stephen Harper would be eager for the next election. His poll number are good, his war chest is full, and his trend line is pointed up: In British Columbia, the Conservatives went from 17 seats in 2006 to 22 in 2008. Nationally, he went from 124 to 143.
"The question 'Can Harper do it in B.C.?' assumes the rest of the country will stand still," Pilon said. "And that is the interesting question."
Strategist Andrew Steele recently made the case for a Harper majority. Writing in his Globe and Mail blog, Steele counted up to 13 vulnerable NDP and Liberal ridings in Ontario. Assuming that Harper could hold his support in Atlantic Canada and the Prairies, Steele argued for Harper's chances of picking up 12 seats between B.C. and Ontario.
"It is not a sure thing that Harper would be wiped out in Quebec for running an anti-separatist campaign," Steele concluded. "If Harper comes out of English Canada clearly positioned to form another government, he may be able to appeal to enough Quebecers wishing to back the winner to hold some of his Quebec seats and form a majority."
And as election rumours fly out of Ottawa this week, it's worth bearing in mind that the palpable public distaste for another Federal election this fall -- the fourth in five years -- works to Stephen Harper's advantage, while at the same time working at the expense of whatever party is perceived as having triggered the next election.
"There's two ways to win an election. One is to re-divide the pie as it stands. Another is to make the pie bigger or smaller," explained Pilon.
"Harper's success is partly due to the fact that his style of politicking has driven a lot of people away from politics. A lot of people don't like the mean, confrontational approach of the Conservative party. But instead of voting against it, they just give up on politics altogether," the University of Victoria professor continued.
'Oh, whatever...'
Indeed, voter turnout in 2008 was the lowest in Canadian history. Only 59 per cent of eligible Canadians cast a ballot. But while the Tories and the Bloc each lost about 170,000 votes between 2006 and 2008, the Liberals lost some 850,000 supporters.
"And of course that's what Harper and his bunch are hoping for," Pilon continued.
"They orchestrate a lot of photo-ops in which Harper looks Prime Ministerial. And they run their off-election smear campaign against the other leaders," Pilon said. "They're hoping that, come election day, people say, 'Oh, whatever, let's just put them in and be done with it.'"