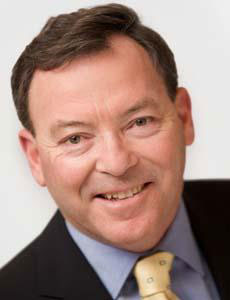 Premier Gordon Campbell declined to disclose his stock holdings before the election, but most of his cabinet members did reveal their portfolios. In at least four cases, they hold stocks in industries their ministry does business with or regulates.
Citizens' Services minister Ben Stewart's declared assets include stock in Telus Corporation, a company that has hundreds of millions of dollars worth of business with the ministry he now heads.
The detail is included in the 18 pages Stewart submitted with his statement of disclosure, a form the Financial Disclosure Act requires all candidates for MLA in British Columbia to complete.
Telus subsidiaries were paid some $70 million by the provincial government last year, according to the detailed schedule of payments included with the public accounts for 2008-2009. They include Telus Advanced Communications, Telus Communications Corp., Telus Communications Inc., Telus Sourcing Solutions and Telus Mobility.
Telus' business with the province includes a ten-year, $133 million contract to process the government's payroll and a $245 million contract to connect B.C. communities to the Internet. Both are managed through the Citizens' Services ministry.
Stewart's form does not say how much he or his companies had invested in Telus, and the law does not require filers to include that detail.
Mining head holds mining stocks
Other stocks held by the Kelowna winery owner or his companies include several that either do business with the government or are likely to be affected by provincial policies.
The assets include Bell Canada, Shaw Communications, Rogers Communications, West Fraser Timber, Finning International, Encana Corporation, Fortis Inc., Husky Energy Inc., TransAlta Corp., TransCanada Corp., SNC Lavalin Group Inc., and Shoppers Drug Mart, as well as stocks in several banks and pharmaceutical companies.
Nor is Stewart the only cabinet minister whose public and private interests may overlap. Randy Hawes, who Premier Gordon Campbell in June named minister of state for mining, owned stocks in three mining companies before the election. They include Roxgold Inc., a Vancouver company with a claim north of Hazelton; Rupert Resources Ltd., also based in Vancouver with projects in B.C., and G-4 Resources.
Like Stewart, Environment Minister Barry Penner owns stock in Telus Corp. He also continued to hold investments in several oil and gas firms and funds. Small Business and Technology Minister Iain Black had stock in Rogers Communications, a company whose subsidiaries the public accounts show did over $2 million in business with the provincial government last year.
But while Stewart, Hawes, Penner, Black and most other candidates provided details on their private holdings, allowing the public to decide if they are relevant to their public roles, their boss Campbell did not.
Premier disclosed nothing
The disclosure forms the candidates fill out say very clearly, "List the name of each corporation in which you hold one or more shares, including shares held by a trustee on your behalf."
But instead of being filled out, Campbell's form says, "Prior advice and contents of portfolio not disclosed to the candidate. All trading discretionary and administered by an investment advisor."
The practice is consistent with what Campbell has done with his disclosures under the Members Conflict of Interest Act in recent years, with the consent of conflict of interest commissioner Paul Fraser and his predecessor H.A.D. Oliver.
Disclosures for candidates, however, are mandated under different legislation, the Financial Disclosure Act. A nominee, it says, must file a form specifying "the name of each corporation in which the person or a trustee for the person holds one or more shares." That act appears to make no exception for cases like the one Campbell claims.
The act says a municipal official, public employee or muncipal employee who fails to make a written disclosure under the act has committed an offence with a maximum fine of $10,000. It is not clear how the penalty applies to candidates to be an MLA nor how it is enforced.
The form is collected by Elections B.C. and forwarded to the Legislative clerk's office, but officials in each office say they are not responsible for making sure disclosures meet the requirements of the law.
Most followed law
Despite Campbell's refusal to declare his assets, few of his colleagues have followed his example.
Just Joan Pottinger, who goes by Joan McIntyre and who served as the minister of state for intergovernment relations before being demoted to the backbench following the election, and defeated Attorney General Wally Oppal filed similar statements.
Most candidates filled the forms out in the way the law mandates.
Advanced Education minister Moira Stilwell's investments include, either directly or through her companies, Active Power Inc., Emerson Electric Co., Global Crossing Ltd., General Electric Co., Home Depot Inc., Intel Corp., Oracle Corp., Nortel Networks Corp., CISCO Systems Inc., Krispy Kreme Doughnuts Inc., Compass Minerals International Inc., Diamond Foods Inc., Gilead Sciences Inc., ITT Educational Services Inc. and Netflix Com Inc..
Nortel and CISCO are the two preferred suppliers of computer routers to the provincial government.
Olympics Minister of State Mary McNeil holds an interest in 15 real estate properties in Vancouver, Victoria, Comox, Kamloops, Chilliwack, Delta and Surrey.
Aside from Rogers mentioned earlier, cabinet minister Black's form also says he owned shares in Infowave Software, Stratweb Communications, TransCanada Corp., Lero Gold Corp., Mediterranean Resources Ltd., Black Ink Technologies Inc., AIC and Mackenzie [Financial].
Minister of State for climate action John Yap holds stock in IBM, a company with a 10-year, $300 million contract to provide computer services to the provincial government, as well as some $70 million in contracts with Service BC and the health ministry.
Healthy Living and Sport Minister Ida Chong's assets include shares in Bonaventure Enterprises Inc., Cross Lake Minerals Inc., Crystallex International Corp, Diamondex Resources Ltd., Nortel Networks Corp., Sierra Wireless Inc., Uniserve Communications, Northcore Technologies Inc., Alcatel-Lucent Sponsored ADR, Covidien Limited, LSI Corporation, Tyco Electronics Ltd., Tyco International Ltd., JGI Technologies Inc. and Rhonda Corporation.
Fewer opposition MLAs declare shares
Few on the opposition side of the house reported many assets.
Skeena representative Robin Austin had shares in Rio Tinto Alcan and Methanex. Bill Routley, the MLA for Cowichan Valley held Bombardier Inc. and QLT Inc. North Island MLA Claire Trevena and her partner had stocks in the Bank of Montreal, TD Bank, Penn West Energy Trust and Encana Corporation.
B.C.'s lone independent MLA, Vicki Huntington, representing Delta South, owns shares in the Bank of Nova Scotia, Canadian Imperial Bank of Commerce, Canadian Pacific Railway, Encana Corp., Gennum Corp., George Weston Ltd., IGM Financial, Magna International, Manulife Financial, Nova Chemicals, Petro Canada, Power Financial, Rogers Communications, Sun Life Financial, Thomson Reuters, Toronto Dominion Bank and Trans Canada Corp.
Huntington's assets also include investments in the B.C. Municipal Finance Authority, the Government of Canada, Canada Housing Trust, GE Capital Can Funding, the Province of Ontario, RBC Capital Trust and Blueprint FEE.