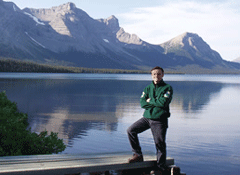 Environment Minister Barry Penner must be confident the fight against global warming won't nix oil and gas profits: four of his 10 investment picks are energy plays.
The minister responsible for leading the province's fight against climate change has bought the Enerplus Resources Fund, Canetic Resources Trust, Emera Inc. and the Shiningbank Energy Income Fund.
The details are included in Penner's public disclosure statement, filed in November under the members' conflict of interest act.
Enerplus describes itself as "one of the largest oil and gas income funds in North America." Canetic brags of "access to a number of Canada's highest quality conventional oil and gas plays." Emera's core business is electricity with a "plan for growth . . . focused on electricity and gas infrastructure." And ShiningBank says its Energy Income Fund is "natural gas focused."
Penner's public disclosure statement does not reveal how much money he has in any of the four energy-focused investments.
Penner's not the only MLA with an intriguing portfolio. Energy and Mines Minister Richard Neufeld owns stock in the Davis Keays Mining, a company active in copper mining in B.C.'s Liard district. Tourism, Sports and Art Minister Stan Hagen's investments include drug makers Johnson & Johnson, Novartis AG, Amgen Inc. and Pfizer, the company that makes Viagra. Liberal Joan McIntyre, who also goes by Pottinger, and Olga Ilich, labour minister, have diverse portfolios with stock in more than 30 different companies each.
Besides the stock investments, the statements reveal a number of interesting details about how MLAs make a living and how they live:
What's cooking: Small Business and Revenue Minister Rick Thorpe made money selling cookbooks to speaker Bill Barisoff's office. Thorpe and his wife Yasmin John-Thorpe each own one-third of Tobago International Holdings Inc. The company is involved in a movie project, among other things, and received income from selling John-Thorpe's books. She presents herself primarily as a romance writer, but is also the compiler of Taking the Heat: Canadian Politicians in the Kitchen. The book sold for $15.95 in paper, according to the 2004 edition of Canadian Books in Print, though it can now be found for as low as $3.17 on the internet. The statement does not say what the speaker's office paid for the books, nor how many copies it took off John-Thorpe's hands;
In the family: Economic Development Minister Colin Hansen's wife Laura Hansen owns IG Image Group Inc. According to public accounts, Image Group Inc. received over $25,000 from the province in the 2006-2007 fiscal year. Hansen's disclosure statement says the company had income from various government ministries and agencies, including BC Hydro, Powerex, BC Transmission, BC Lottery Corp, Vancouver Coastal Health Authority, Fraser Health Authority, Ministries of Forest & Range, Employment and Income Assistance, Environment and Education, Provincial Health Services Authority. Laura Hansen also owns Boardroom Communications Public Affairs Consulting Ltd.;
Employment and Income Assistance Minister Claude Richmond has a child working for Act Now B.C. According to the government telephone directory, Valerie Richmond is a ministerial assistant to minister of state Gordon Hogg;
Recreation properties: Premier Gordon Campbell's wife Nancy owns a share in the Napili Beach Club in Hawaii. Finance Minister Carole Taylor and her husband Art Phillips have recreational property in Whistler, as well as a 50 per cent interest in a vacation condo in southern California. Energy and mines minister Richard Neufeld owns a timeshare in Florida. Liberal Ralph Sultan has recreational property in Stowe, Vermont. The NDP's Diane Thorne and her spouse own a recreational property on Mayne Island, and along with her sons she owns a second recreational property in Trinity, Newfoundland;
Home and away: Jagrup Brar, NDP, owns a quarter of a family farm in Punjab, India, and his party mate Harry Lali owns quarter interest in five properties in the state. Lali's largest is 17 acres. He also owns a one-twenty-eigth interest in a sixth property. NDP leader Carole James owns a home in Victoria, and also joint owns another house with her mother. Environment minister Barry Penner has a roommate from whom he gets rental income.
Related Tyee stories: