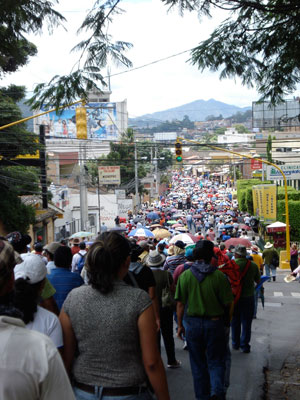 Minister of State of Foreign Affairs Peter Kent has repeatedly urged "restraint" until a negotiated solution can be achieved regarding the return of ousted President Manuel Zelaya to Honduras. He has said that Zelaya was subject to an illegal coup, but suggests that if he were to return too soon there would be an outbreak in violence. But more than seven weeks since the coup, human rights violations are mounting in the democratically-elected leader's absence.
First Lady Xiomara Castro de Zelaya, during an interview with The Tyee last week, showed the back door of her Tegucigalpa home that was shot at sixty times on the morning of June 28 when military officers hauled President Zelaya away in his pyjamas to Costa Rica. She also spoke with dismay about repression against protesters and the lack of medicine in hospitals for people who have been beaten or shot by police.
Human rights violations mount
Most recently, last week, police and military brutally repressed demonstrations calling for the return of Zelaya. On Wednesday, August 12, armed forces cracked down on a protest in front of the National Congress building where legislators were debating if they would reinstate obligatory military service or not. International observers and press watched as police chased protesters and beat men, women and youth. Various testimonies indicate that they attacked people who had not even been participating. Police were also photographed hitting a reporter who had been filming the protest.
Dozens were detained and sent to various police dispatches across the capital city. Most notably, a group of people, many bleeding or otherwise injured, were taken to a post belonging to the Special Police Forces, called COBRAs. In the 1980s, their headquarters were associated with numerous cases of disappearances and torture.
Later the same day, hundreds of soldiers and police locked down the Pedagogical University, which became a virtual holding cell for dozens of people who were forced to give declarations as a result of Molotov cocktails that had been found on location. Strangely, the lock-down occurred after those inside had already reported the presence of home-made explosives to a public attorney.
Other organizations also came under attack. The offices of a farmer's organization and a union hall belonging to groups integrally involved in the opposition to the coup were shot at during the night. In one case, the shooting took place after curfew, at which time only police and military are permitted to be in the streets.
In this context, and in response to Kent's position to keep urging patience on the part of Hondurans, the First Lady exclaims, "How can this not be the moment to restore constitutional order and respect of this people? How can it not be the moment to restore democracy to my country?"
Negotiations drag on
But Kent has remained hopeful in ongoing negotiations led by Costa Rican President Oscar Arias.
Negotiations began in early July, despite that fact that they help legitimate the de facto government and go against the spirit of a July 5th OAS Declaration which demands Zelaya's return "so that he may fulfill the mandate for which he was democratically elected." President Arias presented the current proposal, called the San José Accord on July 22. Zelaya has accepted the agreement even though it strips him of power and provides amnesty for political crimes taking place before and after his ouster. Coup leader Roberto Micheletti Bain, however, has so far refused.
Since August 5, Hondurans have been anticipating the visit of an OAS Commission in which Kent is expected to participate and which is meant to pressure Micheletti to concede to Arias' proposal. But the high level visit has yet to happen.
Meanwhile, violence and human rights violations have been racking up and Kent has failed to take his own advice.
In a July 19 statement, the Minister said, "We call on all parties to condemn any and all incitement to violence in this ongoing crisis and to respect the right of Hondurans to peace, order and good governance."
To date, around 10 assassinations have been registered in relation to the coup. There have also been various attacks on the press, thousands of arbitrary arrests, about 150 documented cases of mistreatment or abuse, and at least one young man who is the son of a long-time social activist has been missing for more than a month. Human rights organizations in Honduras are also questioning who is responsible for roughly 100 assassinations that have taken place during curfew.
Kent has not issued another official statement since July 24, and has not condemned these incidents. Nor has he suggested, considering Micheletti's intransigence, that Canada could take further measures to pressure the de facto leader to accept any negotiated agreement.
Back to the '80s
Independent Presidential Candidate Carlos H. Reyes, whose hand is severely fractured after being struck by police and falling from a five-meter high wall during a march two weeks ago, thinks that Kent has things backwards when the Minister suggests that Zelaya's return will lead to violence. "Those using repression and violence are not the protesters," he states.
"Your minister of foreign relations is poorly informed," says Reyes, also president of the Bottling Workers Union (STIBYS, by its initials in Spanish). "The disinformation is so great at the moment that even our cardinal of the Catholic Church in Honduras has said that if Zelaya returns that there would be blood spilled. But whose blood? Those who are governing? We are not armed."
The repression and violence have been so intense that activists and human rights advocates are seeing links with the past to a time when government-supported death squads disappeared, tortured and murdered hundreds of suspected leftists. Not only do they say that the degree of repression is comparable, but they recognize many of the same actors.
Micheletti's security advisor is Billy Fernando Joya Améndola. Billy Joya is recognized as a former operative of Batallion 3-16, a group of military officers who received training at the School of the Americas, and which is associated with hundreds of cases of kidnapping, torture and murder. Joya himself has numerous unresolved charges, most notably for the illegal detention and torture of six university students in 1982. He recently told the New York Times that, "The policy [in the 80s] was, 'The only good Communist is a dead Communist,' and 'I supported the policy.'"
However, the de facto government and most coverage by corporate media presents Zelaya and opposition to the coup as representing the threat. "They say that they're investigating," notes Reyes, "whether I or another leader in the resistance is receiving money from narco-trafficking, Chávez or the FARC." The labour activist raises his right arm to help stop the swelling in this hand, revealing bruising all along the soft tissue of his upper arm. "The idea of a 'red scare' has not changed since the '80s," he says, when leftist activists were supposedly receiving funding from Moscow.
He suggests that Kent's position is off-base, and offers that he would be happy to meet with him to clarify anything that the Minister might like to know.
'Waiting for another coup?'
"One makes the conditions, one doesn't wait for them," says Bertha Oliva, Director of the Committee for the Families of the Detained and Disappeared of Honduras (COFADEH). "Positions like this do not help at all."
Not only has the delay in Zelaya's return led to a rise in human rights violations, the de facto government has also had time to install its supporters throughout the state. Notably, she points out, they are seeing a growing military or retired military presence in public institutions.
She is also critical of negotiations with a coup government that the international community has presumably not recognized. Beyond conditions in the San José Accord that would leave Zelaya as a decorative leader for the brief remainder of his term, she is concerned about the possibility of an amnesty. For Oliva, who has been working since the 1980s to ensure that those who were disappeared are not forgotten and that their cases are not dropped, she says, "Impunity is non-negotiable."
Other critics of the delay in restoring Zelaya to the presidency raise questions about why Minister Kent has not taken a tougher position. They note that Canadian companies such as Gildan Activewear and GoldCorp have important interests in the country, and it could be that they were not pleased with the recent hike in the minimum wage or with growing pressure for mining law reforms. If not, why has Canada not withdrawn support for its Military Training Assistance Program or been considering other economic sanctions that could help advance the negotiation process? And why, some ask, has Canada not vigourously condemned human rights violations taking place given Honduras's important position as the second largest recipient of Canadian aid money in the Americas after Haiti?
First Lady Xiomara Castro de Zelaya has questions of her own for Minister Kent: "Is he waiting for another country to suffer a coup? Or until they kill who knows how many people? He says it is not the right moment. But this is not about President Zelaya. The President represents the restoration of rights to the people." His return, she says, "is a mechanism to find peace and tranquility."