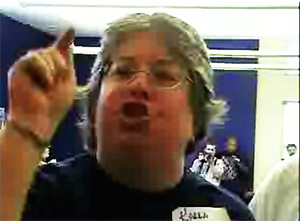 A series of video bombshells that hit the net last week gave viewers a flavour of the mayhem caused by angry mobs transforming town halls to 'town hells' in the U.S.
Designed to sell a Democratic national healthcare plan to constituents, the meetings have instead been most successful in attracting right-wing shit-disturbers. In one video, Americans are seen banging on doors outside a town hall in Tampa and yelling "Hear our voice! Hear our voice!" In another, a group of attendees are caught on camera brawling after a town hall in St. Louis. The fight led to the arrest of six people -- two were due to "suspicion of assault, one of resisting arrest and three on suspicion of committing peace disturbances."
Another video making the rounds is of a town hall in Dallas organized by the AARP, a non-partisan special interest group. The video cuts between shots of exasperated organizers and their unruly audience. The organizers eventually walk out. This seems to be the protesters' modus operandi -- to overwhelm town hall organizers and ultimately shut down debates.
And their strategy seems to be working. As the healthcare reform debates rage on, pundits ask not whether Obama's healthcare imbroglio will cost him in the polls, but by how much.
In a debate that has pitted Democratic against Republican community organizers, who have more clout is still unclear. Supporters of Democratic healthcare legislation benefit from a $40 million budget and the efforts of labour unions, community activist and special interests groups such as SEIU, AFSCME, Acorn and Healthcare for America Now. On the other hand, Republican industry-backed groups appear in good company with some of the more aggressive right-wingers in the country. Their incendiary tactics have succeeded in leading organizers to cancel town hall meetings over fears of violence.
Watching some of these tactics used and captured on video is uncomfortable, to say the least. But it's worth asking: Are these protest strategies citizen participation at its finest, or democracy gone haywire?
It's difficult to judge while watching YouTube. While the Web is rife with videos of the most virulent of protests, perspectives from moderates weighing in on the debates -- whose views are no less important -- are lamentably harder to find.