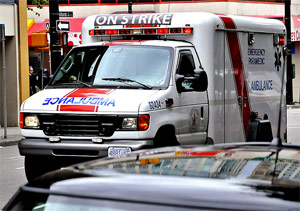 Canadians hoping to travel by train this past weekend quickly realized the two-day strike by the engineers' union at Via Rail had halted most passenger rail service across the country.
And Torontonians are all too aware of the city workers' five-week labour dispute that has seen garbage pile up on streets and shut down many municipal services.
But a strike by B.C.'s 3,500 paramedics and dispatchers -- soon entering its fifth month -- seems to have hardly made a bump on the public radar.
A large part of that is because though the union is officially on strike, employees are still on the job.
And while this has allowed the striking paramedics to collect a paycheque, it also means the pivotal weight of public discontent remains largely outside the paramedics' arsenal of strike tactics.
Where is that lever?
"Where is their leverage?" asked Mark Thompson, professor emeritus at UBC's Sauder School of Business and researcher of public sector industrial relations. "There is not a great public outcry because the basic level of service is being maintained," he said.
The union is under a strict Essential Services Order that dictates there can be no negative impact from strike actions on basic ambulance services. Emergency ambulance responses, dispatches and inter-facility patient transfers must be maintained at regular levels.
While regulations are normal for public service strikes deemed essential, union officials have argued the order is unfairly severe and has hampered any opportunity to carry out an effective strike.
"It certainly feels as if the cards have been stacked against the paramedics," said BJ Chute, director of public education for CUPE 873.
"The Labour Relations Board, through the Essential Services Order, has taken away our right to strike," he said.
Rumbles no one feels
Just over a month into the dispute, the B.C. Ambulance Service asked the board to file the order with the Supreme Court of B.C. The court ruling made the order enforceable by law and puts both the union and individual paramedics at risk of contempt charges and legal sanctions if they choose to break it.
With these threats, union officials have been advising members to abide by the order and instead have tried to negatively affect other work duties.
"We have withheld a variety of administrative tasks, the most recent one being the wearing of uniforms, as well as the scanning and record keeping of patient care records," Chute said.
But these disruptions are minimal, especially in the effect they have on the public. So with what it sees as few other strike options, the union has repeatedly asked for an independent party to settle the dispute.
"What it is that we're asking for is just a fair process and that fair process we believe is having an independent arbitrator," Chute said. "We're willing to live with the consequences of the decision, whatever that may be."
Where they broke down
The last set of talks between the union and employer broke down over a month ago, with the parties far apart on a number of issues, especially wages. The union wanted a three-year contract totalling a 13-per-cent wage increase, while the Ambulance Service offered a one-year deal at three per cent.
The employer has rejected the union's calls for a third-party appointment to settle the dispute.
"We've had a mediator in this dispute since before the strike," said Lee Doney, CEO of the Emergency and Health Services Commission, which oversees the ambulance service.
"I don't see the value of going to somebody else at this stage," he said.
Arbitration is too risky for the employer in this dispute, Doney said, compounded by the current difficult economic times. He said he worries an arbitrator could simply order a contract that splits down the middle between what he considers to be the unions' unreasonable monetary wage and benefit demands and a 'fair' offer from the employer.
"This dispute is best solved by the parties getting together and the union moderating its demands," Doney said.
'I'm not going to interfere': Falcon
After the last set of talks broke down on June 19, the union appealed to the province to intervene and assign an arbitrator. But newly-appointed Health Services Minister Kevin Falcon quickly ruled out any inclination that he would step in.
"I'm not going to interfere in this dispute between the BCAS and the paramedics' union," Falcon said in a written statement last month. "I firmly believe that there is no reason the two sides can't return to discussions and reach a fair agreement that addresses paramedics concerns, while recognizing the economic challenges we face in government."
While the union expressed much frustration with Falcon's response, Thompson said provincial intervention would have been highly unlikely.
"The government is reluctant to kind of see its bargaining authority essentially given to a third party," he said.
"In the last ten or 15 years I can't think of any government that was willing to arbitrate these things -- they just don't do that. They don't have to and they choose not to."
Appealing to the public
With arbitration off the table, the union has put a lot of focus on its public awareness campaign. Given the nature of the paramedic service, it faces an uphill battle, Thompson said.
"The problem with a group like this is... you really appreciate them when they're there but for most of us, happily that's a rare circumstance. So it doesn't grab the public attention," he said. "That's just in the nature of their work."
And without being able to negatively impact the public service, the striking paramedics are limited in the ways they can build this awareness about their dispute, he said.
"They can demonstrate some more and try to attract public attention... but I think that's about it."
Aside from picketing and 'On Strike' signage on ambulances, the union has been maintaining a website called saveourparamedics.ca. Most recently, it has appealed to British Columbians directly with radio, television and newspaper ads.
"We have stepped up the advertising part of our campaign," said Chute. "We're going to continue running ads throughout the entire province until this government wakes up and realizes it's time to start respecting paramedics," he said.
Meetings with MLAs
Alongside public support, the union is also hoping that direct appeals to elected representatives could yield some influence. Union officials said they will contact MLAs to try to build support and will inform the public about the results of these efforts through advertising in local media.
"We'll be seeking meetings with the MLAs over the summer and we're going to ensure that these MLAs are aware of all of the critical situations within their constituencies facing the Ambulance Service," said Chute.
The union has already received support from opposition members, he said, and B.C. New Democratic Party leader Carole James has called on the health minister to appoint an independent arbitrator.
But government intervention could also come in the form of back-to-work legislation.
"That may happen when the legislature comes back," said Thompson.
"The way public sector bargaining works across Canada is that the government makes an offer and kind of sits on it and there is very little movement off that and if people don't like it, then they get legislated back to work," he said.
"That's what happened in the first five years of the Campbell government -- there were like ten or 11 pieces of back-to-work legislation."
The union remains firmly opposed to legislation as a means of solving the dispute, Chute said.
Will resolution be legislated?
"I don't see that being taken very lightly by paramedics," he said. "I think that this government is mistaken if they think that legislation is the answer and if this government wishes to legislate paramedics, I think they do so at their own peril."
The BC Ambulance Service is more reserved in its opposition to back-to-work legislation.
"The employer would like to see this resolved at the bargaining table but if this continues to go on and there are patient safety concerns and the union will not moderate, we would certainly comply with whatever the legislature asks us to do," said Doney.
With the legislature set to resume in less than a month, the possibilities of a government role in solving the dispute will soon become clearer. At the same time, both parties have said they remain open to return to the bargaining table, though no further talks have been scheduled.
"It's got to end sooner or later, every strike does," said Thompson. "At some point a move will be made by one side or the other to bring it to conclusion."
This timeline remains unclear for now, he said, but one upcoming event is sure to put a deadline on resolving the dispute -- the Olympics.
"I can't believe this will be going on in February or even very close to February when you've got the eyes of the world and you've got picket lines," Thompson said.