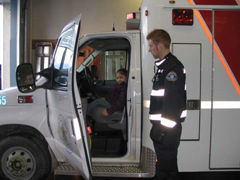 Thinking of driving an ambulance in British Columbia? Here's a checklist of what to expect.
You'll spend thousands of dollars on your training. Then there's a good chance you'll be required to start out in a rural corner of the province. Expect your job to be officially "part time" but you'll probably work far more hours every week. For many of those hours you'll be paid just above minimum wage, or even less. Way less. How about two dollars an hour for being on stand-by to rush off on a call the instant you're paged?
And if the life you are sent to save is down some twisty, poorly marked country road, don't expect fancy gear like a GPS system to help you find your way. Unless, perhaps, you want to pay for it yourself.
That's the portrait of life as a young paramedic that emerges from interviews with a number of new and veteran paramedics around the province. It's a reality that deeply disappoints 23 year-old Steve Stringfellow, who started his paramedic career in Terrace three years ago after training in Kelowna.
"I moved up to Terrace and I found out it's not what I expected at all," says Stringfellow.
After finishing his six-month course, he was all ears when the B.C. Ambulance Service came to pitch its employment.
"They came and sold you a full-time paramedic job," says Stringfellow. "It sounded really good."
But his hopes of a permanent salary, regular hours, benefits and the tools to adequately perform his work quickly fizzled.
Instead, he is stuck with part-time status while putting in hours sometimes double or triple a regular 40-hour work week. Some shifts he gets paid only $10 an hour -- others only $2. He has no guaranteed number of shifts and his hopes of benefits are still a couple of years away.
The high turnover rate of his colleagues means he may be working with paramedics unfamiliar with remote areas, making his job more difficult and putting the patients under his care at risk.
But Stringfellow says he will stick it out because he's doing what he loves and has already invested a substantial amount of time and money into his career.
He's also invested more than two months on the picket lines. Stringfellow and his 3,500 colleagues around the province have been on strike since April 1, pressing for increased staffing levels, faster response times, a multi-year contract and wage parity with other emergency responders.
'You never know month to month'
Well over half of B.C.'s paramedic positions are part-time and because of union seniority rules, these are usually the only jobs available for new paramedics.
"If you're applying, you obviously need and want a job so you have to go where there's work," says Amy Chris, a nine-year veteran and the East and West Kootenays chief shop steward with CUPE 873, the union representing B.C.'s paramedics. Out of her 18 colleagues in Fernie, only the unit chief is full-time.
Each month she submits her availability and waits to find out her schedule, with no minimum or maximum guarantees.
"You never know from month to month how much you're going to be working," she says.
And unlike most employment, part-time status for a B.C. paramedic does not correlate to part-time hours.
"I do the 'part-time full-time' gig," says Stringfellow, explaining that his hours often far surpass full-time work, even though he is classified a part-timer.
This week he is scheduled for 113 hours, he says.
He has lucked out and is able to pick up a few shifts from absent full-time staff. But the majority of his work, like other part-timers, will be divided into stand-by shifts at his station and on-call hours where he carries a pager.
It's a standard shift set-up for rural and remote regions. Most stations rely on their part-time paramedics to be available on-call for long hours.
Waiting at the station
"In a two-week work period, I can work up to 110 hours on a pager," says John Togyi, a Vandherhoof-based paramedic and CUPE 873 regional vice-president. "In other stations, because they might have less staff or are only a call-out station, that could be double that," he says.
And while being on-call allows him to be home, Togyi says working a pager shift is a significant responsibility.
"You've got be within a reasonable response time of your station, so you're tied to that station," he says. "So going fishing isn't an option. You want to have a glass of wine? -- forget that," he says.
Along with no guarantee of hours, part-time paramedics also have no minimum salary. Compensation for part-timers is largely based on the time spent replying to calls. The rest of the time employees receive a small stipend.
For stand-by shifts where paramedics are based in the station, this amounts to a little more than the province's minimum wage.
"For $10 an hour we sit at the station and wait for a call to come in," says Chris.
On-call paramedics receive even less. "They're at home and they carry a pager and they do that for $2 an hour," she says.
It was this $2 stipend that created a small stir in the recent provincial election. Premier Gordon Campbell reportedly flipped a loonie at a striking paramedic in Vernon during a campaign stop.
According to the union, the paramedic replied, "Thanks a lot, that's half an hour's pay for me."
When stand-by and on-call paramedics do respond to calls, they are compensated for a minimum number of hours at a regular paramedic wage. For stand-by shifts this means at least three hours compensation per call, while on-call paramedics collect a minimum of four hours.
But for shifts that are often between 10 and 14 hours in length, it means that a full-time wage is only possible for a shift where multiple calls come in. Call volume varies greatly between regions, with rural and remote stations receiving substantially fewer calls than urban centres.
"Generally, I think we probably average about a call a shift," says Chris, referring to the Fernie station. And there are shifts where paramedics receive no more than their $10 or $2 per hour, she says. "It's not unusual for our crew members not to get a call."
Not enough to pay the babysitter
It's a similar situation for rural and remote stations throughout the North, says Togyi.
"We had a full weekend in Vanderhoof where we had one call in the 48-hour period," he says, adding that the call volume at Northern stations fluctuates greatly based on a number of factors, such as location and time of year.
"There will be days where you'll get called out in the morning at the start of your shift and you won't actually see your station until the end of the shift," he says. "But sometimes people can go a whole two weeks on a pager and not get a single call."
It's these shifts that pose the biggest challenge for part-timers relying on their paramedic job as their sole source of income.
As a union representative, Togyi says he often hears concerns from paramedics completing shifts where they only receive their stipend pay. One woman he spoke to recently from Chetwynd said she sometimes makes less money on a stand-by shift than she pays for her childcare.
"It costs her on a 10-hour dayshift $65 for daycare and that leaves $35 out of her pay left over," he says. On a day when she is with her pager, she could actually lose money, he adds.
He relates a similar story of a couple who are both paramedics in Hazelton. Their family cannot afford a babysitter when all they receive is stipend pay and so one partner works while they other takes care of their children.
Holding down two jobs
This lack of reliable income forces many paramedics to hold a second job. "I would say that 50 per cent of my crew does," says Togyi. In Fernie, the percentage of paramedics with a second job is even higher, says Chris.
It's a reality many rookies are forced to accept if they want to pay off their student debt. Paramedics are responsible for their own training costs and Stringfellow estimates he paid $13,000 for his six-month relocation to Kelowna for his training.
"I got out of school expecting to quickly pay back my schooling and that wasn't the case," he says.
Growing up in Houston, he gave up a higher-paying job at a mill to become a paramedic. "I took quite the pay cut to come to a position like this and I'm working a lot more hours to do it," he says.
The lack of job benefits also provides a significant challenge for rookie paramedics, he adds. "We don't have any benefits for the first six years."
High turnover increases risks
With irregular hours and pay, recruitment and retention at low call-volume stations is an ongoing concern.
"The rural and remote stations definitely have a harder time attracting and training staff just because the earning potential is so low," says Chris.
At her station in Fernie, she says many rookies request a transfer often within three to six months, shortly after their probation period is finished.
"We have a hard time keeping staff," says Chris. "Most of the staff we have that is not native to Fernie ends up moving on fairly quickly."
This high turnover rate is a concern not only for the paramedics but also for patient care, she says.
"Being in a remote area there's lots of logging roads and back roads and our call response area is so large that there are lots of places, especially popular local places, that go by local names and local landmarks," she says. "So if you're not from here or if you haven't been in Fernie or the Elk Valley for a while you might not know those locations."
Part of this problem could be solved, says Chris, if better navigational equipment were provided to paramedics.
"We would love to have GPS but BC Ambulance won't approve them unless we buy our own personal ones, which a lot of crew members have done."
Some stations in the North have resorted to fundraising for such equipment with golf tournaments, bake sales and letter-writing to local businesses, says Togyi, a situation he finds concerning.
"Why should we be providing the equipment the employer, in my opinion, should be required to supply?" he asks.
The lure of Alberta
Like in Fernie, keeping staff is a problem throughout much of the province, and the North is no exception, he says.
Many of the paramedics placed here soon try to transfer to higher call-volume stations where their earning potential is greater. But a significant number of new paramedics decide to pack up and leave the province altogether, he says.
"They're heading to Alberta where they're getting paid a full wage for the time they're sitting in their station."
He recently spoke with a paramedic instructor in Kelowna who said a large number of his students are pursuing this option. "50 per cent of his class is heading to Alberta," Togyi says.
It's a move that Stringfellow says he has also noticed with his peers.
"There are a lot of people contemplating it," he says. "I've even contemplated it myself."
But he says he has family commitments in B.C. and doesn't want to leave his home province.
He says he has also considered switching careers but wants to see a pay-off on his investment and he really enjoys doing what he does.
He's holding out hope that the strike will address at least some of the challenges paramedics face.
"The system is really bad and needs to be changed," he says.
'Get ambulance service right': MLA Macdonald
While the politicians largely stayed mum about the labour dispute during the election campaign, there is some indication the issues may now be getting some attention from Victoria.
"The government has a responsibility to get the ambulance service right," Norm Macdonald, NDP MLA for Columbia River-Revelstoke recently told the Revelstoke Times Review.
"The last paramedics' contract made significant changes to pay structures and educational opportunities which made the job of a rural paramedic much less appealing. In order to make a living, many rural paramedics are choosing to move to larger centres, leaving rural communities scrambling to fill the ranks," Macdonald said.
BC Ambulance Services declined to comment for this story. But after over two months of broken-off talks, there is recent indication that discussions between the striking parties could soon be progressing. On Tuesday, they announced they are close on a number of issues and will hold two days of talks beginning June 11.
Unless the entire system is fixed, Stringfellow is not very optimistic about the challenges facing part-time paramedics.
"I think the recruitment and retention is going to get worse and worse," he says. "People might think twice about becoming a paramedic."
After three years on the job, he has his own advice for young people considering his career path.
"I would recommend paramedicine to anyone because it's an awesome job," he says. "But I would not recommend anyone become a paramedic in B.C. under the current conditions."
Related Tyee stories:
'Bevel Up'
Nettie Wild's new doc about nurses in the trenches.