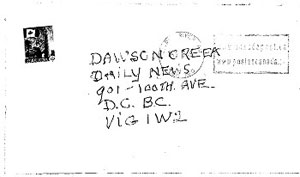 The investigation related to the six northeast B.C. pipeline infrastructure bombings is narrowing in on a small community near the Alberta border, where bloodlines lead back to Sudeten Germans expelled from western Czechoslovakia after World War Two.
RCMP believe the person responsible for the bombings dating back to last October likely lives near Tomslake, an area south of Dawson Creek that was settled in the 1940s by Sudetens intent on becoming farmers after being expelled from their European homeland.
The investigation's focus is being sharpened by a second threatening handwritten letter sent from Spirit River, Alberta on Tuesday and received by the daily newspaper in Dawson Creek on Wednesday. The letter gives oil and gas company EnCana just three months to cease operations and unroll a public commitment towards green energy alternatives, while placing a five-year deadline on the removal of all oil and gas facilities "established over the last 8 years in our territories of the Tomslake and Kelly Lake districts."
"We know that the Tomslake area was once referred to, especially after World War Two, as the Sudeten Homeland, and the word territory was also included," said RCMP Sgt. Tim Shields said at a press conference held in Dawson Creek on Thursday afternoon. "It is a term that was used in the past."
'Crazy oil and gas expansion': letter
The Kelly Lake Cree Nation also resides within the area of the bombings, but has not figured prominently in statements made by the RCMP, who are carrying out the investigation with help from their Integrated National Security Enforcement Team (INSET).
A previous letter, received by the Dawson Creek Daily News a day before the first bombing occurred last October, made reference to "crazy expansion of deadly gas wells" on the letter writer's "home lands."
"We can all take a summer vacation including your security personnel and the RCMP who have not helped you to date anyway," the recent letter states. It describes the first six bombings as "minor and fully controlled explosions," and indicated those actions were intended "to let you know that you are indeed vulnerable, and can be rendered helpless despite your megafunds, your political influence, craftiness, and deceit in which you trusted."
Many local residents "would consider this letter to be a form of blackmail -- blackmail against not only industry but also against the local community," Shields noted. "The actions that have taken place so far were extremely violent in nature, and we understand that the bomber has some legitimate concerns, but there is a proper forum to speak about those concerns."
"If we have a person of interest, we have to do whatever we can to open up a dialogue with that person, even though some of them are refusing to speak to our investigators, and are literally running away from investigators whenever they see them."
Sudeten history
The Sudetens became allied with Nazi Germany in the late 1930s as a means of escaping from Czechoslovakian oppression, though many faced persecution from the Nazis themselves over the course of the Second World War. As a result of the Potsdam Conference in 1945, Sudetens were expelled from their traditional homeland. Some came to Canada, and a group of about 500 chose to live in the South Peace, in what is now Tomslake.
Their descendants may again be feeling as though they are under siege, as shale gas development carried out by EnCana and about a dozen other companies mean the formerly pastoral area has become a maze of roads, pipelines, wellheads, and compressor stations. Sour gas flares burn day and night, and while the industry is welcomed by many for its well-paying jobs, some fear the acute and long term risks associated with the hydraulic fracturing of rock and with the possible release of toxic hydrogen sulphide from the operations. Making matters worse is the ongoing RCMP investigation -- nine months long and counting -- that has brought forth several allegations of police harassment.
The six bombings thus far have caused significant damage to gas infrastructure. While no one has been injured, the risk involved with repairing damaged infrastructure are significant.
"Don't press the issue in your pride and greed and force worse things to happen," wrote the letter's author, presumed to be a person connected with the bombings, all of which have targeted EnCana infrastructure.
Risky business
A video posted to the RCMP website shows gas workers attempting to cap a wellhead where the fifth bombing occurred on July 1. The workers are "exposed to extreme and life-threatening danger," said Shields.
At the press conference, Dawson Creek Mayor Mike Bernier added what's become a customary appeal for local elected officials: for anyone with information to come forward to the RCMP.
"I truly, truly believe that the person or people behind this, their intention is not to injure anybody, but accidents do happen," he said. "We really urge that whoever's responsible for these bombings please contact us, or contact the RCMP. We need this to stop before an accident does happen, or someone is seriously hurt."