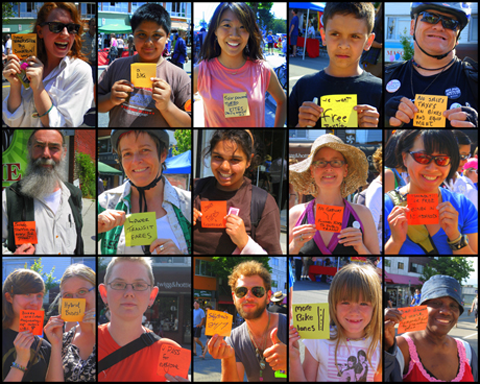 On Sunday, Car-Free Day in Vancouver, a few Tyee staff members and noble volunteers set up booths at Commercial Drive and Main Street, which were blocked off so pedestrians could roam freely. Commercial looked pretty empty in the morning as I tried in vain to tie our banner to a tree. By noon, amidst a cacophony of dueling band horns, roars from a nearby roller derby race, and energetic crowd chatter, I scanned the scene and felt awe-struck. In mere hours, the street had transformed itself into a sun-drenched, exuberant bazaar.
Car Free Day was certainly a success for Vancouver this year -- and so was our transportation themed Tyee Post-It Project.
Public opinions on Neon Post-Its
For the festival, The Tyee wanted to get a sense of the 'word on the street' and provoke public participation from our two booths. We also wanted to take photographs of festival participants to showcase Tyee fans in our Flickr photo pool.
We decided to use a bright medium for festival-goers' feedback. We placed blank Post-Its and Sharpies on a sheet of butcher paper inscribed with the tantalizing question "If you had a sweet magic wand, how would you improve transportation in Vancouver?" And then we waited, digital cameras in hand.
By the end of the day, we had received 300 Post-It answers to our transportation question and 215 photographs of smiling participants holding up their ideas -- if we took a photo of you, check out our photo film below to see yourself in action or browse through our Tyee photo pool at this link on Flickr!
Commercial Drive: Street Suggestions and Reveling
Geoff, our content manager, and I started out the day by attempting to hold down our overly animated banner while kind, like-minded organizations aided us from all sides, giving us string and other useful banner-harnessing tools. By the time the crowd and our awesome volunteers (a big thanks to Jessica, Vivian and Amanda) started to arrive we were perfectly situated and spent the day debating, discussing and shooting photos of merry Post-It holding revelers.
An amazing variety of transportation visions were represented, from the serious to the humorous to the fully ridiculous. Pragmatic visions were plentiful, ranging from "We need free transit in downtown areas" (reproduced in several forms throughout the day) to "A Car Free Day every Sunday" to "More buses NOW" to "change the collective view that we 'need' cars." Some people had more whimsical ideas. One Post-It declared "Let's have human sized hamster wheels for everyone" while another suggested "free rollerskates for those over fifty." Yet another preferred "human-sized pneumatic tubes."
Main Street: Auctioneering and Extravagant Proposals
On Main Street we tried the same thing. Calling out auctioneer-style from the side of the street, Michelle, Amelia and Shelley drew an amazing response from the crowd. The Taoist Tai Chi club meditative exercise demonstrations across the street added to the general ambience of good vibes felt by all!
Overall, the Main Street crowd was mixed in preference, with half wanting to improve the bus system and the other half mentioning improved bike facilities and car infrastructure changes. Practical ideas such as "treat employee parking as a taxable benefit" and "better late night buses" flourished, as well as suggestions to "provide lower car insurance for bus pass holders -- AND an annual bus pass" and "build more well-designed neighborhoods containing walkable amenities." Some participants had more extravagant ideas; one proposes we "put bike thieves in public stocks -- immediately!" while another chooses "electric conveyer belts instead of roads" and yet another says "teleportation for everyone -- why can't we all have wings?" Another wing-themed suggestion involved everyone "riding a unicorn," an idea which was seconded by several parties.
Improved Transit as a Crowd Favorite
Overall, the most prevalent 'word on the street' at both locations was the desire to improve public transit. Most of you asked for buses to be more reliable, more plentiful, and cheap. As Rachel Marcuse, COPE's Executive Director, wrote on her Post-It note, "It's simple. I want more buses. Lots of buses."
Making public transit a free ride (paid for through taxes or some way other than fares) was the most popular concept of all. Several participants mentioned free-fare initiatives in Portland and Seattle and asking why Vancouver can't do something similar. It was certainly evident that transit in Vancouver is a hot topic of discussion and will continue to be in the near future.
We thank all of you who came by and shared your vision with us throughout the day. The variety and innovation we saw in your answers was truly awe-inspiring and showed us just how inventive Vancouver's residents can be.
For more thoughts and opinions regarding transit, check out our popular Tyee series "No Fares". These articles, written by Tyee Fellowship winner Dave Olsen and funded by our readers, make the case for free fares on public buses and show how that approach is working in other places.
Related Tyee stories: