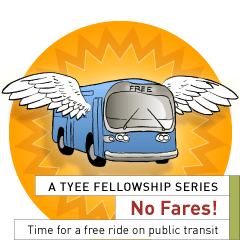 [Editor's note: Today we launch this five-part series funded by you, the readers who donated to a Tyee Fellowship for Solutions-oriented Reporting. To find out more about Tyee Fellowships, click here. To learn more about the series' author, Dave Olsen, go here. Or listen to the audio interview with Olsen by Katherine Gretsinger.]
The time has come to stop making people pay to take public transit.
Why do we have any barriers to using buses, trolleys, SkyTrain? The threat of global warming is no longer in doubt. The hue and cry of the traffic jammed driver grows louder every commute. Yet since 2000, TransLink has hiked fares 50 per cent, and its board has just agreed to follow the staff's recommendation to raise them higher still.
That kind of thinking is so last century. Just ask the mayor of San Francisco, a city similar in size to Vancouver, who ordered his staff to seriously explore the cost efficiency of no longer charging people to ride public transit.
Listen to Michael Bloomberg, mayor of New York, who recently voiced to a reporter his top dream: "I would have mass transit be given away for nothing and charge an awful lot for bringing an automobile into the city."
Consider this sampling of communities providing free rides on trolleys, buses, trams, and ferries: Staten Island, NY; Chapel Hill, North Carolina; Vail, Colorado; Logan and Cache Valley, Utah; Clemson, South Carolina; Commerce, California; Châteauroux, Vitré, and Compiègne, France; Hasselt, Belgium; Lubben, Germany; Mariehamn, Finland; Nova Gorica, Slovenia; Türi, Estonia; Övertorneå, Sweden.
Or speak, as I have, with transit officials in locales of Washington State and Belgium, where Fare-Free Transit has hummed along smoothly now for years.
It's time B.C. joined the trend because forcing people to pay ever higher fares is not just tough on the planet and people with tight budgets, it's bad economics and self-defeating public policy, as I will explain in this five part series funded by a Tyee Fellowship for Solutions-oriented Reporting.
Tough sell?
Over the course of the next few days, I'll be doing my best to explain why taking the fare box out of our buses -- wherever you live in B.C. and beyond -- makes both dollars and sense.
Believe me, I know that's a tough sell for skeptics.
Just seven years ago TransLink stated that their "market research" indicated that people wanted to pay when boarding the bus. But as Tania Wegwitz, senior transit planner in the Municipal Systems Program for BC Transit recently wrote: "Prepaid fares are better than cash fares, I don't think there is anyone -- passengers, municipalities, transit staff -- who would disagree with you."
Well, fare-free transit is simply the ultimate implementation of prepaid fares. We would prepay for all public transit through taxes, and then we'd ride for "free."
Why Fare-Free Transit?
Perhaps the skeptic in you is saying: without fares, public transit would run out of money and break down. Or you worry that a free ride would attract riff-raff threatening other passengers' safety and comfort. Or you doubt that sober, number crunching officials would ever take the idea seriously.
By the time you are done reading this series, I will have shared real life examples and expert findings to counter all those concerns.
Fare-free transit brings many benefits, some of which include:
a barrier-free transportation option to every member of the community (no more worries about exact change, expiring transfers, or embarrassment about how to pay)
eliminating a "toll" from a mode of transportation that we as a society want to be used (transit is often the only way of getting around that charges a toll)
reducing the inequity between the subsidies given to private motorized vehicle users and public transport users
reducing, and in some cases eliminating, the need for private motorized vehicle parking
reducing greenhouse gas emissions, other air pollutants, noise pollution (especially with electric trolleys), and run-off of toxic chemicals into fresh water supplies and ocean environments
reducing overall consumption of oil and gasoline
eliminating the perceived need to spend billions on roads and highways (now up to $7 billion for the proposed Gateway Project in Vancouver)
eliminating the perceived need to spend billions on bigger car-carrying ferries ($2.5 billion for BC Ferries' new super-sized boats and ramps)
contributing significantly to the local economy by keeping our money in our communities
reducing litter (in Vancouver, the newer transfers/receipts have overtaken fast food packaging for most common garbage found on our streets)
saving trees by eliminating the need to print transfers and tickets
allowing all bus doors to be used to load passengers, making service faster and more efficient
allowing operators (drivers) to focus on driving safely
giving operators more time to answer questions
providing operators a safer work environment since fare disputes are eliminated
eliminating fare evasion and the criminalization of transit-using citizens
fostering more public pride in shared, community resources
Pampered cars
If it's hard economic arguments you prefer, bear in mind that making use of free public transit eliminates the significant costs of fare collection and combating fare evasion (more on this later in the series). It also cuts costs associated with global warming, air and noise pollution, litter collection and garbage removal.
As our own premier trumpets a green agenda, more people are taking a hard look at just how many of their tax dollars subsidize the private car versus less polluting buses and trains. You have to figure in roads, parking and other infrastructure, tax breaks for car and fuel companies, as well as subsidies for car ferries throughout the province and federal income tax reductions and write-offs for companies that use motor vehicles.
Todd Litman of the Victoria Transport Policy Institute has estimated that in 2000 the government subsidy to each private vehicle owner was about $5,378 in Canadian dollars.
In that year, the average cost of providing each trip taken by transit in Vancouver was approximately $5. The equivalent subsidy for transit users would have been 1,075 free trips. Few of us could even use that many.
In fact, if the subsidy given private car owners were simply handed over to each car-free transit user, bus riders would make money for taking transit!
Why raising fares impoverishes the system
Big or small, most transit systems are scraping by or on the brink of financial collapse, paradoxically because of their reliance on the fare box. Revenue for any system drops when ridership dips or when fares are increased. Yes, when fares are increased. This is so well proven it has a name: the Simpson-Curtain rule. Most often the dip in ridership is caused by the hike in fares.
To understand this cycle better, let's imagine that you are in charge of a transit system. You feel pressure to increase service or to maintain service despite increasing costs. You need to raise more money. Politically and practically, for most systems, the easiest way is to raise fares. But soon after, ridership goes down. It drops 3.8 per cent for every 10 per cent increase in fares, researchers have found (Cervero, R., 1994). Which means you either haven't gained much new revenue, or worse, you've started spiraling downward.
In 1955 and 1959, fare increases helped send Vancouver's transit system into an 11-year tailspin, reducing ridership from 109 million trips in 1954 to less than 63 million in 1966, a decrease of 42 per cent!
Further fare increases in 1970, 1978, and 1987 were followed by a decrease of 9 million, 7 million, and 13 million trips, respectively (even with the new SkyTrain line!).
More recently, in a context of explosive population growth and rapidly rising fuel prices, TransLink's first two of three recent fare increases (with another to come in 2008!) in 2000 and 2002 resulted in 400,000 fewer riders in 2002 compared to 2000.
Meanwhile, Toronto's transit system went into a 12-year downward spiral throughout the 1990s after a series of fare increases and resultant service cutbacks.
The Transit Cooperative Research Program creates expert panels (appointed by the Transportation Research Board in Washington, DC) to solve operating problems, to adapt appropriate new technologies from other industries, and to introduce innovations into the transit industry. In their 2004 publication, Traveler Response to Transportation System Changes, the chapter on Transit Pricing and Fares clearly documents how fare increases always result in lower ridership.
Reality check
What the trends above tell us is that if you want a strong public transit system, then we need to figure out how to slash or eliminate the fares riders pay.
That said, let's make a few important guiding principles clear:
Taking the farebox out of any bus without a plan is just a recipe for disaster. That's why we'll be looking at operations like Island Transit on Whidbey Island that have proven beyond doubt that fare-free systems can be safe, clean and very friendly.
Making transit free of charge won't in itself allow huge numbers of people to abandon their cars. We'll need more public transit vehicles, running more frequently, too. The decade-old experience in Hasselt, Belgium, has shown that investing in the service prior to the removal of the fare boxes not only makes the transition smoother, it will get people on the bus and out of their cars.
We need to pay, one way or another. There isn't a transit system on the planet that pays for itself solely through the fare box. If we want a transit system that is adequate, reliable, and gets those lonely drivers out of their cars, we need to find funding formulas that are adequate and reliable.
From Aukland, New Zealand's Residents Action Movement to Scotland's Socialist Party and Vancouver's own Bus Riders Union, advocates are putting cheap and abundant public transit on politicians' agendas.
To sample the utopia they imagine, I took a trip by bus and public transit to Whidbey Island, Washington and visited Island Transit, fare-free since 1987.
More on that tomorrow.
Related Tyee stories: