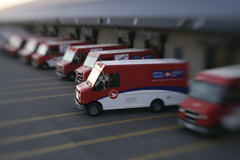 In a climate of surging fuel prices and environmental concern, it's cost, more than technology, which still presents a major barrier to the adoption of electric cars.
But the mailman could play a role delivering a battery-powered, zero emission future on the roads.
Canada Post represents one of the largest transportation fleets in the country.
Its armada of 7,000 mostly gas guzzlers traveled than 76 million kilometers of roadway last year, burning up 24 million litres of fuel and pumping out 59,000 tonnes of carbon dioxide in the process. Those figures are separate from the 45,000 tonnes of CO2 that Canada Post's rural and suburban carriers emitted as part of their work.
As part of the flagship fleet of a federal government that's looking to encourage fuel-efficient vehicles in the consumer market, the typical Canada Post delivery truck isn't exactly a beacon of progress in the public sector.
But with clearly defined, relatively short delivery routes in urban centres, today's already available electric engine technology could be well suited to Canada Post's needs.
The idea isn't merely symbolic.
A move to electrify the fleet could provide a crucial spark needed to ignite a homegrown electric truck industry and boost development in the consumer market.
A market 'ready to explode'
"The electric vehicle market is ready to explode," says Mike Elwood, chair of the Canadian Electric Vehicle Technology Roadmap, the federal working group examining how to advance EVs in Canada.
"But it's not up to capacity. All the pieces of the puzzle exist, but there's just no scale right now," says Elwood, also vice-president of marketing at Azure Dynamics, which sells hybrid electric trucks.
If a major player like Canada Post were to move to electrify its fleet, it could kick-start the industry.
"It would be amazing," Elwood said. "You'd start to see capacity increase, you'd see costs coming down. You'd see lots of things happening, all on the positive side of the ledger."
But despite a long interest in going electric, Canada Post has taken only a few cautious steps to transform its fleet towards alternative fuel technology.
US report green lights electric mail vehicles
The wheels are already in motion elsewhere. France's postal service, La Poste, is testing electric delivery vehicles, with the aim of integrating 500 into its fleet immediately after a successful test, the first batch from a target of 10,000 within five years.
And south of the border, the U.S. Postal Service has been studying the idea closely. A recent draft study and slide presentation prepared by staff for one of the independent members of the U.S. Postal Commission, a body that has regulatory oversight over the Postal Service, recommended fleet electrification as "an integral part of [U.S.] energy goals."
"Electrification of the Postal Service delivery vehicle fleet is practical, achievable and desirable, and should be initiated now," the report concluded.
"Car manufacturers today are applying substantial resources to developing electric drive vehicles, a task made difficult because of the driving distance range they believe consumers require and want. This particular difficulty does not apply to postal delivery."
The idea of going electric is hardly revolutionary. As reported in a previous story, industry and government are already assuming the electric car will be viable and in wide use within the next decade or, at most, two.
A century ago, in a time when 38 per cent of U.S. vehicles were battery-powered, that country's Postal Service used electric trucks to deliver mail, the report notes.
But gas powered vehicles eventually took over, spurred on by numerous factors, including the wide availability of the fuel, the relative costliness of electricity at the time and, not the least significant, the introduction of Ford's Model T and its mass production capabilities.
Still, the now-defunct American Railway Express operated a fleet of electric delivery trucks into well into the 1950s and 1960s, according to the commission report.
Electric trucks far more efficient: federal study
Canada Post has already studied the issue and concluded going electric was viable -- ten years ago.
A 1999 study by Environment Canada, Transport Canada and Canada Post pitted a traditional postal delivery truck against one that was converted to electric propulsion. On a simulated 30-km cycle that factored in the inclement weather conditions the average truck might face in Canada, the study found the electric vehicle to be at least three times more energy efficient than the gas powered truck.
It found the electric truck emitted four times less carbon dioxide than the regular truck. And it concluded the electric truck released 99 per cent less pollutants than the traditional gas engine.
The report, however, raised concerns over what it saw as the electric truck's "marginally acceptable" road performance at the time -- an 80 km/h top speed and a 0 to 80 km/h acceleration time of 55 seconds. Still, it reasoned that those problems could be overcome.
"The electric truck is a viable and more environmentally sustainable mail delivery vehicle for Canada Post," the study concluded.
Up against freezing cold, long routes
But ten years later, despite having added 1,000 new vehicles to the fleet, alternative technology makes up only 0.24 per cent of its vehicles, according to Canada Post stats. That includes two fuel-efficient light vehicles and some 30 hybrid cars or SUVs.
It's a drop in the bucket compared to the fleet's 1,720 light vans, 2,170 right-hand drive vans and 2,680 step vans, which, with an average fuel consumption rate last year of 33 litres for every 100 km, pegs it a few notches below a Hummer on a list of fuel friendliness.
Canada Post's national fleet manager, Ron Thibert, says its initial electric vehicle trials were promising, but not enough to adopt the technology.
"What that particular project enlightened us on was the immaturity of the batteries and the control components at the time," Thibert says.
While EVs may be suited to the typical 30-km circuit, Thibert says testing found the electric trucks struggled with routes that, for example, could start with an initial 8-km highway leg.
"It demands a lot of energy out of that battery pack," he says. "It just left us hanging at the end of the route. Now put that in context with a winter day at -25C. That challenge gets really difficult."
But, as Thibert acknowledges, the initial trial was a decade ago.
"There's a lot of promise right now. With the [automobile] marketplace in the turmoil that it's in, it has generated a lot of interest," he says.
'Pivotal' next years
For now, Canada Post's public plans for greening its fleet are general.
The Crown corporation plans to move towards vehicles with smaller engines to replace its larger step vans. It sets a timeline of 2010 to 2015 to accomplish its goal, but there's no set target.
"You're probably going to see a step-stone approach," Thibert says. "In the very near term, the vehicles are going to be much smaller, much more fuel efficient that way."
The adoption of alternative technology like EVs will depend on what the market produces.
"The next two years are going to be very pivotal," he says.
Others are moving faster.
In 2003, Canada Post's subsidiary, Purolator, signed an agreement with Azure Dynamics to potentially order up to 2,000 made-in-Canada hybrid electric vehicles, a figure that accounted for more than half the courier's urban fleet at the time. So far, Purolator has bought about 150 of the vehicles and put them to work doing curbside delivery (Thibert says the Purolator vehicles are heavier than what Canada Post needs).
No doubt, one key difference may be Purolator's comparatively rosy financial situation. "The post office is in a financially precarious position," according to the strategic review of the Crown corp. released earlier this year. "Canada Post Corporation's existing level of profits is derived primarily from its Purolator subsidiary. The Canada Post segment itself is barely breaking even."
'Government has to lead the way': Elwood
Cost, too, is an obvious barrier within the private sector.
Water delivery company Canadian Springs recently bought the first hybrid electric in its delivery fleet of 275 nationwide, at a $50,000 premium over a traditional Class 7 beverage body truck.
"They're very expensive," says Mengo McCall, Canadian Springs's director of business development. Some of the funds to buy the truck came from the province's Green Fleets B.C. program.
But McCall is waiting for the market to produce equivalent plug-in battery trucks in the right size.
"As soon as the electric trucks are available for our type of business, we would gladly get them," he said. "I see the next step as plug-in hybrids and after that, all-electric trucks. We're waiting for the technology to come around."
For evTRM chair Mike Elwood, the future of electric vehicles in Canadian fleets comes full circle to the government.
Whether it's subsidizing private companies like Canadian Springs through one-off grants, or laying down the cash to roll out green public sector fleets, the initial spark has to come from somewhere.
"Government has to lead the way here," Elwood says. "One way or the other, they're going to have to do it. It's either they're going to have to put our large subsidies to the general public for private companies to acquire these vehicles, or they become purchasers and buy volume. But by going in that direction, they send out a loud message."