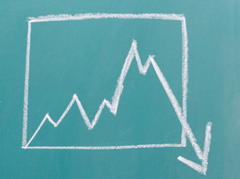 Both the New Democrats and the BC Liberals have pledged to maintain funding levels for elementary and secondary education in the province, but the people who have the job of meeting school budgets say they'll need more in order to deal with changing realities.
The Tyee recently talked with representatives of school trustees and administrators and heard deep concerns. They are working hard, they say, to deal with a demographic one-two punch: a dwindling school-age population, and an aging population of administrators.
The result, if no more funds are forthcoming from the provincial government, is a widening "structural shortfall" built into the future of education, say those who look most closely at the numbers.
Caught in the middle: trustees and administrators
They don't get the attention that teachers do, but school trustees and administrators play a major role in B.C. education.
Trustees, in theory, run the show. But Victoria sets their school budgets. Trustees have to operate on the money given them, and they have to cut programs or close schools when the money runs out.
Superintendents are the CEOs of B.C. school districts, advising their boards and doing what the boards tell them. When they have to implement cuts, that makes them villains to district staff.
The principals and vice-principals, meanwhile, have the thankless task of telling their teachers, students and parents just what's being cut.
Members of all three groups don't have reason to expect they will become much popular with staff and students' families in the near future.
A dramatic fall in enrolments
Part of the reason is that the drop in enrolments over the past decade has been dramatic. Between 1998 and 2008, public and private schools have seen almost a seven per cent fall in student numbers. In the public system alone, the fall is almost nine per cent. This has serious funding implications.
Keven Elder, president of the B.C. School Superintendents' Association, says he appreciates that provincial funding hasn't fallen despite the drop in enrolments. But rising fixed costs are creating a "structural shortfall."
He cites a study by the Secretary-Treasurers Association that indicates the scale of the problem: To go on delivering current levels of service, B.C. schools need $132 million more. "Depending on the district, we're one to five per cent shy of maintaining the status quo," Elder says.
A rise in expectations
But the status quo isn't good enough because the schools' mandate keeps growing, and expectations are high.
Elder sees a need to improve the "dysfunctional" relationship between the B.C. Teachers' Federation and the provincial government." It's focused on issues of disagreement, he says, and he'd like to see candidates in the election explain how they'd help to restore the relationship.
For Connie Denesiuk, president of the B.C. School Trustees Association, "better funding" is also critical. She says the funding is up slightly, but "increasing costs put boards in the difficult position of making cuts to balance the budget."
Staffing absorbs about 85 per cent of school budgets, she says. "When contractual settlements carry us over the funding level, it means program cuts."
Other costs are hurting some school districts. "Transportation is a significant cost, and funding for it hasn't increased for years. A review of that funding is taking place, but it's overdue." Denesiuk says some districts are already charging families for bus service, and others are considering that step.
"It's all to keep support in the classroom," she says.
Preparing for special-needs students
Denesiuk says other issues for trustees include money to train new teachers to ensure student success. "We want teacher training to prepare teachers for special-needs students. Integration of such students is working well, but we want to do a better job for every student."
The Liberals have also promised "early learning" programs for four-year-olds, and full-day kindergarten. Denesiuk supports those programs, but not all schools will have the physical space to implement them -- or the money to convert regular classrooms to meet program requirements.
Do the trustees foresee new funding problems over the summer, as the new government creates a real budget? Denesiuk says both Liberals and New Democrats have promised trustees that they'll face no additional budget reductions after the election.
Trustees, elected officials, rely on their superintendents for advice. But many supers are retiring, and they're hard to replace.
Keven Elder says the retirement rate is currently about 10 per cent: "There are about 250 of us, and about 25 have retired in each of the last couple of years."
But the recruitment and retention issue is important at all levels of the system, he says. "We need to ensure a climate where leadership is attracted."
At the local school level, the B.C. Principals and Vice-Principals Association is really worried about funding and demographics. Marilyn Merler, president of the BCPVPA, says Victoria is asking for a three per cent cut in administration budgets to help support classroom activities.
Attracting new principals
The principals worry about recruitment. "It's frightening to see how many are retiring or just leaving the profession," she says. It's becoming harder to attract teachers into administration. Many teachers don't think the extra income is worth the hassle that comes with the job.
And in many districts, senior teachers and vice-principals are paid about the same; in some districts, VPs make less than senior teachers.
"Remote northern districts are really tough to staff," says Merler. She says the turnover of principals and vice-principals is "huge." In one district, a teacher with just three years' experience became a principal.
Principals were once part of the B.C. Teachers' Federation, but the old Socred government pulled them out of the BCTF in 1988. Now, says Merler, they're caught between teachers on one side and parents and government on the other over issues like the Fundamental Skills Assessment test. When teachers refused to deal with the FSA, principals and vice-principals had to administer and score the test.
Elder agrees that everyone in the schools needs to be "on the same page" about assessment, and says the FSA is a challenge. "But assessment done well supports learning," he says.
A conversation about the schools
Whoever wins the election, the schools will still have to deal with funding and demographics. Keven Elder says educators will have to deal with the gap between mandate and funding, and work on system improvements.
"We need a conversation across the province about improving education," he says. He wants to see an improved school-completion rate, and better programs for First Nations and special-needs students. It may be time, he speculates, for a new education commission; it's been 20 years since the Sullivan Commission gave the schools their last detailed scrutiny.
Trustees and administrators are proud of the schools, and all want to see greater student success. As Keven Elder puts it: "How do we create an even better system?"
Related Tyee stories: