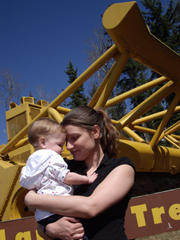 *Story updated on May 6, 2009 at 3:38 p.m.,
Lucky for her, eight-month-old Lauren Bergquist is too young to understand the turmoil surrounding her in her hometown of Mackenzie, B.C.
But it's all too understandable for her parents, Josh and Misty, who are just two of the approximately 1,500 people laid off from the three main mills in 2007 and 2008. The town of 4,000 still boasts an unemployment rate of around 70 per cent, according to the mayor.
Misty, 28, was a clerical worker at AbitibiBowater's sawmill and paper plant when layoffs began and put 700 people out of work. She is on an EI-sponsored maternity leave that ends this month. Josh, meanwhile, has already burned up a year of EI, and is into his second claim, which expires in September.
The Bergquists, like many other families here, are chained to a mortgage on an unsellable house and simply can't afford to leave for greener pastures.
Misty fills her days doting on Lauren, but says it's tough waiting for whatever may come next: "It's like a Sunday and it feels like we're just waiting for Monday."
Couldn't have put it better myself.
Crumpling newspapers
On April 3, I joined the ranks of B.C.'s unemployed, a group that, according to Statistics Canada, numbered about 123,000 in March.
I had been working as a reporter at the Penticton Herald. Times are also tough for newspapers, particularly so in Penticton where the daily Herald vies for advertising dollars with a twice-weekly competitor.
In the past six months, at some of the 40 papers across B.C. whose employees are represented by CEP Local 2000, up to 300 of my 2,800 former brothers and sisters have been laid off, bought out, cut back or retired early, says Rob Munro, a union executive who is particularly worried about hits to editorial departments.
"Quality of journalism and variety of voices is going down, and that's a concern," said Munro.
But the cuts have also touched those in other departments, moves made necessary, the companies claim, by the flagging economy, which has resulted in reduced demand for ads, especially from beleaguered automakers.
"There are already questions about the viability of newspapers, and to hit them this hard, you have wonder if they're ever going to recover," Munro said.
It defies logic to think a Herald reporting staff of now just two people and two stringers can adequately cover the entire South Okanagan seven days a week, particularly with a provincial election nearing that the premier claims is the most important in a generation.
Election blackout
I was supposed to be covering the election there, but instead, I'm 1,000 kilometres north in my hometown of Mackenzie interviewing former classmates, who, although our career paths diverged many years ago, I've joined in joblessness.
Like Misty Bergquist and I, Wendy Scammell-Peterson also graduated from Mackenzie Secondary School in 1998. Enrolment then was about 600, a number that dwindled to about 240 this year.
With so many folks out of work, Scammell-Peterson wonders why the election has been about John van Dongens's driving record instead of Mackenzie.
"Fifty people get laid off at a mortgage firm in Vancouver and it's on the news. What about a whole community?"
She was a financial accounts supervisor at AbitibiBowater before going on maternity leave last August. Because the company has now applied for bankruptcy protection, she's not sure if she'll have a job to go back to later this summer.
Despite the gloom, Scammell-Peterson doesn't hold a grudge against incumbent Liberal MLA Pat Bell, who's running for re-election in the new riding of Prince George-Mackenzie.
"I think Pat Bell, to give him credit, has been present," said the UVic economics grad. "But at the same time, he's one person. I don't think he has as much say as people would like to think."
Bell, also the forest minister, said last week during a campaign stop in Mackenzie that many people accept that his government has done what it can, while others "are just angry."
He says he committed 18 months ago to seeing the community through its darkest days, and has since worn a District of Mackenzie lapel pin to remind himself of his duty to people here.
"I would challenge you find a single picture of me (without the pin on) anywhere," he added.
But his challenger, NDP candidate Tobias Lawrence, said blame for the town's problems can be traced to the governing Liberals' loosening of forest policy. Lawrence claims that had her party been in power, "a huge portion" of the laid-off mill workers here would still be employed, even despite the recession.
For years, she continued, the North's resource wealth has supported the rest of B.C., and now, in the town's time of need, residents "have gotten nothing, zero, from the provincial government."
Growing up in a bubble
Eerily quiet at night and cradled by nature, Mackenzie, which lies about 180 kilometres north of Prince George, is the kind of place where many people don't lock their doors. There are just two stoplights on the main drag, each of which is pedestrian-controlled and a tad unnecessary. Residents are busy these days with yard work as the last of the snow melts away.
Homes here are modest, but comfortable, most of them built by the forest companies of the 1960s and 1970s, which needed a place to house their workers in this insta-town.
According to statistics provided last week by local realtor Lynda Moreland, about 10 per cent of the town's 1,700 dwelling units are up for sale, while an online real estate site listed 25 foreclosed houses on the market as of April 7. Sixteen homes have sold here since February, eight of them for under $100,000, according to Moreland. Some houses, meanwhile, can be rented for as little as $300 a month, or even for free if the tenant agrees to pay the utilities.
Just one gas station remains open and there are rumours that one of the two grocery stores will close soon. The town seems a shadow of its former self. There was a time when almost anyone who wanted to work here could. Home ownership was almost a given and a decent vehicle easily attainable. Then there were the toys like boats and ATVs.
"You grew up in a bubble," Mayor Stephanie Killam told me.
Like most others I spoke to, Killam appreciates what senior governments did to help her constituents make ends meet.
Many of the laid-off mill employees have been able to extend their EI claims by working on temporary make-work projects made possible by $2 million in federal funding. The province, meanwhile, helped the local college expand its programming to offer more retraining options.
The mayor points to the possible development of a bioenergy plant, nearby mines and tourism opportunities as ways to pull the town out of its funk. She's also optimistic that at least two of the three main mill sites will become operational again when the economy recovers. The third outfit, a pulp mill that employed her husband and two kids, is another matter altogether.
Pulp Fiction
Last operational in spring 2008, the pulp mill was owned by Pope and Talbot, which went belly up and stranded its 260 workers. The mill was purchased out of receivership for a song by Edmonton-based Worthington Industries. Worthington then announced plans to shut the mill down for the winter of 2009, a plan that was nixed by the province over fears it would lead to an environmental catastrophe should equipment containing volatile chemicals be left to freeze.
But the mill's owners, who now owe the town $4 million in taxes, were nowhere to be found and quit paying their workers in January, so the province was forced to assume control of the mill in January and has spent upwards of $1 million a month to keep the thing running, although non-productive.
One of the hired guns is Killam's husband, Donnie. He opened the mill in 1972 and will likely be on hand when it finally closes. The Killams' daughter, Kathleen, worked at the site until July 2008.
Kathleen, a childhood friend, admits it feels odd that her dad, a twice-retired electrician, is still working while she and her brother aren't.
"We all see some irony in that."
Kathleen never got her severance payment from Pope and Talbot and it's unlikely she'll ever see the roughly $5,000 she's owed for unpaid hours and vacation time. But she's not looking for pity. Sympathy, the mayor's daughter is fond of saying, can be found in the dictionary between shit and syphilis.
"I think now people are looking for action," she said. "We all need some help getting back on our feet. We're willing to work for it, we just need some help."
But other than suggesting the province help people with health-care costs or rework forest policy, she, like most everyone else, is out of ideas.
Some workers in Mackenzie, though, have demonstrated a desire to compromise and, in one case, it will probably get some of them back to work.
Earn less, or earn nothing
My old fishing buddy, Nick Babiak, was one of the roughly 200 unionized production workers employed at the Canfor sawmill before it shut down.
He was laid off in June 2008, then worked on a casual basis for the town and also briefly on one of the make-work projects. His EI claim ran out in March.
In late April, Babiak's union voted in favour of an across-the-board wage rollback of 18 per cent, plus other cost-saving tweaks to pension, medical and vacation benefits.
Under the new deal, the starting wage for a forklift operator like Babiak would drop from $27.09 to $22.21. However, the contract also brings in a form of profit sharing for that site only, so if the operation makes money, employees should eventually be able to claw back what they gave up.
"On paper it looks like (the deal) could be a good thing, but it goes against union philosophy," Babiak allowed. Then again, "We didn't go into (negotiations) in a position of strength."
He fears, though, that the drive to squeeze every penny possible out of the mill could turn some employees against their less-productive colleagues: "People that are having a bad day could potentially cost you money."
On Friday, Canfor CEO Jim Shepard travelled to Mackenzie to deliver news that the mill would restart in July with one shift of 65 people; more shifts could be added once the mill is running smoothly. He said the union concessions, plus a reduced stumpage rate from the province and a tax break from the town all helped make the reopening possible.
Shepard made the announcement in the mill parking lot before about 100 workers. Although the meeting was advertised on local radio, he said he wanted to make the announcement with "just us, just family" present.
'There are still trees worth money'
While not a lost cause, Mackenzie and it's residents have endured far too much despair and heartache in the past few years, not that you've heard about it on the campaign trail. To borrow a phrase, Scammell-Peterson said, "We live above Hope."
But, she continued, it's not a ghost town here and likely won't be anytime soon.
"There are still trees and they're still worth money."
Like the forest industry, the business of print journalism will probably survive, too, as long as there is a penny to be made selling ad space.
As for me, maybe I should have avoided the newspaper business and just stayed home. I'd probably own a house at least.