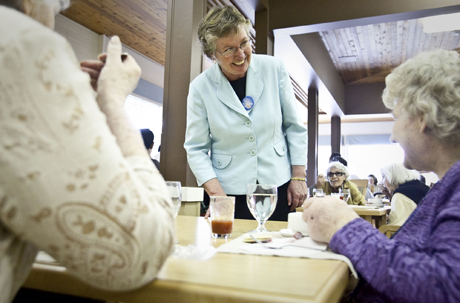 The sound of heavy machinery is in the air in the heart of Maple Ridge. There's plenty of traffic outside Dennis Blackman's tiny street-front barbershop, but on this morning, little of it is coming from paying customers.
Like many businesses, Blackman is feeling the crunch of the economy -- not to mention the grinding construction that has traffic snarled through the square just outside the shop. "I'm down 20 per cent this year," he sighs, gesturing inside at his empty barber's chairs. Blackman rattles off his biggest concerns, beyond his struggling business: health care, homelessness, crime.
But with voting day just a week away, Blackman isn't placing his hope in elected leaders for a solution to his problems.
"I have no enthusiasm for an election right now," he says, blowing a puff of smoke into the air. "We've got enough problems here in Maple Ridge."
Blackman may represent only a single vote, but for B.C.'s political parties, it's of no small significance.
Just 199 votes separated winner from runner-up in the riding of Maple Ridge-Mission last election.
It's one of 10 suburban Lower Mainland ridings that were decided by mere percentage points, in an election in which the BC Liberals enjoyed a second term in office after taking 13 more ridings than the NDP.
They stretch from Burnaby and across the Burrard Inlet to the North Shore, through the northeast sector and past the Pitt River Bridge into Pitt Meadows and Maple Ridge.
From fewer than 1,000 votes in North Vancouver-Lonsdale, to a fraction of a percentage point and a mere 65 votes in Burnaby North, these suburban ridings represent a new battleground in B.C. politics.
No longer is B.C.'s political scene based on an urban vs. rural divide. The battle has reached the suburbs; it's here in the land of SUVs and strip malls where B.C.'s next government could be chosen.
With the leaders' campaigns teetering along with no knockout punches landing thus far, it will boil down to the campaigns of local candidates to decide the vote -- virtual small armies of political organizers and volunteers fueled on caffeine and political devotion.
But while the parties throw tens of thousands of dollars into the fray in fierce battles for votes, not all the campaigns are equipped to survive the dogfights.
Trying to win Burnaby away from Liberals
Standing in a Burnaby elementary school playground, Gail Merz has one eye locked on her daughter galloping full stride towards the slides, and the other casting a skeptical gaze at the stranger standing in front of her.
It's campaign season in the tight riding of Burnaby-Deer Lake, and NDP candidate Kathy Corrigan, clutching a stack of brochures in her arms, is in election mode.
"Did you know I served on the school board for nine years?" Corrigan asks.
There is a slight pause. Corrigan senses an opening and launches into her key messages.
She was chosen to chair the school board in her last term.
Her NDP party fought against an unpopular move to plant a prison on the nearby Willingdon grounds.
It seems to light a spark in Merz.
"Well, the prison has to go somewhere, doesn't it?" she says. "Of course, I'd rather that it wasn't here, but it's got to go somewhere."
Corrigan senses the shift and backs off, instead talking about the services she'd rather see on the site.
The topic moves to funding for schools and health care before Corrigan leaves her prospective constituent with a farewell and a brochure.
"I'm running on my roots in the community," Corrigan says later, adding, "The name recognition also helps, I think."
Corrigan, a lawyer and policy analyst with public sector union CUPE, also happens to be married to Burnaby Mayor and frequent provincial sparring partner Derek Corrigan.
Politics aren't new to Corrigan, but the provincial battleground is.
On school board, she says, decisions were made by finding consensus among all the elected trustees. B.C.'s polarized political scene, however, she finds "very contentious."
"The politics of it are new to me," she says, before adding, "That's not to say I can't handle it."
For now, there are a handful of other parents on the playground and Corrigan won't miss this opportunity to get out her message in a vote she knows could come down to the wire.
This tight riding, a redrawn district comprising the bulk of the former Burnaby-Willingdon and a slice of Burnaby-Edmonds to the east, is typical of the Lower Mainland suburban swing ridings. B.C. Liberal John Nuraney took Burnaby-Willingdon by only 399 votes last time around and Corrigan is hoping to tilt the new riding the NDP's way this year.
Multilingual campaigning
But both parties face significant obstacles in campaigning in this intensely diverse neighbourhood.
Burnaby mom Merz, for one, doesn't appear to have been moved by Corrigan's appeal.
"She was informative," Merz offers, before adding a barb aimed at no one in particular. "I don't vote for liars. And most politicians are liars."
Merz doesn't know whom she will vote for next week. In fact, she's not sure if she'll even cast a ballot.
"I've never voted in my life," she shrugs. "I've never registered."
She's not alone.
Voter turnout is a significant concern in this riding. By mid-April, less than 84 per cent of eligible voters were even registered here, according to Elections B.C., a figure that's well below the provincial average of 91 per cent and close to rock bottom in the province.
It's a huge problem for campaign teams in this riding where a few hundred votes, or even several dozen, could win or lose a seat in Victoria.
The riding is also home to a significant number of recent immigrants. Only one-third of residents in Burnaby-Deer Lake speak English as their mother tongue, according to 2006 Census figures, while a full two-thirds of people 15 years of age and older were first-generation immigrants.
Multilingual volunteers, language phone banks and ethnically targeted canvassing are now the norm.
It's become a necessity for campaign teams to be stocked with information and forms on how to register. These days, just urging potential constituents to vote is almost as key as convincing them to back a specific party.
Down to a handful of votes
"This election is going to be won on the ground," says Roseanne Moran, Corrigan's campaign manager.
The Corrigan campaign office is tucked away on the other side of Metrotown, where glass towers give way to auto body repair shops, multi-storey rental housing and a bottle return depot.
There are only a few volunteers in the office on this afternoon; there are plans for a round of morning handshaking outside a nearby SkyTrain station.
But on a busy night, Corrigan can count on up to 30 people volunteering, going door to door, dropping leaflets or making calls from among the row of computers and phones set up against the far wall.
Moran, who works with Corrigan at CUPE, is a rookie campaign manager taking a break from the union.
Buoyed by recent poll results that suggest the NDP is within striking distance of the B.C. Liberals, Moran has words of praise for her candidate friend.
"[Corrigan's] very well respected in the community because of the work she did on the school board," Moran says. "She brought a lot to the constituency."
But she's under no illusion the race will be an easy one. The campaign team has done the math. Add last election's individual poll results to the redrawn boundaries and Corrigan still trails by a few hundred votes.
"It's going to be close," she says.
The taking of Buckingham Heights
Winning close battles is nothing new for John Nuraney.
The BC Liberal MLA is running for a fourth time in this riding, a contest he hopes to win for the third straight time. All the decisions, save the NDP's embarrassment in the 2001 election, were within hundreds of votes.
"That's how it's always been -- 100 votes here and 100 votes there," says Nuraney.
"That's why it becomes more challenging. Every vote counts. That's why we are canvassing very heavily going door to door."
His campaign, too, has spent significant time on registering voters in an effort to ward off a low voter turnout. A few weeks back, his team set up tables across the street at Crystal Mall, a popular Asian shopping centre.
"[There were] no campaign signs," he says. "We were just trying to encourage people to vote."
Nuraney jokes about the many campaign hours candidates must log in these tight ridings.
"It's a different story when you're talking about North Vancouver, West Vancouver," he says. "Those guys just sit on their laurels. The only campaign one of my friends does there is to stand outside Save-on-Foods and hand out brochures. It's a very different ballgame here."
Nuraney's campaign office is near empty this afternoon, but on most days, he can count on a core group of 65 volunteers, plus an extra 30 on a great day. This evening, however, the campaign will take it easy working the hired phone banks and clock out early on door-to-door canvassing; there's a Canucks game on.
The wall on one side of Nuraney's campaign war room is lined with maps of the district. The riding has been siphoned into sections and someone has coloured over the map with highlighters.
Buckingham Heights, a residential swathe added to the new riding this year, is almost completely filled in with yellow highlighter, indicating campaign teams have covered most of the area.
"I think we're doing pretty well so far," says Nuraney's campaign manager Ed Arundell. But the tough job is just about to begin. The campaign will be calling on the thousands of identified BC Liberal supporters in the riding to make sure they vote in advance polls. Arundell, who was chief of staff to then Ontario health minister Tony Clement during the SARS outbreak in 2003, knows the vote will be close.
"This is a polarized province," Arundell says. "These are communities where people of different working backgrounds commingle because of its proximity to Vancouver and locations of work.
"So it's been home to people who have chosen sides in B.C. for a long time."
The cost of political war
Dollar-wise, both the Liberal and NDP campaigns appear well equipped for the month-long skirmish. Arundell won't tell how much his team is spending, except to say, "We'll be under the cap."
This year, candidates have a limit of $70,000 to spend during the 28-day campaign period. As well, candidates are allowed to spend $70,000 in the 60-day lead up to the campaign.
In the last election, Nuraney's campaign spent almost $59,000 during the election, including $22,000 on "research and polling," according to financial statements filed with Elections B.C. Another $56,000 not subject to spending limits was recorded as well.
Judging by dollar figures alone, it's clear the B.C. Liberals saw the riding as a must have. While Nuraney raised $19,000 on his own for the campaign, the bulk of the funds, $95,000, came from his party.
Over at the NDP's camp, previous candidate Gabriel Yiu (now running in Vancouver-Fraserview, another close riding) wasn't shy in dropping dollars as well. He spent $48,000 during the campaign, and a further $6,000 on other expenses.
The NDP or the local constituency association contributed all but $183 of the cost.
The Green flank
But not all campaigns are created equal.
Back in Maple Ridge, the Green Party campaign is chugging along. Today, it comes in the form of a blue Volvo station wagon driven by Mike Gildersleeve, the Greens' hopeful in Maple Ridge-Mission.
Dressed in a practical fleece vest, sensible hiking shoes and the obligatory Green Party button, Gildersleeve wouldn't look out of place selling windproof sleeping bags at MEC.
In reality, he's a social worker. Campaigning may be a full-time job for prominent BC Liberal and NDP candidates, but for Gildersleeve, it's an evening and weekends gig.
Forget phone banks, armies of door-to-door canvassers and targeted opinion polls; his campaign budget -- estimated at between $500 and $1,000 -- will cover the costs of printing a few signs and the price of a post-election thank-you ad in the local paper.
"We don't have those kinds of resources, for sure," Gildersleeve says, sitting outside a strip mall Starbucks on Dewdney that will double, for today, as the campaign office he doesn't have.
Gildersleeve says parts of the campaign can be frustrating, particularly when voters tell him they agree with Green politics but won't vote for the party this year.
"Some voters say, 'We like your policies, but you're not going to win,'" he says.
"That's exactly what I'm hearing a lot of. It's very frustrating. It's so important to vote for what you want and what you believe in. I say that every Green vote sends a message that people care about the environment."
But as difficult as the campaign may be, the Greens punched above their weight class in this riding last election. The Liberal candidate here won by only 199 votes over the NDP hopeful, with the Greens taking a respectable 2,600 ballots -- just under 10 per cent of the vote.
Gildersleeve says he'd rather see an NDP government in power than another Liberal majority. But even though his candidacy in a razor-thin election might arguably complicate the NDP's chances in Maple Ridge-Mission, Gildersleeve says there's something more at stake.
"The Greens are stuck in that place of sometimes being a spoiler," he says. "But we're there because we believe in the policy -- how important the environment is. That takes priority. The cards are going to have to fall where they will.
"For me, the most important thing is people have a choice.
"Some people might say, if I wasn't there, the NDP might have gotten in. Well, that's too bad. The voters have to have some responsibility as well. We're there to provide another voice."
Related Tyee stories: