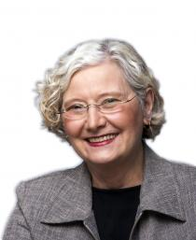 Within a block of the intersection of Esquimalt Road and Head Street there are two payday lender storefronts, two tanning salons including the "Shake and Bake," a pawnbroker and a club advertising a "Hotbuns contest" on Thursdays.
It's the heart of the Esquimalt-Royal Roads consituency where Jane Sterk, the Green Party leader and a former Esquimalt city councillor, hopes to make a breakthrough for her party and become the first MLA elected from its ranks.
To do so, she'll have to beat the NDP incumbent Maurine Karagianis, as well as the Liberal challenger Carl Ratsoy in a constituency that has been solidly NDP with few exceptions for decades.
She'll also have to beat the perception that there's no hope for her or the Green Party.
"She's definitely one of the people there for us," said Diana Willison, asked in a sidewalk interview if she'd consider supporting Sterk. "I can vote for the party I like the best, but if they don't have any pull, what's the point?"
Llyn Wood said he'd likely vote NDP. Asked about the Greens, he said, "That was my second choice. I'd like to see the Green Party get in, I just don't think they will." He added, "I don't think they've built up enough of a reputation."
And Donna-Lee Munroe said she would do "anything that does not elect Gordon Campbell." To her, that meant voting NDP. "The Green Party can't stop him," she said. "I like the theory of the Green Party, but they don't have any chance of stopping him."
Even for Angela Deimling, who said her "number one concern is the environment" because "we are in strong danger of annihilating the planet," voting Green was not a certainty. "I probably would," she said. "I have voted for the Green Party in the past."
Polarized politics
Sterk herself said she's unsurprised by the response.
"It's frustrating of course for the Green Party because lots of people say that. 'I would vote for you except I have to vote for someone I don't like as much because I don't like the other person even more,'" she said. "At some point in time people are going to have to vote Green if that's where they want to vote."
That difficulty persuading people to vote with their hearts is part of the polarized politics of the province, she said. "I'm quite disturbed actually by the making-Gordon-Campbell-evil movement which is being propagated by the NDP," she said. "I think it's really unhealthy for our democracy that we can't value diversity of opinion. It's based in a hostile view of the world, a negative view of possibilities, and it's not where I function."
In 2005, Sterk was elected to Esquimalt council, topping the polls. Hers was a lone Green voice on a council that crossed the political spectrum. "We had the most constructive council that community has ever seen," she said. Diverse opinions led to better decisions, she said.
While she holds no illusions about her chances of becoming the next premier, there would be value in adding her voice as an MLA, she argued.
"I would bring into the legislature a belief that the purpose of being a legislator is to be respectful of others, to ask real questions not rhetorical questions, to provide constructive suggestions for improving legislation that's being proposed, to work constructively with members of both the governing party and the opposition, to try and bring that diversity of voices that creates a more likely outcome of good legislation."
'I have a good shot'
In B.C., she continued, the two main parties have become "caricatures" of each other, though they share many of the same views.
"The NDP's position on crime is the same as the Liberals. The NDP's position on Gateway is the same as the Liberals. The NDP's position on Site C is the same as the Liberals. The NDP's position on electoral reform is the same as the Liberals."
They would also govern in similar ways, she said, even though they pretend to be different. "They both support a whipped legislature so that MLAs are required to vote as their party prescribes. They both would concentrate the power of decision-making in the hands of the premier, a few unelected people and some of the favoured MLAs."
People are ready for a change, she said, and it could start in Esquimalt.
"I'm quite optimistic they will decide this is the election to elect a Green," she said. "I think I have a good shot at winning this riding. I think people might just say enough is enough. I'm tired of this negativity. I'm tired of the lack of constructive suggestions."
Two-party race
The NDP's Karagianis said most people she meets in the community and on the doorsteps believe the election is a two-party race between the NDP and the Liberals. "This election is about who is going to form government and who is going to be premier," she said, adding that will either be Carole James or Gordon Campbell.
For voters, it's about whether they are tired of eight years of Campbell's policies and whether they want to support James as a positive, viable alternative, she said. "I think it's as simple as that."
Karagianis also served as a city councillor before entering provincial politics. "People know me as someone who's not afraid to stand up for my community and the things they need," she said. "They know I'm a fighter."
In 2005, Karagianis won with nearly 50 per cent of the vote in a race that included a strong Liberal candidate. Sterk, in that election, held several months before she won her seat on council, came a distant third with 11 per cent of the vote.
Recent Esquimalt mayors including Chris Clement and Ray Rice have had strong NDP connections. Former NDP premier Dave Barrett lives in the constituency. And Moe Sihota took it in 1996 for the NDP with almost 60 per cent of the vote.
The Greens' best result came in 2001 when they got 18 per cent of the vote in the area. Even then, with support collapsing across the province, the NDP polled nearly twice that.
Difficult recruiting
Esquimalt has been solidly NDP, Sterk allowed, but said that could change. "I don't know that it's strong, committed NDPers. It's really a duck shoot in terms of how the splits go."
Boundary shifts and changing demographics have added more upper middle class people to the constituency, she said. They are people who may not embrace the NDP's messages, she said. "People to whom 'ordinary British Columbians,' 'working British Columbians,' 'working families,' that rhetoric, isn't as meaningful to as it is to some others."
Put another way, "New development brings in a different kind of income level, which I think is less likely to feel they need to be rescued."
She will also have the advantage of appearing on television with Premier Gordon Campbell and NDP leader Carole James. "I think quite frankly the leaders' debates will be a critical factor in people seeing me as the person they want to vote for," she said.
While things can change fast in a campaign, there's little sign that Green support will be any stronger now than it was four years ago. Poll numbers across the province have held steady around 10 per cent. In Vancouver byelections in October, the two Greens, one of whom was Sterk, each received fewer than a thousand votes.
And Sterk acknowledged the party has had some trouble assembling a team of candidates. "It's been a really difficult recruiting election," she said. "There's been a lot of attempts to intimidate Greens by the NDP with that same argument that if you vote for the Greens, it's a vote for Gordon Campbell. It's been very hostile."
On the issues
The campaign has so far been limited to Campbell's arrogance versus James' incompetence, Sterk said. "I feel that the very serious economic, environmental and social issues we're facing are not being discussed," she said. "There's no real discussion of issues in this campaign. It's all about personalities. It's all about entitlement."
Instead we should be talking about reforming the government, she said, starting with adopting STV, but also campaign finance reform and giving all government agencies a greater mandate to look out for the public interest.
"We ought to be talking about real action on transforming our economy to one that is based in long-term sustainable job creation," she said. "Not trying to re-form this same economic system that got us in trouble."
The Green platform has been criticized for being impractical, but another way to look at it is they are putting big ideas out there and getting them talked about. Sterk talks about "favouring B.C. business over supposedly cheaper business from outside," "favouring local business over big international consortiums" and building an economy on "resilient local potential."
The Greens would keep and increase Campbell's carbon tax while adding many other climate-change fighting measures including a cap-and-trade system like what James advocates, Sterk said.
As people get to know her and the party platform, Sterk said, they'll like what they see.
"I'm quite optimistic they will decide this is the election to elect a Green," she said. "I'm getting lots of people saying they feel like for the first time their Green vote is going to make a difference. This feels like a time that voting Green will be a constructive vote."
And how do you convince people you have a real chance, that they aren't wasting their vote? "If I knew that we'd be in the legislature right now."
Related Tyee stories: