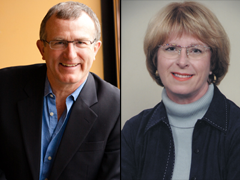 Something strange is happening in the B.C. provincial election: Serious candidates are running as independents. One or two of them might even win.
Usually, independents sit in Parliament or a provincial legislature when they've left their party caucus. Ex-Liberals Jeremy Dalton, Paul Nettleton and Elayne Renzinger are recent B.C. examples.
Almost never does an independent run and actually win an election. Getting out the vote without a party apparatus is hard, and most independents know it. They run to make a point -- or, at best, to be a nuisance to the party-backed candidates.
The West Vancouver-Capilano independent, David O. Marley, is indeed trying to make a point, and he seems likely to pose the first nuisance that Liberal MLA Ralph Sultan has ever faced since he beat Dalton, running as an independent, back in 2001.
But Marley is more than a pest. Given his political background, he could have won a Liberal nomination in North Vancouver-Seymour, or any other open riding, just by showing up.
A red Tory without a home
Marley defines himself as a "small-c conservative, a red Tory," inspired to get into politics by his UBC prof, New Democrat hero Walter Young. He's been in politics since 1972, and was executive director of Bill Bennett's Social Credit Party. He also served as director of legal services for the Progressive Conservative Party.
Ideal qualifications for a provincial party that's Liberal in name only, but Marley says he finds no political home in any of our current parties. "The parties have hijacked the political process," he says, "and process is important." He sees the parties as working to advance the best interests of "political bosses, not political leaders."
Marley is proud of having started Fair Voting BC, which supported the single transferable vote in the last provincial election. He wants a political process very different from the one he served for more than 30 years.
"I like Ralph Sultan," he says. "I voted for him. I donated to his campaigns. And when I decided to run, I told him: 'I'm running against the system.'"
Marley says he decided to run last November, but he'd been looking at alternatives since at least the last election, when he worked as a strategist for the Green Party. "Jim Stephenson has a chance in West Vancouver-Garibaldi," Marley says. He adds that he's getting endorsements from the previous Green candidate in West Van-Capilano, Lee White, as well as Jeremy Dalton's widow Leah.
The veteran and the novice
On the other side of Vancouver, two independent candidates are running against Liberal Wally Oppal and New Democrat Dileep Athaide in Delta South.
One independent is a veteran of municipal politics, the other a novice. But both think Delta has been "disenfranchised" by the current system, and both have rejected the present party system.
The veteran is Vicki Huntington, daughter of longtime North Shore Conservative MP Ron Huntington, and herself a five-term Delta councillor. She says she was invited to run as a Green, a New Democrat, and (by Gordon Campbell himself) as a Liberal.
"But," she says, "I've been struggling for six years with the way the provincial government has been imposing projects on Delta."
She lists the projects: the South Perimeter Road, a 17-track rail yard and huge industrial areas to be built on land in the Agricultural Land Reserve, the treaty with the Tsawwassen Band -- and highway overpasses that Delta, not Victoria, will have to pay for.
"How could I accept the Liberal nomination and then turn around to defend projects I'd been fighting against?"
'Meaningless representation'
She agrees with her old friend David Marley that the political system has evolved into one with autocratic party leaders who must be obeyed. "So representation becomes meaningless."
She says outgoing Delta Liberal MLA Val Roddick "had no impact on Delta issues," and doesn't see the new Liberal candidate, Attorney General Wally Oppal, as any better.
"I'm up against a formidable candidate, but he doesn't have a leg to stand on in representing local issues. Oppal may have lived here for 10 years, but he hasn't done a single thing for the riding, as a resident or as a member of the government's caucus -- in fact, quite the opposite."
Promoting 'facilitative democracy'
Huntington faces another independent, Graeme Drew, who shares her view of Delta as victim of Victoria's high-handedness.
"There's a disconnect," he says, "between what people want and what they're getting." He's talked with local Greens and New Democrats, and concluded, "Something is functionally wrong with parties."
In their place Drew would like to promote "facilitative democracy," in which the MLA works to coordinate groups to help them achieve their shared goals.
Drew cites his longtime experience in community efforts in the Cariboo-Chilcotin, business ventures like Gastown's Storyeum tourist attraction (now closed), and many volunteer activities in Delta sports and education. He's worked to shorten "a disgusting waitlist of 6,000 children with developmental needs in B.C.," just as David Marley has lobbied for families dealing with autism.
Three independents among hundreds of party candidates running for provincial office this election may seem negligible. But two of the indies are political professionals, and all three have been involved in community grassroots organizations on the conservative side of the spectrum.
Their break-away campaigns will be watched closely by some wanting to measure the strength of the grassroots support for Campbell's Liberals this time around.
Related Tyee stories: