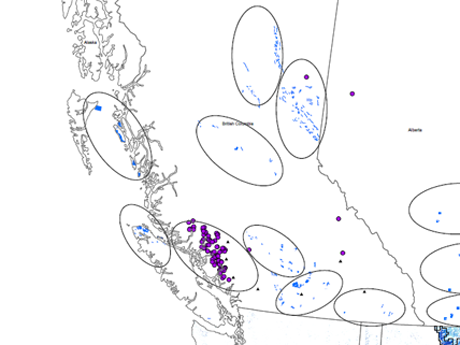 The provincial government has scoped out nine regions for large-scale wind and hydro development in British Columbia, part of an international plan to build and export renewable electricity across western North America.
It's called the Western Renewable Energy Zones (WREZ) initiative, and while in the early stages yet, experts say this plan could have significant implications for renewable energy development in B.C.
WREZ was launched in March 2008 by the U.S. Department of Energy and the Western Governors' Association. Eleven U.S. states, parts of Mexico, British Columbia and Alberta are participating.
According to its website, the goal of WREZ is to "expedite the development and delivery of electricity generated by renewable energy."
Despite that green stated aim, the mapping process is creating controversy among some environmentalists in B.C. who say it's a blueprint for cross-hatching the region with power lines and roads in order to feed, rather than curtail, society's growing hunger for energy.
Draft map is online
Essentially, the plan is this: identify the areas in each jurisdiction that have potential for large-scale renewable energy development, and then develop a conceptual transmission plan to deliver energy from these zones to wherever it's needed.
It's conceptual, because these zones will have no regulatory or legal status attached to them, nor is there any certainty that a transmission line will be built to accommodate them.
However, the B.C. Utilities Commission is leading an inquiry to determine province-wide transmission needs for the next 30 years, and experts say the WREZ process will play a role.
"It's quite clear the BCUC is going to be using the outcome of this process as a significant information input," says Nicholas Heap, climate change policy analyst for the David Suzuki Foundation.
"It takes longer to build a transmission line than it does to build a renewable energy generation station," says Heap. "You have to know where the renewable generation is going to be before anybody proposes it."
Phase one of the WREZ initiative has identified the types and locations of resources in B.C. suitable for large-scale development. A draft map of these so-called qualified resources areas (QRAs) can be found on this website.
Enviros helped us: Western Governors spokesperson
The QRA's were determined by a WREZ working group with "broad-based participation" from industry and environmental groups, says Karen Deike, communications director for the Western Governors' Association.
Monique Stevenson of SeaBreeze Power Corp. and Ed Higginbottom, senior strategy advisor for the B.C. Transmission Corporation are the two B.C. members of this working group.
It identified nine areas in this province with "a high density of developable renewable energy resources," according to draft documents. These areas represent a total of 17,310 MW of wind energy and 9,127 MW of hydro energy potential.
(According to the Ministry of Energy, at least 1,500 MW of potential wind, solar or hydro power within a 100 kilometres radius constitutes high density.)
Controversial river power projects on map
One of those areas is the Sunshine Coast, where development is already under way on the first of a suite of run-of-river projects dubbed the green power corridor.
The second of these, the Bute Inlet project, attracted a lot of media attention after hundreds of citizens showed up at three environmental assessment hearings this past month (hundreds more have submitted written comments to the environmental assessment office.
"There are areas that should not be developed because the ecosystem values would be too much affected," says Nicholas Heap, climate change policy analyst for the David Suzuki Foundation. "There are others where we believe that development can and should go ahead."
When asked what those beliefs were based on, Heap said the foundation does not have any specific areas in mind but said the group has been participating in the planning process to make sure the WREZ initiative does identify areas "that have high energy output but a low impact on the land."
"Our society uses a lot of energy, it will continue to use energy as we grow and we need to get that energy from somewhere," he says.
"We can't have power development without any impact at all."
Energy conservation instead: UBC's Rees
William Rees, a professor in UBC's school of community and regional planning, says concerns about climate change have taken undue precedence over other ecological concerns.
"Just because something is renewable doesn't mean it's the best thing to do if there are better options. I would argue that we could generate more energy by conservation than can produce by increasing supplies."
"We're very close to the point where we have to recognize that we have to end growth," he says.
The WREZ environmental and lands working group has identified areas that should be excluded or avoided from renewable development -- in British Columbia these include parks, ecological reserves, conservancies, protected areas and recreational areas.
Wildlife assessments have no yet been conducted for the QRAs, but this information will be considered when the renewable energy zones are finalized, says Deike.
Tom Hackney, policy director for the B.C. Sustainable Energy Association has been monitoring the initiative and says it would serve the function of a land use planning exercise for renewable energy in the province -- something environmental groups have long called for.
"If done appropriately, it would identify renewable energy sites that could be developed with minimum impact to the environment," says Hackney.
But it's a big if, he adds.
"The factors are mainly the public's ideas and their views on what ecosystems and what parts of the landscape should be preserved for wildlife."
Questions remain
If the public does accept the WREZ initiative, says Hackney, it could reduce the politics and push back associated with the situation of large renewable energy projects.
For the general public, there are broader questions that must be addressed.
Exactly how many power projects can residents expect to see, and how will environmental impact be minimized?
What will large-scale renewable development mean for smaller, community-based renewable projects?
Will BC Hydro's energy conservation efforts fall by the wayside?
What will our obligations be under NAFTA?
And, will citizens have a chance to participate in this process?
Stay tuned.
Related Tyee stories: