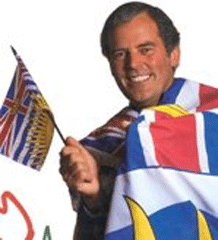 Searching for historical precedents to guide Canadians through the seemingly incomprehensible events now unfolding in Ottawa, many pundits and politicians have referenced the King-Byng affair of 1925-26, and a few have pointed to the Liberal-NDP accord that toppled the Tories in Ontario in 1985.
But as is so often the case, the best examples are to be found in British Columbia. That's because if ever an unusual or bizarre parliamentary event has occurred anywhere in history, it probably did so in B.C.
Three examples come to mind. First, the Liberal-Conservative coalition that governed B.C. from 1941 to 1952. Second, Social Credit's assumption of power in 1952. And third, Bill Vander Zalm's resignation as premier in 1991.
Almighty PMs?
Before we look at those B.C. precedents, let's quickly review our parliamentary system.
Many observers seem to think that the prime minister is at the apex of political power in Canada (and the premier at the provincial level). Others point to the Queen's representative in Canada, the Governor General (or the Lieutenant Governor in the province). Neither is true.
Under our system of governance, the people -- ordinary Canadians, more than 33 million of us -- are sovereign. (In provincial affairs, 4.3 million regular British Columbians are paramount.) We exercise our power, collectively, at election time.
Between elections, we place power in the hands of those individuals elected to represent us: members of Parliament in the federal House of Commons, and members of the legislative assembly in the provincial legislature.
The chief responsibility exercised by MPs is to oversee those among them who sit in the privy council (which is the federal cabinet). For MLAs, it is to monitor the legislators named to the executive council (or provincial cabinet).
Power to the people?
It is easy to misunderstand this basic structure, and reverse the order of power. After all, prime ministers, premiers and cabinet ministers seem all-powerful; they are well-compensated for their work and enjoy many taxpayer-financed benefits -- plush offices, an army of factotums at their beck and call, expense accounts, cars and much more -- unavailable to those parliamentarians sitting on the backbench or in opposition.
But remember this: regular MPs and MLAs have the power to remove and replace a cabinet any time the House is sitting. True, this power is seldom exercised, but that does not mean it is non-existent. And voters have to power to defeat any MP or MLA at an election.
The order of power in our parliamentary system is thus: first, the people; then, ordinary parliamentarians and legislators; and finally, members of cabinet, including the prime minister and premiers.
The Governor General and various lieutenant governors have very limited, and sometimes ill-defined, responsibilities, but they do not in any way exercise power on their own accord.
1941's Conservative-Liberal coalition
Duff Pattullo's Liberals were seeking their third consecutive majority government when British Columbians went to the polls in 1941. But B.C. voters cut the Grits to just 21 seats -- five short of a majority. The Co-operative Commonwealth Federation captured 14 seats, and the Conservatives, 12. One Independent, Tom Uphill of Fernie, also won re-election.
Pattullo was determined to govern with a minority, but prominent segments of B.C. society (business interests, the news media) loudly clamoured for a Liberal-Conservative Coalition government. That sentiment was in part attributable to the Second World War (Canadian troops were then in Europe and in Asia), as well as the CCF's growing strength.
The premier resisted, but after several cabinet ministers resigned their portfolios and Liberals in convention endorsed a coalition, Pattullo said he would stand aside as party leader. He soon visited the lieutenant governor to resign as premier, and advised him to ask John Hart, the new Liberal leader, to form a government of Grits and Tories.
1951: One confused lieutenant governor
A decade later, the coalition's disintegration led to another general election. The results of the 1952 contest were difficult to ascertain: Social Credit, a party that never before had elected an MLA in B.C., led the way with 19, and close behind (despite taking 28,000 more votes than the Socreds) was the CCF with 18 seats.
The Liberals returned six MLAs and the Conservatives had four. Tom Uphill, the veteran Independent, also won re-election.
Clarence Wallace, B.C.'s lieutenant governor, seemed as confused by the results as most British Columbians. He delayed and dithered for nearly a month before W.A.C. Bennett, the Socred leader, insisted on having a meeting. He went to Wallace with a letter from Uphill, who, despite being affiliated with organized labour, evidently had pledged his support to the Socreds and not the CCF.
With Uphill's support, the Socreds could appoint a Speaker and still enjoy a one-seat plurality in the legislative assembly. Wallace capitulated, swearing Bennett and his chosen Social Credit colleagues into the executive council.
1991: Zalm resigns
Finally, many readers will recall Bill Vander Zalm's turbulent term as Social Credit premier from 1986 to 1991. During that time, unrelated scandals forced several cabinet ministers to resign their posts, and the premier himself seemed under a perpetual cloud of controversy.
In 1991, dogged by rumours that he was in a conflict of interest over business dealings with a mysterious Asian businessman, Tan Yu, Vander Zalm asked Ted Hughes, a respected public servant and conflict of interest commissioner, to conduct an investigation into the matter.
Before the Hughes report was completed, Social Credit cabinet ministers and MLAs began to talk amongst themselves about possible outcomes. What if the premier, presented with an adverse report by Hughes, attempted to clear his name by making a direct appeal to the electorate? Did the Socreds really want to seek re-election -- and face certain annihilation -- in a campaign led by a disgraced premier, and where the major issue was the premier's integrity or lack thereof?
Fearing the worst, the Socreds reportedly opened lines of communication with the lieutenant governor. The proposition purportedly advanced was that in the event the premier sought a dissolution of the legislature, it should either be denied or delayed until the caucus could remove Vander Zalm and elect a new leader.
In the end, after Hughes found that Vander Zalm indeed had a conflict, the premier quickly resigned his post and thereby spared British Columbia from a constitutional crisis.
MPs have a job to do
Before considering how those three events in B.C. may be understood in the context of the present circumstances, let's recall that six weeks ago, in the country's 40th general election, Canadians elected 308 representatives who were charged with conducting our nation's affairs until the next general election.
Those 308 MPs, by winning election to the House of Commons, individually gained the responsibility of deciding the best interests of their constituents and of Canada as a whole.
That power was not given to political parties, nor to any single MP -- such as the prime minister. It was given to each one of the 308 individuals now sitting in parliament as our elected representatives.
Every MP who is neither in the privy council -- because ministers are bound by the principle of cabinet solidarity -- nor the Speaker, is free to vote as they choose, on any issue, at any time.
They even have the freedom to vote against their own party, or to quit their party and join another or sit as an Independent.
British Columbians know this latter point all too well from recent history. David Emerson (Vancouver-Kingsway) and Blair Wilson (West Vancouver-Sunshine Coast), both elected as Liberals to the last parliament, quit that party to join, respectively, the Conservatives and the Greens.
Before that, three B.C. MPs elected with the Canadian Alliance in 2000 ended up with different parties before the subsequent general election. Joe Peschisolido (Richmond) quit to join the Liberals; Keith Martin (Esquimalt) left to become an Independent (and later a Liberal); and Chuck Cadman (Surrey North) also opted to sit as an Independent.
Prorogation is just the start
In the general election on Oct. 15, the Conservatives won 143 of 308 House of Commons seats. That's a dozen shy of a majority, but sufficient to allow the Tories to form a minority government.
The Liberal Party finished second with 76 seats, and so became the official opposition. The Bloc Quebecois captured 50 seats; the New Democratic Party got 37; and two Independents also won election.
The total number of non-government MPs is 164 -- a Liberal, Peter Milliken, was elected Speaker -- which is 21 seats more than the Conservative government.
Earlier this week, the Liberals and New Democrats agreed to work together, first to defeat the Tories, and then to form a coalition government. The combined strength of the Liberals and NDP, however, is just 113 seats -- 30 fewer than the Conservatives, and 42 below the number needed for a parliamentary majority.
The Bloc Quebecois, therefore, were asked to join the Liberals and New Democrats in overthrowing the Conservatives. The BQ agreed, and further promised to lend ongoing support to the new coalition for a period of 18 months (although the Liberals and NDP agreed to govern for two-and-a-half years).
Conservative Prime Minister Stephen Harper, whose government faced certain defeat in Parliament, requested a meeting with the Governor General, Michaëlle Jean. He requested a prorogation of the current sitting of the House of Commons, whereby parliament would immediately adjourn and return on January 26. Mme. Jean agreed.
Yet the current drama is by no means finished. In six weeks, when MPs return to Ottawa, it is to be expected that the Liberal-NDP Coalition, along with the Bloc Quebecois, will make another, and immediate, attempt to defeat the government.
In the event that they are successful, Harper will again visit Mme. Jean. But next time it will be to seek a dissolution of parliament, thereby setting in motion a general election. But the Liberal-NDP Coalition, should it hold together until then, and should the Bloc agree to continue lending its support, will appeal to the Governor General to install the coalition as government.
What happens then?
Dissolution solution?
A salient point is that voters participated in a general election on Oct. 15. If Canadians are asked to go to the polls in late January (for March), just five months would have transpired between the two contests.
That makes the present situation more like B.C. in 1941 than in 1991. In the latter case, the Lieutenant Governor would have found it difficult to refuse Vander Zalm's request for dissolution, because the Socreds were in their fifth year in office and voters were nearly overdue to go to the polls.
In 1941, however, the crisis erupted mere weeks after the general election. It is conceivable that Pattullo could have sought dissolution and another election, but he wisely advised the lieutenant governor to call John Hart, leader of the Liberals, who would head a coalition government with the Conservatives.
To his credit, even though no coalition candidates had been on the general election ballot, the lieutenant governor understood that the new entity should be given an opportunity to test the confidence of the legislature.
In January, should the Conservatives be defeated, the decision facing the Governor General is whether a new Liberal-NDP Coalition with explicit Bloc Quebecois support ought to be given the opportunity to test the confidence of the House, rather than acceding to Harper's request for dissolution.
It would be difficult for Mme. Jean to refuse Prime Minister Harper's request for dissolution, but harder still to ignore the wishes of a majority of parliamentarians.
But what proof will Mme. Jean demand from the Liberal-NDP-BQ that they have the ability to survive a House vote? Recall that W.A.C. Bennett in 1952 held a letter from Tom Uphill, which purported to say that the Independent would support a Social Credit minority.
Surely the Governor General will demand more than a letter, but that points to the nub of the problem. Remember, members of Parliament are free agents who can quit their parties at any time, and vote any way they choose on any issue.
So, while BQ leader Gilles Duceppe may commit his party to a particular course of action for a given period of time, it is impossible for him to bind all of his BQ MPs. The notion that a Liberal-NDP-BQ entity would last for a specific period of time (either 18 months, or two-and-a-half years) is more wishful thinking than a contractual commitment.
Moreover, there is nothing to prevent Harper and his Conservatives from wooing right-of-centre Liberal and BQ MPs to vote with the Tories -- or even to join the Harper government (a la David Emerson) -- prior to, or after, any vote of confidence. Again, with 143 MPs, the Tories are just 12 short of a parliamentary majority.
Strange doings
To conclude, historic events in B.C. provide some context in which to view ongoing events in Ottawa.
But consider that Stéphane Dion, the man the Liberals have put forward as the next prime minister, already has announced his intention to quit as leader next May. And no B.C. government ever has sought power with the assistance of a party dedicated to breaking up Canada.
Nope. Not even British Columbians are that crazy.
Related Tyee stories: