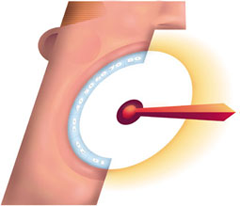 Some days, you just don't know what to believe.
Last week, the Mustel Group released a poll that had the B.C. Liberals and New Democratic Party neck and neck: Liberals 44 per cent, NDP 42 per cent.
A week before that, Ipsos Reid had the Liberals well in front with 44 per cent to the NDP's 35.
And a few days before that, Angus Reid Strategies had the NDP leading with 44 per cent to the Liberals' 39.
These dueling polls have political observers scratching their heads and looking for something in the polls' methodologies that would explain the differences.
'It's very fluid'
Evi Mustel, of the Mustel Group, told The Tyee there could be a couple of things at work here.
The difference between polls, she said, could be due to timing. Ipsos did its interviews from Nov. 5 to 12, before the Nov. 15 municipal elections, which saw the centre-left Vision Vancouver score a convincing victory.
Mustel was in the field from Nov. 14 to 22 and Mustel says the shift to the left in Vancouver "could have given the NDP a bit of a boost."
"This is politics in B.C.," she said. "It's very fluid."
Mustel's polls have shown a gradual climb for the NDP since March, a lot of which was probably due to the carbon tax, she said
The Liberals appear to be losing support in the Interior and with women, Mustel added.
The Ipsos polling, on the other hand, shows virtually no change in the party standings. Mustel said she has examined the methodology of the company's polls and can see nothing out of the ordinary.
(Ipsos did not return a call from The Tyee for this article. After the company's most recent poll came out, Ipsos Reid vice-president Kyle Braid told the Vancouver Sun's Jonathan Fowlie that he would not comment on the difference between his poll and the Reid poll. "I've gone through ours, I'm comfortable with the results, and I think I'll let the numbers and our record stand for itself," he said.)
Angus Reid's Internet polls
While the Mustel and Ipsos polls used similar methods, Angus Reid polls differently.
While Mustel and Ipsos interview people over the phone using computer-assisted random dialers, Reid interviews online from a database of people who have volunteered.
Reid describes this as a great advance in polling, a way around the fact that it's getting harder and harder to reach people by phone.
"While the telephone served as a great tool in the initial stages of polling, it is now estimated that more than 80 per cent of potential respondents refuse to participate in surveys over the telephone," a Reid "White Paper" states. "In addition, almost one-in-six adults are inaccessible to pollsters because they communicate exclusively by cell phone or employ blocking/screening devices that prevent surveyors from reaching their households."
Reid recruits poll participants by advertising on "an extensive array" of websites and through "non-governmental and charitable organizations.... Angus Reid Strategies ensures that the panel reflects the general population by continually verifying and recruiting so that the socio-demographic characteristics of each sampling region match actual sub-populations according to Statistics Canada and Elections Canada data."
In other words, they try to make sure the people they interview look like Canada -- or, in this case, B.C.
Pulling from panels
Online polling is relatively new, but it has been successful in Britain, the U.S. and Canada. Aspects of it, however, are still controversial.
After the latest Ipsos poll was released, local media noted that it had the same margin of error -- plus or minus 3.5 percentage points, 19 times out of 20 -- as the Angus Reid poll.
But margins of sampling error are based on random samples -- in this case a random sample would be one in which every potential B.C. voter has the same chance of being selected. (It's actually a bit more complicated than that. You can get a good, in-depth explanation of this stuff here.)
But online polls, as we mentioned above, are drawn from panels, which means that if you're not on the panel, you don't have any chance of being interviewed, even if you're a potential voter. The people on the panel, because they volunteered to participate, are said to be self-selecting.
The American Association for Public Opinion Research, which includes academic, government and private sector pollsters, states that "the reporting of a margin of sampling error associated with an opt-in or self-identified sample (that is, in a survey or poll where respondents are self-selecting) is misleading."
The Marketing Research and Intelligence Association, Canada's professional association for pollsters, has a similar policy. Its Code of Conduct advises members to refrain from quoting margins of error where respondents are self-selecting.
Nailing the federal vote
Angus Reid Strategies is not a corporate member of MRIA, although some of its employees are individual members, MRIA executive director Brendan Wycks told The Tyee.
The association's policy on margin of error doesn't mean that MRIA believes online polls are untrustworthy, Wycks said.
"We don't question or undermine the utility of online research," he said. "Our view is Angus Reid Strategies should not be quoting a margin of sampling error.
"But that's saying nothing about whether it's good research or not."
In fact, Wycks noted, Angus Reid was spot-on in its prediction of the outcome of the October federal election using online polls. (A call to a Reid spokesman for this article was not returned.)
Wycks said that most public political polling in the U.S. is done online. That may soon be the case in Canada, as well, he said.
Still, as Mustel said, "online polling is still developing its track record."
'Ignore the polls'
If it seems that we're providing more questions than answers here, you might want to heed the words of University of Victoria political scientist Dennis Pilon:
"My advice is always ignore the polls. Absolutely ignore polling."
For one thing, Pilon says, polls taken between elections tend to be unreliable.
"The people who agree to be interviewed [between elections] tend to be already interested in politics," he said. But many of the people who actually turn out to vote "have only a passing interest in anything political."
But Pilon also objects to polling on principle.
"I mean, morally, people should just ignore polling because polling is an attempt to rig the outcome before it happens," he said.
"If you give people the impression that one person's a front-runner, then that could encourage people to make decisions about participation: 'Oh forget it, my party never wins' or 'Oh, my party's going to win. I don't need to vote.' "
And, he points out, there's a lot more to the reliability of a poll than sampling error.
"This 19 times out of 20 garbage that appears every time, most people have no idea what that means," he said. "In fact, it gives people a false sense of confidence."
Ignore the horserace: Pilon
Factors determining a poll's reliability include what questions were asked, what order they were asked in and the number of people who refused to be interviewed, Pilon said.
Focusing on the political horserace is not good for democracy, he said.
"Who can win is not an interesting question democratically.... That's where this polling stuff just fuels a rather cynical approach to the substance of politics. Which not surprisingly turns people off politics."
For people who like politics to resemble professional wrestling, horserace polls are great, Pilon said.
However, "a lot of people like the idea of politics as a dialogue, as a deliberation, as an inclusive process. This constant harping on polls and who can win turns those people away from the political system."
Said Pilon: "In the end, the supposed benefits of polling, I'm not sure there really are any."
Related Tyee stories: