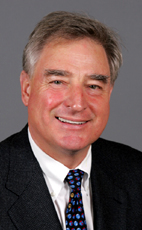 For almost two months, the entire lifetime of the Harper government, the Emerson Problem has been a small, sharp pebble in our collective shoe. Other wonders have predictable nine-day lives. This one seems immortal.
Hundreds are still marching in the streets of Vancouver-Kingsway, protesting Emerson's refusal to resign and run again as a Tory. A former supporter spent a reported $1,600 to fly a banner over Ottawa on the opening day of the new parliament saying "David Emerson, call home."
Even the current issue of BC Business has Emerson on the cover, with a hand-wringing story inside about how tough it is for business guys who want to donate their astounding talents to the public weal.
It's certainly not because Emerson is a flamboyantly evil man. I'm sure his successful career reflects real talent and intelligence. But his instant defection to the Conservatives reflects a profound failure of judgment that disqualifies him from any serious public post.
One individual's poor judgment, however, is not enough to create an ouster movement with its own website. Millions of other Canadians must now question their own judgment over the past couple of decades. Stephen Harper's recruitment of David Emerson required the active or passive cooperation of us all.
Long chain of misjudgments
Emerson's own lapse in judgment was really only the last in a long chain. He had to think that he would do more good to Canada in the Conservative cabinet than in the Liberal opposition. But that decision was not his to make; it was reserved to the people of Vancouver-Kingsway. They spent almost $100,000 and 20,062 votes to put him in parliament.
Before Emerson could make that mistake, ex-MP John Reynolds had to make another: to invite Emerson to desert his party and join the Conservatives. For Reynolds to make that mistake, he had to be at least as contemptuous of the voters' will as Emerson himself. Perhaps Emerson could be excused as a parachute candidate, more familiar with boardrooms and bureaucracies than with the messy business of elections.
But Reynolds had served as an MLA, as well as MP. How could he have been so unclear on the basic concepts of democracy?
Harper himself showed disastrous judgment in encouraging Emerson's defection. His ostensible reason was to give a voice in cabinet to Vancouver's urban voters. But how could he suppose that Vancouverites would be pleased with this volunteer spokesman, when they had gone to so much trouble not to elect a Conservative? Would other Vancouver ridings swing Conservative in the next election because Emerson had claimed to speak for them in 2006?
In the early stages of the Emerson Problem, Harper tried to dismiss the protests as motivated by partisan zeal-as if Emerson's recruitment had not itself been motivated by the partisan desire for some kind of urban presence in a cabinet full of small town and suburban politicians. That kind of spin revealed only more contempt for the intelligence of the voters.
Harper's caucus had no better judgment than he. So they supinely accepted the instant trashing of the values they had campaigned on: accountability, transparency and honesty. At least Diane Ablonczy was willing to admit on camera that her party would pay a price for this action. Garth Turner, the Conservatives' most high-tech MP, loudly blogged his discomfort with the Emerson Problem. But he didn't leave the party over it.
Plenty of blame to go around
The Conservatives could not take all the blame. Having stayed out of the federal campaign, BC Premier Gordon Campbell and Vancouver Mayor Sam Sullivan publicly praised Emerson's defection. Business leaders like Darcy Rezak and John Furlong claimed to be delighted with Emerson as a reliable supplier of money for BC megaprojects and the 2010 Olympics cost overruns. If they could foresee future riches, why could they not foresee the anger of the taxpayers who were expected to supply those riches?
And what of Paul Martin himself, who had recruited Emerson in 2004? How could he have been so gullible as to think this man would stay with the Liberals in sickness as he had in health? He'd been deceived by Chretien and now he'd been deceived again.
The corporate masters of our mass media, and their editorial flunkeys, also had reason to question their wisdom. They had given Harper sympathetic and uncritical coverage for years. In the days before the election, they endorsed Harper. That hadn't been enough to win him a majority, but perhaps enough to give him a minority government. After years of moralizing about Gomery and Belinda Stronach, they saw their protégé suddenly reveal himself as just another well-tailored liar. What did that say about the corporate lords' own perceptiveness, their own desire for peace, order and good government?
Finally, what about the 5,370,903 Canadians who, having followed political events over the last decade or so, nonetheless voted for Stephen Harper? They were either trusting fools or cynics who didn't care which scoundrel was in power as long as they profited from him.
Poor judgment on this scale is not a matter of absent-mindedness, of buying a bad penny stock, of trying to drive while talking on one's cell phone. On this scale, poor judgment is built right into our political culture.
Judging by the long string of mistakes, we have acquired a ruling class of politicians, bureaucrats and business leaders who sincerely see democracy as an irrelevant formality. Henry Kissinger famously observed that he saw no reason for Chile to go Marxist simply because "its people are irresponsible." Nor does our ruling class think we should irresponsibly vote as we choose, when it knows far better than we what needs doing.
Nomenklatura takes care of its own
And there, I believe, is why the Emerson Problem remains insoluble by Harper and Conservatives. The ruling class, the Canadian nomenklatura, takes care of its apparatchiks. The rest of us, who still think a vote has value, also think we should hire our politicians under the terms we set, and fire them when they don't respect those terms.
The nomenklatura might actually show some good judgment if it admitted its error and dropped Emerson altogether. Whatever his talents, he is now very much damaged goods. He is in no position to throw his weight around on behalf of Canadian trade. He could go back to the boardrooms, Harper could pick some suburbanite and the Conservatives could work harder to win some big-city ridings next time.
But when you have lousy judgment, you can't even recognize your lousy judgment. It's always someone else's fault, usually those wicked partisan zealots.
If we have allowed this state of affairs to develop, then 32 million Canadians should reflect on the collectively poor judgment that permitted the nomenklatura to take charge. And if we want to solve the Emerson Problem, we will need to use good judgment in getting rid of the nomenklatura, as well as David Emerson.
Crawford Kilian is a frequent contributor to The Tyee.