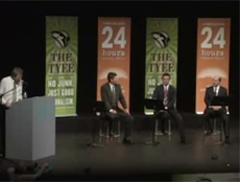 Three men who hope to be mayor of Vancouver faced one another for the first time last night in a debate hosted by The Tyee and Vancouver 24 hours.
Parks board commissioner Al De Genova, Coun. Raymond Louie and NDP MLA Gregor Robertson all hope to run for mayor under the flag of the left-of-centre Vision Vancouver party in this fall's November civic elections.
They responded to a series of nine questions posed by journalists Janet Dirks of CTV, Irwin Loy of 24 Hours and Monte Paulsen of The Tyee.
Watch the debate in its entirety by clicking on the following segments:
Introduction: Let the debate begin.
Question 2: Can you get me a seat on the bus?
Question 3: Who will pay the bills?
Question 4: Name the last three tickets you paid for
Question 5: How will you add parkland -- part 1?
Question 6: Where will renters live -- part 1?
Question 6: Where will renters live -- part 2?
Question 7: How will you house the homeless?
Question 8: What will Vancouver look like after 2010?
Question 9: What's the best way to make citizens safe?
[Video not yet available.]
Question 10: How will you beat the NPA?
[Video not yet available.]
Closing statements -- part 1
Closing statements -- part 2
Vision Vancouver will select its candidate in a nomination convention on June 15, 2008, at the Croatian Cultural Centre.
The Tyee and 24 hours offered to sponsor a similar debate for the NPA, where incumbent Mayor Sam Sullivan faces a challenge from Coun. Peter Ladner. But NPA chair Matthew Taylor said the party is planning to host its own candidates' event.
To date, no members of the left-of-centre Coalition of Progressive Electors have formally declared for mayor.
Related Tyee stories: