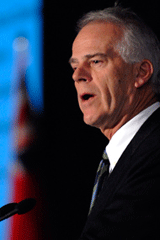 After it was revealed last year that Partnerships British Columbia Inc.'s CEO Larry Blain and others had enjoyed much wine and good food at taxpayer expense, a PBC official said an audit into all spending at the agency going back to its 2002 inception was underway.
The Tyee received a copy of that document, prepared for PBC's audit and risk management committee, which includes five members of the agency's board of directors.
Finance Minister Carole Taylor has accepted the Sept. 20, 2007 report, said PBC spokeswoman Jennifer Davies, and "we haven't had any additional request to do anything further."
But NDP finance critic Bruce Ralston said the auditors were asking the wrong questions.
Instead of going through all receipts for the agency, which is responsible for facilitating and promoting public-private partnerships, the chartered accountants at BDO Dunwoody LLP looked at "a random sample of 100 of Partnership BC's corporate and staff expenses, during the period from inception to March 31, 2007."
And instead of judging whether the expenses were appropriate, the auditors checked to make sure the amounts paid out matched the supporting documentation, the approved forms were used and "that items are paid in accordance with policy." They also compared the agency's policies to the provincial government's.
However, they carefully noted, "The above procedures do not constitute an audit of Partnerships British Columbia Inc.'s corporate and staff expenses and therefore we express no opinion on these amounts or on any of its individual account balances."
'Not an explanation'
Finance Minister Taylor and PBC's board of directors had agreed on the limited scope of the investigation, said Davies. "That is all that's planned."
"It's not an explanation, based on what you've just told me," said the NDP's Ralston. "What certainty do you have the items are even selected randomly? If you're selecting randomly, who selected randomly? You could select to avoid the most embarrassing ones."
More explanation is needed, he said, but the government is unlikely to insist on getting one. "It's pretty typical of the political protection they apply to Partnerships B.C. It's a favoured agency."
Questions about spending at PBC came up after a freedom of information request resulted in the release of Blain's expense receipts for fiscal 2005-2006. At one meal, for example, 17 guests at Vancouver's Al Porto Ristorante imbibed five bottles of Wild Goose Pinot Gris, three of Columbia Crest Merlot, two of Penfolds Chardonnay, and three of the d'Arenberg's The Stump Jump.
The bill also included a martini, a cosmopolitan, a rum, three bottles of beer, and a glass of the Scotch whisky Lagavulin. And they went through 13 bottles of San Pellegrino mineral water for $103.35. Along with food, the bill Blain paid and charged back to PBC came to $1,567.11, including taxes and a $235 tip.
Blain, by the way, earned $519,448 in salary and bonuses that year and claimed $45,325 in expenses.
Blain has repaid: Taylor
After stories ran in Victoria's Monday Magazine and Vancouver's Georgia Straight, Ralston observed in the legislature, "The invited guests included board members and senior staff and other honchos from the public-private partnerships world."
As recorded in the Feb. 27, 2007 Hansard, he asked, "Can the Minister of Finance answer this: how many bottles of wine does it take to build a hospital?"
Taylor responded, "It is the practice for Partnerships B.C. not to pay for any alcohol. There were a couple of instances that were found out to be true, so [Blain] has repaid those expenses."
The investigation ordered by PBC and the Finance Ministry, however, failed to go back through all the expense receipts for Blain and other officials to see if there was more taxpayer money he and his colleagues needed to pay back.
Among the small problems the accountants found were an $82.42 error in one claim from 2003, a travel expense of $2,330.59 "which lacked evidence of approval" from 2004 and a staff workshop expense from 2007 that had been submitted without the correct form.
They also found the PBC and provincial policies for reimbursing expenses were "effectively similar in all areas" with a few exceptions. PBC, for example, will reimburse a tip of up to 15 percent, while the province will not.
Auditors overlooked more alcohol
However, even the small number of receipts used for the sample included some of the kinds of expenses that Taylor told the legislature that PBC does not pay, though the BDO Dunwoody accountants failed to note them in their report.
A $998.57 bill from the "stately waterfront" Grand Okanagan Resort in Kelowna in 2003, for example, included three bottles of beer, five bottles of red wine and three bottles of white wine.
And a 2005 bill from the Penticton Lakeside Resort, "reminiscent of ancient Tuscany," had on it two glasses of Penfolds cabernet shiraz and four bottles of Sol beer. The diners were Marven Hounjet from Johnson Controls International and PBC's then assistant vice-president Rudi van den Broek, who now works for the Vancouver Island Health Authority.
A Tyee request for all expense receipts for all members of PBC's management team and board of directors resulted in a $3,972.50 fee estimate. The records would be about 4,250 pages and would require 35 hours billed at $30 an hour to prepare, the estimate said.
Related Tyee stories: