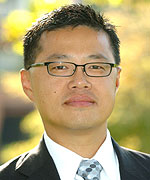 Vancouver Mayor Sam Sullivan's political opponents have called for an investigation into the handling of a $5,136 donation made from a Sullivan-run non-profit society to the Sullivan-led Non-Partisan Association.
The donation from the Nanitch Policy Society, and the apparent lack of disclosure of that donation to Sullivan's fellow directors, was reported by The Tyee last week.
City Coun. Raymond Louie called for the investigation in a well-attended press scrum at Vancouver City Hall yesterday morning.
"We are holding this press conference this morning as a result of an online report done by Monte Paulsen and The Tyee that outlines some significant issues regarding the operations of the Nanitch non-profit society," said Louie, speaking for the opposition Vision Vancouver party.
"It appears the board of directors have no idea what monies have flowed through the organization, who's directing those expenditures, and where that money is going to," Louie continued, with Vision councillors Heather Deal and Tim Stevenson at his side. "It appears that Sam Sullivan is the sole person directing these funds. In this case, directing them to the NPA."
Louie said Vision will formally ask the province to investigate whether the Nanitch donation contravened the Society Act, and will ask the city to investigate whether the donation contravened the Vancouver Charter.
Taylor to investigate Sullivan?
B.C.'s Minister of Finance is responsible for upholding the Society Act.
During the five-day interval between the day The Tyee broke the Nanitch story and Vision Vancouver called for an investigation, Finance Minister Carole Taylor became the unannounced front-runner in next November's mayoral campaign.
The call for Taylor to investigate the man she would seek to defeat drew guffaws from the press scrum.
"How serious do you expect the minister to take the request when it's based on an online article that you have not independently verified, there's this political shadow hanging over all of it, and you won't even voice an allegation?" asked CBC radio reporter Stephen Quinn.
"I completely expect she will look into it," replied Coun. Stevenson. "That's her position. That's her role. That's what she's there for. It has nothing to do with whether she's going to run for mayor or not run for mayor . . . . If she feels she should step aside, she'll appoint somebody else. It's fairly simple."
'But them is the mayor'
Mayor Sullivan's communications director David Hurford responded to the Vision councillors' statements in a follow-up scrum, but refused to answer questions about Nanitch.
"I think it's bizarre," Hurford said. "I'm not sure what the opposition is even alleging here."
The Tyee raised some of the same questions Hurford refused to answer last week. Here's the exchange that followed:
Paulsen: "The mayor says that accountability is one of his top priorities. Why won't he release who gave this money to a fund he controls?"
Hurford: "I'm not going to comment on these bizarre allegations. Vision is just desperate . . ."
Paulsen (interrupting): "This is a matter of accountability. This is money that flowed to the NPA. Why can't the mayor simply say who gave it?"
Hurford: "Well, it's disclosed. We know who gave it. The society gave it..."
Paulsen (interrupting again): "But we don't know who gave it to Nanitch..."
Hurford: "I'll let Nanitch talk about their own society."
Paulsen: "But the mayor is Nanitch."
Hurford: "I work for the mayor and I can tell you that societies are very allowed to donate monies to political parties, they do it to others all the time, there's nothing illegal about that, and like I said this is just a desperate act by the opposition . . ."
Steven Quinn : "But by its mandate, Nanitch collects money to further the goals of people who are disabled. It took $5,100 and gave it to the NPA . . ."
Hurford: "I'm not going to talk directly about Nanitch. I don't speak for Nanitch. So you can talk to them . . ."
Quinn: "But them is the mayor. You're here today speaking for the mayor."
Hurford: "Well, not necessarily. That's right. Not necessarily. That's not the case. I speak for the mayor . . ."
And so it continued for about 10 minutes.
Sun, Globe, and Province take up story
Vancouver's mainstream print media took up the Nanitch story in different ways.
Frances Bula advanced the story in The Vancouver Sun.
"B.C.'s registrar of companies is going to take a look at a non-profit society formed by Mayor Sam Sullivan," Bula reported. "But registrar Ron Townshend said that he doesn't see any serious violations and that several of the aspects that Vision Vancouver has complained to him about are outside the jurisdiction of the Societies Act."
Bula reported that Townshend also said, "he will ask some questions about why the society directors didn't know that the money gathered by the society had been given to a political party."
The Sun also published an editorial critical of Sullivan.
Ian Bailey focused on Taylor's own conflicts in The Globe and Mail. Bailey's piece, which focused on NDP complaints about Taylor's continuing as finance minister while considering a mayoral bid, also noted Vision's complaint about Nanitch.
Christina Montgomery addressed the question about possible contraventions of the Vancouver Charter. Her article in The Province noted, "At a stormy council debate last week on campaign financing, the city clerk's office, which rules on local campaign issues, said a donation made by a society to a political party without the knowledge of its board would not be acceptable."
Montgomery was more colourful in her blog, "Vancouver City Limits":
"Well, any doubts about whether the municipal election campaign has begun were laid to rest under the bright lights and whirling cameras at the press conference in the foyer of city hall this morning."
Related Tyee stories: