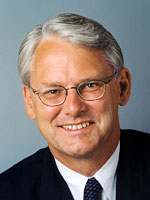 When it comes to cutting greenhouse gas emissions, last week's throne speech warned, it's not just the government that must act. "We do know this -- what each of us does matters. What everybody does matters."
So what is B.C.'s Premier Gordon Campbell himself doing about climate change?
One indication might be taken from Campbell's investments.
For someone claiming that each individual must act to deal with climate change, Campbell's share holdings reveal some unusual choices -- or lack of choices.
According to his disclosure statement filed with the legislature clerk's office last Dec. 1, Campbell and his wife Nancy together owned shares in eight oil and gas companies: Imperial Oil, Petro-Canada, Talisman Energy, Canadian Natural Resources, Husky Energy, Shell Canada, Nexen and Suncor Energy. (For some of the shares, both own them; for others, only one of them does.)
In addition, the Campbells own power generating and marketing giant Transalta Corp., and -- until Sept. 15, 2006 -- owned methanol producer Methanex.
Most of the rest of their individual share holdings are of mining companies. The pair also owns a host of other investments, including mutual funds, government bonds and securities, money market funds, cash and income trusts, according to the statement.
Throne speech or not, there is not a single investment in individual shares of alternative energy companies.
There are two possibilities here.
One is that Campbell decided that the stellar returns that oil and gas companies provide are more important than helping cut back on greenhouse gases. After all, his portfolio, as he has asserted, may be managed entirely by his broker Canaccord without his knowledge. But there is nothing to stop Campbell from ordering that none of his investments are to be in oil and gas firms.
The other possibility is that Campbell has sold the oil and gas shares since last December.
Unloading shares
In an update to his disclosure statement filed Feb. 5 with conflict of interest commissioner H.A.D. Oliver, Campbell revealed that the two have sold some of their oil and gas shares. The pair no longer own Nexen, Suncor, Petro-Canada, Talisman or Canadian Natural Resources.
However, the same Feb. 5 disclosure statement -- the public version of which was released the day before Campbell's green throne speech -- discloses that the Campbells recently bought shares in a couple of companies that provide drilling and other services for the oil and gas industry: Trinidad Energy Services and Savanna Energy Services.
The Campbells also recently bought shares in Nova Chemical Corp., whose motto is: "Producing plastics and chemicals essential to everyday life."
As well, they apparently still own Shell Canada, Husky Energy and Imperial Oil.
B.C.'s greenhouse gas emissions are now more than one-third higher than they were in 1990. Premier Gordon Campbell said in the throne speech -- read by Lieutenant Governor Iona Campagnolo -- that it's time for action.
Premier urged action
"The science is clear," he said in the speech. "It leaves no room for procrastination. Global warming is real."
And action must be formidable: "The more timid our response is, the harsher the consequences will be."
So the "government will act now, and act deliberately."
The government plans, for example, to boost the energy efficiency of the very place where the speech was delivered, the legislature buildings themselves. The same government, however, shut down the green economy secretariat and ended the climate change business plan, causing some to be skeptical about the depth of its throne speech commitment.
Skepticism was reinforced this week, when the 2007-08 budget revealed only tiny amounts for what was supposed to be the most pressing issue of our day. According to Tyee columnist Will McMartin, the total sum devoted to climate change comes to $4 million, out of nearly $30 billion in total spending.
And, as New Democrat environment critic Shane Simpson pointed out in the house this week, there are a whopping six staff in the government's climate change branch, "including the person who answers the phone."
Those looking for a sign of commitment on the B.C. Liberals' avowed new green agenda, therefore, might pay attention to the fact that party's leader invests his own money in major producers of greenhouse gas emissions rather than green innovators fighting global warming.
Alcan saga
In his Feb. 5 statement, Campbell also formally declared the Jan. 11 sale of the controversial Alcan shares that he and Nancy Campbell owned.
On Jan. 26, New Democrat John Horgan wrote to Oliver, asking him to investigate the Campbells' Alcan share holdings, noting that last fall, Campbell signed an order-in-council approving Hydro's agreement with Alcan.
And when the deal was originally announced last summer, Campbell was full of praise for it.
"Alcan has been a valued partner in the growth of our province for over 50 years and will continue to build on that legacy with this major investment in Kitimat," Campbell said in an Aug. 14, 2006, statement. "I want to thank Alcan for its continued commitment to B.C. and for working with its partners to make this investment possible for the benefit of the entire Northwest."
Last Dec. 29, the B.C. Utilities Commission overturned the agreement, though both Hydro and Alcan have reserved the right to appeal.
As it turned out, in the original, confidential version of his disclosure statement filed with Oliver on Sept. 15, 2006, the premier's Alcan holdings were wrongly listed as being in "Alcone Ince."
In the process of correcting this, Campbell's office sent Oliver an updated list, signed on Nov. 10, declaring that Nancy Campbell had since acquired Alcan shares on Nov. 2 -- several weeks after the cabinet considered the Alcan order-in-council.
According to Oliver, the premier's Alcan shares were part of Canaccord's Independence Canadian Equity Portfolio -- though it isn't mentioned by name in his disclosure statement.
Blind trust suggested
The portfolio is designed for investors looking for a hands-off approach to their investments, which are bought and sold on the basis of decisions by the chief portfolio officer, without input from the investor. However, unlike for mutual funds, investors hold the various stocks directly.
In his written ruling, released Feb. 5, Oliver found -- as expected -- that Campbell had done nothing wrong.
And even if Campbell had planned to profit from his Alcan investment, the gain would not have been large. At any one time, said Oliver, Campbell probably held no more than 80 Alcan shares -- which in the last year have traded in the range of $41.78 to $64.99. They closed on Feb. 21 at $63.79.
However, Oliver did suggest that MLAs "would be wise to avoid exposing themselves to attack on the basis of involvement in a form of investment which could give rise to unwarranted attack." [sic]
Oliver noted that several Canadian jurisdictions ban ministers from owning any shares, except in "specified circumstances." While Oliver wrote that he did not embrace such a "draconian" measure, he did make a couple of suggestions.
Instead of ministers investing in individual companies, they could instead put their money in non-self-directed mutual funds. Another alternative is to put them in blind trusts.
Six weeks' lag time
According to Oliver's Feb. 5 written statement, Campbell has "given instructions to discontinue" his involvement with the Independence Canadian Equity Portfolio.
But as far as we know to date, Campbell retains his holdings in a number of oil and gas companies.
To be fair to Campbell, there is a lag of up to six weeks or so before a change in an MLA's financial situation is publicly available.
Though MLAs must disclose to Oliver any "material change" within 30 days, the public version may not be released until some weeks later.
So it's entirely possible that the Campbells have since switched to green investing. It could be that the pair has unloaded all stocks in greenhouse gas producing companies -- sometime after Feb. 5.
If so, that provides an indication of just how recent was the premier's conversion to environmentalism.
Related Tyee stories: