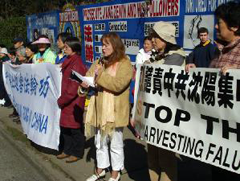 It was three in the morning on August 31 when the light coloured SUV braked to a stop at 16th and Granville. A small group of Asian men jumped out of the vehicle, ran over to a hut built on the sidewalk and began to pummel the young man sitting inside the modest structure. In less than a minute, Raymond Zhang, the Falun Gong meditator taking the night shift at the organization's vigil outside China's Vancouver consulate, had been beaten about the head and shoulders and the three attackers had fled.
Zhang was left with a few bruises on the hand he used to ward off blows, and a headache, plus nagging questions about whether the assault was random street violence or part of a global campaign of harassment that Falun Gong members say they have endured at the hands of the Chinese government.
Falun Gong members have been non-violently meditating outside the Chinese consulate to protest what they say is a pattern of persecution against their members in China -- persecution they say includes unlawful executions used to harvest human organs that are then sold into the international transplant market. A recent report by Canadian human rights experts David Matas and David Kilgour has suggested there is extensive circumstantial evidence to support the Falun Gong accusations.
Mayor disapproves of protest
The vigil and hut have been present outside the consulate building for over five years now, and recently became the focal point of considerable controversy when Vancouver Mayor Sam Sullivan announced earlier this summer that he intended to have the hut removed from the sidewalk, claiming it was in breach of a city bylaw.
Falun Gong spokespeople claim they had, in effect, been granted permission for the structure by the city's failure to remove it over the past half-decade.
Zhang, a thirty-year-old Vancouver lab technician, has been part of the Falun Gong presence outside the consulate for over two years now. He says his mother, a physician in China, has been arrested three times because of her support for the meditation group, which the Chinese government considers a subversive organization.
"Three Asian men got out of the car and came over to me without saying anything," Zhang told the Tyee. "Suddenly, they were pummelling me. They repeatedly punched my face and head. The ambulance came and checked me out, and after I had finished my shift in the morning, I went to the police station and filed a complaint. Since then I've heard that other local practitioners have been assaulted. One woman was sprayed with an irritating liquid."
'Brutal vendetta'
If these alleged attacks are indeed an expression of the Chinese government's irritation at Falun Gong's ongoing challenge locally, as the group's spokesperson Sophia Bronwen believes, they would be part of a global pattern of anti-Falun Gong harassment and violence attributed to Chinese agents.
On February 28 this year, a group of men broke into the offices of the Epoch Times, a Hong Kong paper sympathetic to Falun Gong, and damaged computers and other office equipment. An international organization devoted to protecting the rights of journalists suggested that there was a connection between this attack and Falun Gong's conflict with the Chinese government.
"China's authoritarian leaders are maintaining a systematic policy of intimidation and censorship directed against dissident voices and independent media, both inside and outside of the country," said Aidan White, International Federation of Journalists general secretary. "This latest vandalism is part of a brutal vendetta that cannot be tolerated."
In June of 2004, shots were fired at a Falun Gong delegation in Johannesburg, South Africa to protest the presence of a Chinese government delegation in that African state. One supporter was wounded in what a Falun Gong website calls the first gunfire attack on Falun Gong supporters outside China.
Bronwen herself told The Tyee that she was arrested in Tiananmen Square in Beijing on Valentine's Day, 2002, when she travelled to China with other Falun Gong supporters to protest the government's treatment of the group. She says she saw several fellow demonstrators beaten savagely by Chinese police.
Ottawa beating alleged
In a press release about the August 31 attack on Raymond Zhang, Bronwen says: "This is not the first time that peaceful protest against the Beijing regime has led to violence against Falun Gong practitioners and their supporters in Canada. On December 28, 2001, Mr. Xueliang Wang was viciously beaten at the Ottawa embassy for taking a picture of a hate-display against Falun Gong. Rob Anders, MP, was also jostled and intimidated in the House of Commons by staff of the Chinese Embassy for wearing a t-shirt calling for an end to the persecution of Falun Gong."
Calls to the local Chinese consulate requesting comment on the alleged assault outside their doors were not returned before this story went to press.
The office of Vancouver Mayor Sam Sullivan was contacted for comment, but declined to comment.
At press time a request to the Vancouver Police Department for comment on the reported assault had not received a reply.
Tom Sandborn is a Vancouver journalist and regular contributor to The Tyee.