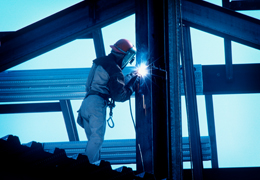 Like mysteries? Think of this one as "the case of the missing ironworkers."
When it comes to one of B.C.'s controversial new "public private partnerships," the construction of the new Golden Ears Bridge across the Fraser between Maple Ridge and Langley, the German company recently granted the Translink construction contract says that finding skilled workers in Canada is murder. The firm, Bilfinger Berger, is asking for government permission to bring in workers from off shore to address what they portray as a shortage of skilled workers.
Local labour and business leaders, on the other hand, are calling on the government to deny Bilfinger Berger's request, insisting that there are more than enough skilled Canadian tradespeople looking for work to meet the project's needs, and that the company's attempts to hire Canadian workers have been half-hearted at best.
At a press conference on Thursday, August 31, in downtown Vancouver, labour and business leaders joined in a public demand that no permits be issued to allow Bilfinger Berger to import foreign workers.
Jim Bromley, regional manager of Harris Rebar, North America's largest reinforcing company, testified to the frustrating experience his firm had endured trying to secure subcontracting work the Golden Ears Bridge while doing business as a union shop employing Canadian labour. Bromley said the German company had repeatedly provided inadequate drawings for use in preparing a bid, conducted several meetings and then announced the Harris bid was too high and that they would not get the work.
Bromely was joined at the head table by BC Federation of Labour President Jim Sinclair, BC and Yukon Territory Building and Construction Trades Council Executive Director Wayne Peppard and Perley Holmes, Business Manager of Ironworkers Local 97.
'Second-class workers'
But, some will ask, isn't this just self-interested unions and local businesses out to block the arrival of new immigrants and the competition they would bring into the labour market?
"We aren't against workers coming to Canada," Sinclair said. "We're against foreign workers being brought in to lower wages. It isn't organized labour that's anti-immigrant. It's the employers who want to bring in immigrants as second-class workers without the rights and protections you have if you have permanent status in Canada. Look at what happened to that Mexican farm worker out in the valley, brought in on a similar 'guest worker' basis and then fired and sent home when he dared to complain about terrible working conditions. This is all about power. The companies are saying they want more power to lower wages."
In addition to all the live witnesses, other clues to the mystery of the missing ironworkers were on offer at the press conference: a set of letters from Canadian firms like Harris Rebar- firms that had tried to secure subcontracts at Golden Ears from Bilfinger Berger and been rejected.
In all, at least four B.C. firms made such approaches to the German company, and all were turned down. (Besides Harris, the other unsuccessful candidates were G&M Steel Services Ltd., Acier AGF and Prince George Steel.) The letters referred to "incomplete", "imprecise" and "imperfect" drawings made available to them by Bilfinger Berger, a common account that poses questions for some observers about just how serious the German firm was about sourcing their skilled labour in Canada.
"It's very unusual to get such vague drawings when bidding on a subcontract," Harris Rebar's Bromley told the Tyee.
Another businessman who bid on the Golden Ears work experienced more than imprecise drawings. John Dinicola is the president of G&M Steel Services, and he told the Tyee that he met with Axel Metzger of Bilfinger Berger earlier this summer to discuss his company's interest in bidding on rebar work on the Golden Ears Bridge. Metzger told him, Dinicola says, that Bilfinger "would not be blackmailed by contractors on the price, they were a very large, important company and if they needed to, they would just go offshore and obtain lower priced workers."
'No Canadians available?'
In a letter to Ironworkers Local 97 made available at the press conference, Dinicola writes, "This puzzled me because I did not think companies could just bring in temporary foreign workers if cheaper to do so. I have always been told such workers could only be brought in if there are no Canadians available. Is this not the case?"
It is the case, at least in theory. In order to gain federal permission to import foreign construction workers, an employer is first required to persuade the government that he has sought Canadian workers unsuccessfully. The job fair that Bilfinger held to invite applications for work on Golden Ears was scheduled, union sources say, on a Sunday morning of Father's Day this year, a timing that may account for the low turn out of local applicants. Oddly enough, despite the four Canadian companies that are known to have bid on iron work subcontracts on the bridge project, Terrence Cage, project manager for Bilfinger on the project adamantly insisted in a recent meeting, the Ironworker' Perley Holmes told the Tyee, that his company had received no bids from contractors to install rebar.
Cage, in a brief telephone contact with the Tyee, refused to comment on this claim, or on any of the questions being raised about the Golden Ears Bridge. Cage referred us to Ian McLeod of Karyo Communications, who would speak for Bilfinger on this matter.
McLeod confirmed that Bilfinger Berger had applied for permission to bring in non-Canadian workers for the bridge project, but refused to comment on the Canadian firms who had bid unsuccessfully to do the bridge work with local labour.
"We don't want to get into a war with potential subcontractors," he told the Tyee. "The application is entirely legitimate. The number of workers to be brought in hasn't been specified yet. We're only applying for permission. Everyone knows there's a labour shortage in construction now."
Not everyone agrees about the existence of such a shortage, although it has been loudly trumpeted in the mainstream press and Philip Hochstein, the head of the anti-union Independent Contractors and Businesses Association, told the Tyee in February that the government should be bringing in over 20,000 off shore workers to meet the demands of pre-Olympic construction.
Federal government role?
Ironworkers Local 97's Perley Holmes says that there is no shortage of available ironworkers in Canada, and he tabled documents a the Thursday press conference that testified to the availability of hundreds of highly trained and currently unemployed tradespeople in his union, all eager and qualified for work on projects like the Golden Ears Bridge.
So, the mystery of the missing ironworkers continues. Employers like Bilfinger Berger say they can't find enough trained workers in Canada, while local unions and union shop employers say the German firm is willfully ignoring these Canadian workers and asking for federal favors in hopes of driving down wages and collecting windfall profits by exploiting guest workers who can't stand up to them as successfully as resident and unionized workers can.
It remains to be seen how the federal government will respond to the Bilfinger request for foreign workers, and just how much of the work in B.C.'s current building boom will be done by workers who will remain in Canada to make their lives here and how much will be done by guest workers here on precarious temporary permits. The mystery of the missing ironworkers, it appears, is part of a much larger drama being played out on the streets and construction sites of B.C.
Tom Sandborn is a Vancouver journalist and regular contributor to The Tyee.
Related Tyee stories:
Does BC Really Need 20,000 Global Temps?
Who Will Own Victoria's Big New Sewage Plant?