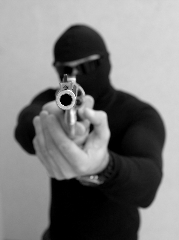 Just over a year ago, 24-year-old Grant De Patie was killed at a Maple Ridge gas station while trying to stop a 16-year-old from stealing $12.30 worth of gas. In January of this year, 17-year-old Brigitte Serre was stabbed to death at a Montreal gas station while working her first overnight shift.
Both De Patie and Serre were alone on the job. Their stories are high profile examples of what can happen to any youth working under lonely, unprotected circumstances.
In 2005, 11 young B.C. workers died on the job and more than 9,000 were injured. The BC Federation of Labour has twice demanded that existing working alone laws be enforced by WorkSafe BC and the provincial government and that better ones be implemented. They are concerned that more new, young and unskilled workers in the "late-night" service industry will be killed or injured if their employers continue to neglect what the law requires of them.
'He would not have died'
"Thirteen months later, nothing's changed," said BC Federation of Labour President Jim Sinclair, referring to his April 13 announcement that the Maple Ridge gas station where De Patie died was still ignoring health and safety laws despite warnings and inspections by WorkSafe BC.
"Look at why Grant died. If the company simply followed the rules, he would not have died."
The Esso station where De Patie worked required that doors be locked and payment be made at the pump after 11 p.m.
Earlier this month, BC Federation of Labour representatives performed an informal survey of late-night Lower Mainland gas stations, and found that out of 12 establishments, only one had a functional working alone policy. All employers are required to draw up a safety plan for employees who will be working alone, but aren't required to submit it to WorkSafe BC.
De Patie's place of employment had a safety plan, but was not enforcing it.
WorkSafe BC addressed the general issue of an increase in injuries to young workers last Wednesday by announcing their release of safety recommendations to gas stations and other businesses across the province, with the intention of reducing workplace violence and harm. They also promised to perform random inspections of gas stations.
"Employers have to comply with [the recommendations]. They are laws," said Donna Freeman, manager of public affairs for WorkSafe BC. "Employers are required to perform a risk assessment and then put policies in place to reduce risk. They have to be in writing, communicated and enforced."
Avoiding risk of violence
The recommendations include ways to eliminate risk for employees working alone in retail, including making eye contact with customers when greeting them, ensuring the store area is kept well lit and clean and refraining from resisting threats of violence.
Freeman said workers who feel at risk can file an anonymous report with WorkSafe BC and have their workplace inspected. If it is in violation of health or safety standards, WorkSafe BC will recommend penalties for the establishment and is responsible for enforcing them.
Sinclair said he doesn't think recommendations will do the job and is calling for more aggressive tactics.
"It's not about tips. It's about safety programs," he said. "If you don't have it in place, then you don't get to run your business. The state of the workers should be just as important as the gasoline in those pumps."
Sinclair said the BC Federation of Labour has no intention of backing down from their requests for safety measures-which include having two employees present during late-night shifts and a pay-at-the-pump policy-and are pressing their point by lobbying the provincial government this week and participating in tomorrow's Day of Mourning.
WorkSafe BC doing enough?
Where the BC Federation of Labour and WorkSafe BC seem to butt heads most prominently is on the issue of imminent danger. The site of De Patie's death cannot be shut down for violations because it does not represent an immediate danger to workers, Freeman said.
"The law allows us to shut down [an establishment] if there is immediate risk. In the case of the Maple Ridge gas station, it cannot be shut down for violations because it does not pose imminent danger."
Freeman said WorkSafe BC has followed standard protocol in dealing with this gas station's particular violations.
Sinclair considers De Patie's death proof of deplorable working conditions.
"There might not be imminent danger, but Grant De Patie died. That's all you need to know," he said.
"There has to be a crackdown, clearly spelled out rules, enforcement and punishment. If they don't follow them, they get shut down," he said. "If the Esso station had been shut down for one day, then I bet you that there would be no question they would get done what had to be done. And I bet you that five other gas stations within a mile; most of them have no regulations in place. But they'd have it in place, too, because they thought they'd be next.
"We're not asking for something most employers don't already do."
Overcoming fears
"Young people need to ask themselves 'how would I get help if I needed it?'" said Betty Pirs, executive director of prevention services at WorkSafe BC. "They need to raise those concerns with their employer, and not be afraid to say they aren't comfortable."
But pressing employers on safety issues can be uncomfortable for teens concerned with their first paycheck or new Canadians concerned with job stability. Nor are many likely to know to ask employers for a prepared working alone safety plan. And most service workers are non-unionized and therefore lack a collective voice to speak out and demand their legal rights.
"When our officers go out and inspect, and we will be doing random inspections, they will be asking to see the employer's [safety] plan and what policies are put in place," Pirs said. "They will be talking to workers, asking them 'do you understand the policy? Do you use it?'"
Sinclair said he knows that with better workplace training, youth can begin to avoid become a sad statistic.
"We're going to keep at this," he said. "For years, there have been robberies, but there are no records to show it. No one reports them. They should be training people. How many of us know how to deal with a robbery?"
The Day of Mourning-Fight for Living, Mourn for the Dead will begin tomorrow at 7:45 a.m. at the Vancouver Art Gallery, followed by an 8 a.m. procession to the Vancouver Convention and Exhibition Centre.
For information about youth and the BC Federation of Labour, click here.
To access WorkSafe BC's youth magazine, Be A Survivor, click here.
Allison Cross is on staff at The Tyee.