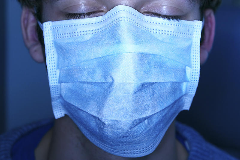 Of course, we didn't know it then, but Christmas 2005 was a historic turning point in the story of avian flu.
At about that time, some of the children of the Kocyigit family, living in an Eastern Turkish town called Dogubayazit, were infected with H5N1. Their chickens had fallen ill, so the frugal family ate them.
On January 1, we had the reports of the first death in the family. By the 5th, three of their children were dead. By the 15th, the fourth Kocyigit child was dead and H5N1 had been on the Aegean for five days.
Turkey dominated the news for the next couple of weeks, with occasional reports from China and Indonesia. We were also getting scare reports that were either wrong, or at least premature.
On January 18th came the report of the death of Shangen Abdul Qader, a 15-year-old Iraqi girl; the next day the WHO claimed she hadn't died of avian flu. It had to retract that claim a few days later, and on the 28th her uncle Hamma Sour Adbullah, 40, was also dead.
Suspected and confirmed
In early February, WHO reported a total of 161 human cases of avian flu, with 86 deaths. The next day, Indonesia's 16th death was reported and the 17th the day after that. (These were confusing reports, because the Indonesians tend to report twice: once for "suspected" H5N1, and then days later for "confirmed." Meanwhile, other suspected cases are reported, so it's easy to lose count.)
If the thirty days after Christmas were bad, they were a winter holiday in Tahiti compared to the following month. In late January, H5N1 sputtered and flared in now-familiar hot zones like Ukraine, Indonesia and China. On January 29, it turned up in Turkish Cyprus. In early February, Bulgarians began testing dead migratory birds. The Iraqi uncle was finally confirmed as H5N1.
Then the avian flu seemed to sweep overnight from the Middle East to the Atlantic. The first report from Nigeria appeared on my blog on February 8. While we were still absorbing the implications, on February 9, H5N1 seemed to erupt everywhere: H5N1-positive swans were found in Bulgaria and Greece, chickens were dying in Azerbaijan, Turkey was still dealing with sick poultry despite its enormous culls and Indonesia recorded its 17th human death. On February 10, its 18th victim died and so did China's 8th.
Europe goes positive
On the 11th and 12th, Europe began to "go positive": first Italy, then Slovenia. On the 14th, Austria and Germany, with Iran as well. On the 15th, the Iraqi government declared an avian flu alert, while Dagestan, Poland, Denmark and Hungary reported H5N1 confirmed or suspected. Two more suspected Indonesian deaths were reported. We were now up to 90 confirmed deaths, altogether.
Mid-February has seen still more advances. The initial outbreak in Nigeria has spread across the northern half of that enormous country and its anxious neighbours are trying to seal their borders. On February 17, Egypt reported H5N1 in seven chickens. On the 18th, avian flu broke out in a remote corner of Maharashtra state in Western India. That same day, France confirmed that a dead duck found near Lyons was H5N1-positive.
By the 20th, the disease was in 11 Egyptian governorates and one report described "thousands of birds dead on the streets." That day, the Jerusalem Post reported 600 dead birds in the Gaza Strip. On that day, the WHO reported 170 confirmed cases worldwide, with 92 deaths: a mortality rate of 54 percent.
One hazard of blogging the flu is that you can forget last week in the rush of today's events. But when I paused to review events since Christmas, I realized I hadn't been covering the movement of the flu but the dawning recognition of its presence.
The enemy is inside the gates
H5N1 has been in Turkey and Europe and Africa longer than we'd realized, probably since last fall, and the "eruption" has been just the belated realization that the enemy is inside the gates. What we were learning in hours had taken weeks or months to put in place.
Africa and Europe dominated my posts for days in February. But reviewing events since Christmas brought my own belated realization: Indonesia has been the most urgent and worrisome story. Poultry dealers are going broke in Italy and Nigeria, but people are dying in Jakarta and Bandung.
They won't be the only ones, of course. On February 20, Bulgaria reported the death of a 27-year-old woman with flu symptoms. One or two cases in India look equally suspicious; it's routine now for the authorities first to deny that the victim died of flu, and then to admit it days or weeks later.
Nevertheless, the Indonesians see a rapid rise in the number of cases and an apparent increase in the virulence of H5N1. Their attempts to control its spread in poultry have been ineffective. (Vietnam still has the distinction of having suffered the most human deaths from avian flu, but the Vietnamese appear to have smothered it on their own territory and now plan to restock their poultry farms this spring.) So if avian flu mutates into a truly human-to-human form, it seems likely to happen first somewhere in Java.
Last summer, epidemiologists were arguing that such an outbreak could be smothered by a prompt and massive effort around the village or neighbourhood where it was first identified. But after what we have learned in the last sixty days, it seems likely that outbreaks in Java will be followed almost instantly by outbreaks in India, China, Iraq, Russia and West Africa. H5N1 has not merely outflanked us. It has enveloped us.
Crawford Kilian, a frequent contributor to The Tyee, follows avian flu at H5N1.