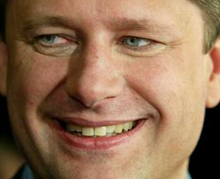 One of the biggest differences between this election and the 2004 campaign, is that this time around, Conservative candidates have been virtually silent on social conservative hot-button issues.
This time, the Conservatives have run a remarkably disciplined campaign, so much so that critics have accused the party of muzzling its more outspoken candidates.
Candidates like Darrel Reid running in Surrey, who not too long ago said: "I think every Christian's under an obligation to change laws to reflect biblical values."
The discipline is especially impressive in light of the fact that the Conservative party still contains divisions between former Reform-Alliance members and members of the old Progressive Conservative party, said David Laycock, a political science professor at Simon Fraser University.
Laycock said that, following the 2004 campaign, Harper "read the riot act to people like Cheryl Gallant," the Ontario MP who had said in the middle of the campaign that the beheading of an American in Iraq by terrorists was "absolutely no different" from the practice of abortion.
'Just hasn't come up'
Laycock, author of The New Right and Democracy in Canada, noted that there are a number of socially conservative candidates running for the Conservatives in B.C.
"I haven't seen any coverage of their rather distinctive views on social policy questions in the daily press," he said. "It just hasn't come up. And you would think it would."
Given the party's pledge to settle social and moral issues through free votes in parliament, the beliefs of individual Conservative candidates is very important, Laycock said.
"Given the kind of change that would be introduced - the contrast between the Liberals and the Conservatives on this question - it really has received an astoundingly small amount of coverage."
Laycock said that's because the Harper campaign's "policy-a-day" strategy has kept the media's attention focussed on other issues. At the same time, the Liberals have been "astonishingly ham-handed and incoherent," he said.
He said it's worth asking if the party's candidates' social views reflect the views of the general population in B.C.
"There isn't a social conservative majority in this province by a fairly long shot, even outside the Lower Mainland."
Loose tongues in '04
The current disciplined Conservative campaign contrasts sharply with the party's first run at power in 2004. In addition to Gallant's comments on terrorism and abortion, the party had to deal with Gallant's call to strike down the law that protects homosexuals from hate propaganda.
During the campaign, Conservative health critic Rob Merrifield talked about making third-party counseling compulsory for women seeking abortions. Conservative language critic Scott Reid promised to cut bilingual services.
Then a documentary film surfaced in which Abbotsford MP Randy White promised that a Conservative government would use the constitution's notwithstanding clause to override court decisions that irked social conservatives.
This string of outbursts, climaxed by the revelation of White's "the heck with the courts" comment at the end of the campaign, may have helped reverse the Conservatives' lead in the polls, producing a Liberal minority government. Certainly, the comments played into the image - cultivated by Liberal attack ads - that the Conservatives were too extreme.
'Shunning media'
This time, candidates like Gallant are keeping their mouths shut.
The Ottawa Citizen has reported that Gallant "is shunning the media as much as possible, discouraging reporters and photographers from accompanying her as she campaigns, and agreeing to interviews only in carefully managed situations in which she attempts to limit questions to the Conservatives' official platform."
As well, she's been avoiding all-candidates meetings, communicating largely by press release, according to her opponents.
Several Conservative candidates in Nova Scotia appear to have been muzzled, as well.
The Halifax Chronicle Herald reported earlier this week that Rakesh Khosla and Paul Francis are keeping mum about attending a meeting of clergy opposed to same-sex marriage.
"We've been told by Ottawa that we don't talk about that," Khosla campaign volunteer Paula Henderson told The Chronicle Herald. "That's a dropped subject."
"The fact that they're telling their candidates not to talk about this is incredible," said Fisheries Minister Geoff Regan, who is being challenged by Khosla in his Halifax-area riding. "The Conservatives are muzzling their candidates. How many others are there with an agenda they don't want to talk about?"
'Muzzling' denied
A Conservative party spokesperson replied that no one is being muzzled. "There are only so many hours in the day," he said. Candidates "seek advice from others as to which media inquiries in the run of the day they can respond to," he said.
The meeting in question was organized by the Pro-Marriage Network, a group "dedicated to preserving and promoting traditional marriage in Canadian society." About 110 clergy from Pentecostal, evangelical and Roman Catholic churches across Nova Scotia attended the meeting, which was intended to support candidates opposed to same-sex marriage.
Rondo Thomas, the Conservative candidate in the Ontario riding of Ajax-Pickering, has also been loudly opposed to same-sex marriage. Thomas, a minister and vice-president of Canada Christian College, has argued that the federal government will eventually force churches to perform same-sex marriages.
In 2003, he said this about legislation to recognize same-sex marriages: "As it stands, the proposal would allow me to marry my mother, my daughter, my sister or my granddaughter. When we try to change God's laws, the end result has to be total anarchy."
Apparently, Thomas hasn't made any similar comments during this campaign.
Although B.C. has several socially conservative candidates, party spokesperson Colin Metcalfe said the party has no strategy to muzzle them.
"There's nothing that's being directed by the party or the campaign to the candidates," he said. "I'm coordinating communications for B.C. and I've been on daily calls with Ottawa and there's never been a directive to me for that type of strategy. Our candidates are available to the public. That's the whole point of campaigning."
Focus on the Family ties
In some cases, what's kept B.C. Conservatives' social positions from becoming a campaign issue is the sense that their opponents have similar values.
Cindy Silver, for example, is the Conservative candidate for North Vancouver and the former staff lawyer for the right-wing fundamentalist group Focus on the Family Canada. She describes herself as being "pro family" and against same-sex marriage, but also says she has "an open mind on abortion."
In any event, complaints about her social conservative views have been blunted by the fact that her Liberal opponent, MP Don Bell, attends the same Alliance church as Silver.
Similarly, Multiculturalism Minister Raymond Chan has been described as a fundamentalist Christian. Earlier this week, the Vancouver Sun ran a story repeating claims that Chan said last April that he favoured using the notwithstanding clause in the constitution to eliminate same-sex marriage. Chan denies having made such a statement.
(Harper has said he would not use the notwithstanding clause, which allows governments to override the Charter of Rights and Freedoms, to overturn the right of gays and lesbians to marry. Most legal scholars, however, say that it would be impossible to revoke this right without using the notwithstanding clause.)
It is ironic that Chan is on the defensive on this issue, given that his Conservative opponent, Darrel Reid, is the former president of Focus on the Family Canada. Focus Canada is an offshoot of the American Focus group, run by Dr. James Dobson, one of the most powerful right-wing religious leaders in the U.S.
Reid was supported in his bid for the Conservative nomination by DefendMarriage (B.C.). Following his victory, the riding president quit, complaining that the Conservatives were "getting dangerously close" to being overtaken by the religious right.
Divorce laws 'biggest disaster'
An article last July by The Vancouver Sun's Doug Ward reported that during his time as president of Focus Canada, Reid stated that the "liberalization of divorce laws was the biggest disaster to hit Canada, short of common-law marriage." He also said "I think every Christian's under an obligation to change laws to reflect biblical values."
In 1997, Reid defended a statement made during a radio broadcast that "gays are using the AIDS agenda to push the gay agenda on to our country right now."
The Conservatives are counting on a large group of social conservatives within the Richmond Chinese-Canadian community to carry Reid past Chan.
Probably the best-known social conservative in the B.C. party is former Canadian Alliance leader and Okanagan-Coquihalla MP Stockwell Day. Day, who was defeated by Harper for the leadership of the Canadian Alliance in 2002, seems assured of a seat in any Conservative cabinet, possibly as foreign affairs minister.
While in the Alberta provincial cabinet, Day opposed protecting gays from discrimination under the provincial human rights code. He also supported a group that lobbied the provincial government to stop funding abortions except in cases where pregnancy posed a threat to a woman's life.
Veteran political reporter Tom Barrett is a contributing editor to The Tyee.