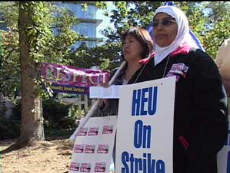 Almost 1,500 health care support staff are anxiously awaiting the outcome of talks between their union and their private employer. The Hospital Employees' Union (HEU) is hoping to squeeze an extra $2 per hour out of the Paris-based multinational Sodexho for its food and housekeeping workers.
The HEU recently closed a similar deal for employees of the U.S. corporation Aramark and the union is also preparing to negotiate with Britain's Compass. All three companies secured contracts to provide services including food, housekeeping and security when the provincial government opened the door to contractors in 2002.
On Friday, about 700 cleaning staff in hospitals and care facilities in the Lower Mainland accepted Aramark's offer to increase hourly wages from $10.67 to $12.47. Over the course of three years, the company will bring wages up to $13.05.
"We're looking for the others to fall in line," said HEU Spokesperson Mike Old.
Sodexho representative Bruce Rosenthal said the company met with the HEU and Labour Board Mediator Vince Ready on Sunday and Monday.
"Both parties have been working hard on trying to get a deal," he said. "Now it's up to Vince Ready to make non-binding recommendations."
No escape from poverty
Even if Sodexho and Compass do offer comparable wage packages, it will not be enough for some workers, according to Marcy Cohen, an HEU researcher who coauthored an April report for the Canadian Centre for Policy Alternatives (CCPA).
"A privatized health support job in B.C. is virtually synonymous with poverty," said the report. And a $2 wage hike will do little to change the situation, according to Cohen.
"It'll bring some people above the poverty line, but some people will still be below the poverty line, especially if they are a single parent with kids," she said.
Her report found that 67 percent of privatized workers have children, while almost one quarter are single parents.
Two thirds of the private health care workers surveyed were supporting people outside their own homes. Almost 90 percent were born outside Canada and many send money to their relatives in other countries.
"Social and economic conditions in Canada create a pool of workers, mainly female and often immigrants of colour, who have no choice but to accept wages and conditions that overtax their bodies and disrupt their families," said the report.
The report called on the government "to implement policies that reduce poverty and discrimination among working people, not policies that increase wage disparities and social exclusion while reinforcing historical patters of sexual and racial exploitation."
Old pointed out that workers made $18 or $19 per hour before their jobs were contracted out.
Market-based solutions
But those wages were too high, according to Nadeem Esmail, a senior health policy analyst at the Fraser Institute.
"The taxpayers are buying a service," he said, "and they can buy the service for $10 or they can buy the service for $17, but it's the same service. For the taxpayer, it makes far more sense to buy that service in the competitive marketplace."
He admitted that it can be difficult for workers to take a pay cut, but said it is a natural part of the adjustment from "a policy regime that is giving you services at a far higher cost than is necessary" to a "competitive marketplace."
Quality controls
The CCPA study found that this transition resulted in a drop in the quality of services: "Training standards, contact with patients and residents, job stability and quality control practices have all diminished with the shift to contracting out."
For example, almost 40 percent of the participants in the study "performed work for which they were not trained." High turnover rates make training especially difficult, according to the report, which found that just over one third of those surveyed planned to stay at their jobs. In contrast, workers covered by the HEU's original contract had an average of almost 12 years on the job.
Esmail argued that the invisible hand of the marketplace can sort out problems more effectively than the old system in which workers were hired directly by the Health Authorities.
"If the standards are not being met, it's not a question of discussion or dialogue," he said. "There is a service, there is a standard, and if that standard's not met, that's the end of that contract."
"You have far more control on the hospital side for quality than you would have in the old monopoly situation," he added.
Freedom of choice?
Esmail sees the Aramark deal as part of a natural cycle of the marketplace.
"They've gotten some higher wages out of the private corporations and clearly those wages are still far below what was being paid before, but there's always a move toward equilibrium," he said.
He added that workers who are not satisfied with their wages are free to move on to other jobs.
"There are people who have a certain skill set or a certain set of values, a certain education and if they find now that this job is no longer giving them a value that matches their actual skill set, their actual abilities in the economy, they will go on to something bigger and better for themselves," said Esmail.
But the CCPA report pointed to a number of factors that could limit employment options for health care support workers, who are predominantly immigrant women of colour. "In 2001, the unemployment rate for women aged 25 to 54 was approximately four times that of Canadian-born women."
"Many (health care support workers) have educational credentials that would qualify them for higher status and better paying jobs but for systematic barriers that discriminate against internationally educated professionals in the Canadian labour market," the report stated.
A $2 wage increase would provide only a modest improvement for Sodexho workers, according to Cohen.
"These people are still going to have very difficult lives," she said.
Jared Ferrie is a reporter for The Tyee.