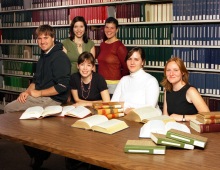 Alan Ip has represented clients in dozens of criminal and small claims trials -- all before receiving his law degree.
Ip is one of more than 200 students from the UBC Faculty of Law who volunteer with the Law Students' Legal Advice Program, one of the largest providers of legal aid in British Columbia.
The non-profit society, operated and staffed largely by students, runs clinics in the Lower Mainland and opens its summer clinics today. The program, which also runs during the school year, offers free legal advice and representation to low-income clients with issues ranging from welfare appeals to social assistance to civil liberties to citizenship.
"A lot of things that we do are about helping people at the most stressful point in their lives," says Ip, a former executive director of the program who has just completed his third and final year of law school.
"The 18-year old kid who, during the worst five minutes of their life, made a dumb mistake and now is charged with a crime. Their future shouldn't be destroyed because of one dumb mistake in youth. So a lot of it is helping people get through a very stressful time in their life and I think it is a privilege to be able to help people through that."
'Always unease'
At the colourfully painted Kitsilano Neighbourhood House, a handful of students are sitting on mismatched chairs around a coffee table in the converted living room. Clients trickle in and head upstairs for meetings. They can expect to be "very well served" by students who "work really hard and are very well prepared," says Ip. All of the students' work is checked by Brian Higgins, the lawyer who has supervised the program since 1988.
"But there is always the unease that something might slip through the cracks," Ip admits. "Clients could be better served if they've got experienced lawyers."
"Even though it's great for us and it gave me the experience to know what I want to do, I think it's a very sad statement on the legal aid system when law students are the place where people who have no criminal record – first offenders – go."
In the past few years Higgins has watched the Law Students' Legal Advice Program become the largest provider of legal advice in the province after the government shut down legal aid offices.
"It makes it easier for the government to cut services when there are organizations like ours. Cynics have said that [our program] masks the serious problems that exist in the system," Higgins says.
The program is funded by the Law Foundation of British Columbia, the Government of Canada's Summer Career Placement Program, the Province of British Columbia's Student Summer Works Program, the City of Vancouver, the District of North Vancouver and private donors. Higgins and the program's legal secretary Trina Barnes are employed by the Community Legal Assistance Society.
Biggest of its kind
Other Canadian law schools operate similar programs, but UBC's student-operated legal advice program is unique because of its size and scope.
"No one does it at the level we do it, no one does it at the size we do it, no one has approximately 4,500 clients a year like we do," says Higgins.
Even with the recent announcement that the Liberals have earmarked $4.6 million for the Legal Services Society, which also provides legal aid, the student-operated program will remain one of the largest providers of legal advice in the province.
While the students get valuable legal training, clients get the help that they are not able to afford.
"I think we are really appreciated in the legal community for what we do in the provincial courts, in the criminal courts," says Higgins. "The small claims courts appreciate us being there. The CPP, EI, welfare [boards] all welcome our students because it makes their jobs easier when you have an articulated legal position being advanced, as opposed to a layperson who feels very strongly about their case but cannot communicate what is necessary."
Trial by fire
Ip represented his first client in court two and a half months into law school. He was petrified.
"I didn't quite throw up, but I was really close," he says.
"I've gotten so used to being scared that my recreation now involves being scared," says Ip, who took up white water kayaking last summer. "The need to stay alive completely takes my mind off law."
"I also tried rock climbing," he adds. "There's similar strategy in rock climbing, kayaking and law where you try to pick the high-risk/high-reward routes or the safe routes."
Ip's career goals have evolved as well. He used to dream of "a corner office in a big firm" but now is interested in criminal law. Working in the legal advice program, Ip says, "helped me learn where my beliefs are in terms of human dignity and freedom and justice."
The program assists clients who meet certain financial criteria and are able to attend a clinic. The program does not, however, serve clients in areas such as family law, personal injury law suits, probate or administrative matters over $15,000, criminal offences which are indictable, and matters requiring appearances in or applications to a Superior level court (the BC Supreme Court, the BC Court of Appeal, and the Supreme Court of Canada). Other than draft wills for people of a low income, the students do very little solicitor work.
Harcourt a graduate
The student-operated legal advice program was started 38 years ago by a group of enterprising law students. Among them was Mike Harcourt, who went on to become the program's first supervising lawyer – and eventually Mayor of Vancouver and then Premier of British Columbia.
Through working in the legal advice program, says Harcourt, "I knew intimately the problems that low income people were facing."
"It gave me a tremendous sense of what the challenges were for people who lived on what was called skid road in those days," he says.
Harcourt believes it is beneficial for students to experience the legal system from the perspective of the debtor because in practice they may see it from the perspective of the creditor.
"To get into the soft underbelly of the legal system and see what people face is important," he says.
Court of last resort
"Most people come to us and say they've tried everyone and no one has been able to help them," says Jordan Copeland, director of operations of the legal advice program.
Without more funding, the program will not be able to increase its services, Higgins says. But he's not one to gripe.
"It's very popular for my generation to say the world is going to hell in a hand basket," Higgins says. "Well, not where I'm sitting. This is a bunch of young people who are phenomenal."
Kelsey Dundon is on staff of The Tyee.