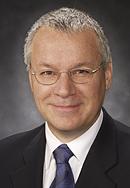 Elections BC cannot respond promptly to the BC Liberal Party's call for a comprehensive review of political donations - in part because Gordon Campbell's government slashed the provincial agency's budget.
Over the weekend, BC Liberal Party sent a letter to Chief Electoral Officer Harry Neufeld asking him to make certain all parties' donations over the past ten years had complied with the Elections Act. The BC Liberals had been stung with revelations last week it had diverted tens of thousands of dollars in taxpayers money to party coffers.
Elections BC spokesperson Jennifer Miller told The Tyee on Monday that the agency will not conduct such a review. She said a review of the past decades' records would cost taxpayers hundreds of thousands of dollars and take more than a year to complete. She said Elections BC did not have the resources to pursue the matter.
Ironically, Elections BC's efforts to make such records more easily accessible were stymied when the Liberal government cut the office's budget by 35 per cent beginning in 2002.
'Responsibility falls on parties'
Under the circumstances, Miller put the onus of compliance back on the BC Liberals. She said, "The responsibility falls on the parties to make sure their donations are in accordance with the law."
Parties' financial agents are required to sign a declaration that the audited statements filed with Elections BC are in accordance with the law. The declaration warns that signing a false statement is a serious offense "subject to significant penalties."
Recent media reports suggest the BC Liberals may have violated a law that prohibits the party from accepting donations from registered charities - a law passed by Gordon Campbell's government in 2002. But the Elections Act has no provisions against parties funneling tax dollars from municipalities or other government-supported bodies into party coffers. Several municipalities had either unknowingly donated to the Liberal Party, or had paid for access to government ministers.
Thousands of entries
Political parties have had to file publicly-available donations records with Elections BC since 1996. But those records are not available in an electronic format that can be easily examined. Anyone reviewing the records would have to sift through thousands of entries, which are often virtually illegible faxed copies.
Miller said Elections BC has four staff members who are just starting to examine the 2004 records, which were filed at the end of March. She said Elections BC hopes to eventually make filings available in a searchable database. She said efforts to implement a system where parties could file electronically were hindered by the government's cutbacks to the office's budget. Elections BC's budget was cut by 35 per cent over a three-year period beginning in 2002.
Dee Hon is covering the election for The Tyee.