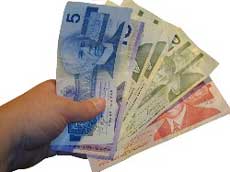 TheTyee.ca
The Criminal Justice Branch of the B.C. Attorney General has refused to proceed with a private prosecution against Money Mart, Canada's leading payday-loan lender, for allegedly charging criminal interest rates in the province. However, the Crown called for a Vancouver Police investigation of the short-term lending business in the city.
Kathryn Colby, a 23-year old activist, petitioned the Attorney General for private prosecution of Money Mart in December 2004 alleging the money lender charged an interest rate in excess of 1,200 per cent on a loan she took out last year.
Under section 347 of the Criminal Code the maximum annual interest rate that can be charged on a loan is 60 per cent.
Money Mart is a Victoria-based loan company with more than 300 locations across the country. Colby borrowed $400 from a Vancouver Money Mart on Sept. 27, 2004, and repaid $451.28 on Oct. 14, 2004.
The additional $51.28 was broken down as a $9.99 item fee, a $32.69 discount fee, and $9.16 in interest. And while little more than $9 was charged as interest in her contract, the legal definition of an interest rate is "the aggregate of all charges and expenses, whether in the form of a fee, fine, penalty, commission or other similar charge or expense or in any other form." In other words, the entire $51.28, Colby argued.
'Preying on poor'
Colby said "she was totally broke" at the time she took out the loan. She had used Money Mart's services before but after speaking with some of her friends about "predatory lending" practices, she decided to pursue Money Mart in the courts.
According to Karp Actuarial Services Ltd, who filed an analysis of Colby's loan in provincial court last year, the annual interest rate charged on her loan was 1,242 per cent annually.
Prior to the Attorney General's decision, John Young, executive director of ACORN Canada, a community-based organization representing low- to medium-income citizens (which Colby is a member of), said the case put the AG's office "at the political level, in a pretty nice box."
If the case went ahead, it would have set a precedent and would have sent a shock across the billion dollar unregulated industry that Attorney Generals would now prosecute, he said.
If the Attorney General decided to not the let the prosecution go forward, it would raise some question at election time about why the Attorney General would not prosecute people Young calls "loan sharks who are preying on the poor."
Young told The Tyee the decision Tuesday essentially says, "(the AG is) sufficiently concerned, and you coppers should go do some work."
Last second decision
For Colby, the call for a police investigation comes too late for justice to be served in her case. The Attorney General's office had six months to decide whether to proceed with her case, and the letter sent Tuesday falls on that six month mark, something Crown Counsel acknowledged in its letter her lawyers.
"The value of the investigation I am requesting is to determine if there is evidence of violations of Section 347 that affect the public on a widespread and ongoing basis, which I infer would have been Ms. Colby's mains purpose in bringing this matter forward," Vancouver Regional Crown Counsel Terrence Schultes wrote in his three-page explanation to Colby and her lawyers Tuesday.
Colby said she is not surprised by the Attorney General's decision.
"We sort of anticipated that the Attorney General would say no. He's never said yes to a private prosecution of this nature. But, I think it's good in the way they decided to move on it," Colby told the Tyee yesterday.
Her lawyer, Christopher Foy, said he is also cautiously optimistic about the Attorney General's decision.
Lack of regulations
"It's positive in what has been recommended to the police. But it's actually up to the police's discretion if they are going to do anything," Foy said. "I think, they are going to do it this way because it's a matter that affects a large majority of the public, and they really want to take the time to do a proper investigation."
Const. Howard Chow, spokesperson for the VPD, said the information provided by the Attorney General would be forwarded on to the economic crime investigation unit of the Vancouver Police for review to determine if an investigation is in order.
In November 2004, ACORN released a 38-page report calling for law reforms and regulations on the industry it estimated made up to $5 billion a year. Young said an actual figure can only be extracted from the regulated industry in the U.S., because Canada's lack of regulations, make it impossible to know precisely how much is being made each year.
Industry report defends fees
A spokesperson for Money Mart declined to comment to The Tyee on the AG's decision. But the company has denied breaching the maximum legal rate of interest when granting loans in the past.
The Canadian Association of Community Financial Service Providers prepared a report in October 2004 that defended the fees associated with payday loans as a necessary cost of providing short-term loans.
At the beginning of March, the B.C. Supreme Court rejected a similar class action suit that accused 18 different payday loan businesses for charging interest rates in excess of 60 per cent annually. However, the case failed to meet the court's criteria for a class action suit, but Justice Brenda Brown left the door open for individual prosecution.
Scott Deveau is on staff at The Tyee.