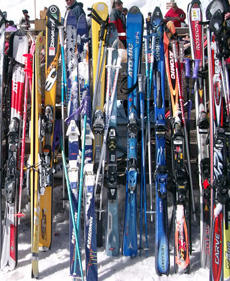 At Whistler Blackcomb (WB), bigger is better. The skiable terrain, its brochures brag, is huge. Its boundaries are expanding. Its lift capacity is growing. Targeted skier visits for this season: 2.7 million. The staff Christmas party happens over four nights with a cast of almost 4000. Whistler Blackcomb's parent company, Intrawest, is North America's biggest real estate developer, and last month closed a deal buying out CMH, Canada's biggest heli-ski operator. There's no denying this kid is brawny – and not afraid to flex some muscle when upset.
Over the resort's record-busy Christmas period, Senior Vice President of Marketing and Sales Stuart Rempel reacted to an advertisement placed in local independent news magazine, The Pique, calling editor Bob Barnett to withdraw all WB advertising from the paper. WB, which operates the ski resort, on-hill operations, ski school, restaurants, retail outlets and is affiliated with several property developments and time share operations, has a significant marketing budget. Ten percent of the advertisements in that issue of the Pique, excluding the classifieds section, were placed by Whistler Blackcomb businesses.
Rempel's fit of pique was triggered not by editorial content, but by a full page spread from another advertiser, interior ski resort operators Big White and Silver Star, calling themselves the "Place to Go for Lots of Snow." The ad ran at a moment when Whistler Blackcomb's suffered patchy snow conditions.
Rempel was so mad he also issued a Christmas Eve internal memo to all mountain staff urging them to dispose of any copies of The Pique found on WB locations.
Call it one more indication of how cutthroat competition is becoming in B.C. as more ski resorts come on line and chase many of the same potential customers.
Blizzard of new resorts
According to Tourism Whistler, Whistler as a destination generated just over 10 percent of all tourism spending in B.C. in 2001, a whopping $1.1 billion. The province is seeking to replicate that success across the province with its Resort Development Strategy.
This agenda got a boost of optimism recently with the announcement that China has granted Canada approved destination status. ADS means Chinese visitors can reach Canada with tourist exit visas, a move projected to quadruple the number of visitors to B.C. from China, as many as 300,000 arriving here annually by 2010. Tourism Whistler officials see an estimated 1.5 million new Chinese skiers taking up snowsports each year.
That came as good news to an industry suffering diminishing skier and snowboarder visits, the shock resignation of Minister for Resort Development Sandy Santori, and a series of "pineapple express" weather fronts washing away snow bases on many B.C. hills.At Whistler, where drizzle dampened the FIS Snowboard World Cup event two weekends ago, staffers have more reason to feel anxiety. The province is green lighting a number of competing ski resort projects. Some have been in the pipeline for over a decade, like the controversial Jumbo Glacier Resort. Other ventures are just out of the gate, like Juliet Creek ski resort in the Coquihalla Pass, a proposal lodged January 11 with the B.C. government by Calgary-based Westscapes Developments.
B.C.'s 42 existing ski areas represent 16 per cent of the Canadian total (283 ski areas) and 9 per cent of the North American Total (503), according to the Ministry of Resort Development's website. These resorts are projected to create new capital investment of approximately $650 million over the next 3 to 5 years. Projects causing buzz include the recent purchase of Rossland's Red Mountain by San Diegan entrepreneur Howard Katkov and a recent injection of funds into the development of Golden's Kicking Horse resort. Other resort projects underway include Kelowna's Crystal Mountain, Valemount's Canoe Mountain, Saddle Mountain near Blue River which will be an adjunct operation to Mike Wiegele's 5 star heli-skiing resort, and the fabled Mt McKenzie near Revelstoke, representing more than $2 billion in new potential capital investment over the next 10 to 20 years.
Government orders: 'double tourism'
Land and Water BC is the government licensing agency that must deal with ski resort land tenure applications. Under the Liberal government, LWBC has been given a mandate to promote development through commercial use of land and waters, and is processing most applications within 140 days. Mitchell Scott, editor of Kootenay Mountain Culture magazine, spoke with Robin Fawcett at the LWBC office in the Kootenays, and discovered that no carrying capacity studies have been done as to whether that region can sustain the flood of applications for backcountry heli and cat skiing operation. Fawcett told Scott, "If we get an application in the door, it's basically up to the client to do his homework on whether the market is saturated or not."
Fawcett explained, "Government has given us direction to double tourism in the next 10 years. And at the present time we are basically accepting and processing applications through the system to see if we can achieve that."
Some see an apparent conflict in LWBC's dual roles as development facilitator and licensing agency. Critics worry that projects won't get tough enough scrutiny, and the market may be swamped with suppliers.
Demand for ski resort vacations, in the meantime, has been steadily declining over the past five years, and pundits project a continued downward slide. Skiing and snowboarding are mature markets, and across North America the absolute numbers of skiers and boarders has not increased in more than a decade. Baby boomers, now aging, make up the bulk of skiers. International skier/boarder visits to B.C. peaked in the 2001/2002 season, according to recent figures from the Canadian Ski Council, and have subsequently declined by 31 percent.
Although domestic visits were up in B.C. last season, a State of the Industry Workshop this summer projected that without further growth in international visits, skier/rider visits will drop by over half a million participants to 5.2 million in 2018.
Fierce competition
Even with international growth, the best projections suggest the number of visitors will remain relatively unchanged from their current peak at 5.9 million visits. Competition is projected to become increasingly intense as resorts poach customers from each other.
Already, the U.S. market seems to be edging Whistler Blackcomb off its pedestal, with Ski magazine's 2004-05 rankings dropping Whistler from second to fifth, among North American resorts, behind Vail, Beaver Creek and Snowmass, in Colorado, and Utah's Deer Valley.
Whistler Blackcomb's senior executives are cognizant of these market challenges. The resort's website advised staff this fall "that business trends over the last three years have not been very promising. It seems that we have all been working harder and harder to hold our ground. If it's any consolation, we're not alone. The entire tourism industry in North America has experienced the downturn of leisure and business travel…The competition continues to grow and we need to differentiate ourselves if we hope to remain successful. The drop in visitor numbers this past year caused us to be quite aggressive with pricing... We will approach our business environment with a healthy dose of respect while aggressively working to be successful."
The Pique's editor, Bob Barnett, had put a finer point on the problem in an August editorial: "Where will the people come from to fill all the new and expanded resorts the provincial government anticipates?"
Squamish-based journalist Lisa Richardson is a regular contributor to The Tyee.