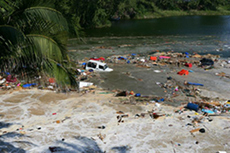 The Tyee.ca
Carin Kietaibl was right where she wanted to be, bobbing off the coast of Koh Doc Mai, a tiny island 10 miles from Phuket, Thailand. This was her dream job. After learning how to dive in the chilly waters of the Northwest Pacific, the 26 year old was finally teaching her first dive course in some of the most coveted diving waters in the world.
But as she descended, something clearly was odd. Surges tossed her around like a rag doll. She lost her fellow divers as the crystal clear waters turned murky in the wild currents that eventually spat her out on the other of side of island.
Kietaibl resurfaced to find no hint of the tsunami disaster that had wiped out nearby beaches. All around lay the familiar warm expanse of the sea. It wasn't until her party returned to shore that the terrible reality stared them in the face: Overturned fishing boats strewn on the beach. Trucks resting on fences. Buildings hollowed out. An entire strip of restaurants and shops gone.
Ten days later, Kietaibl says she's amazed to see those ravaged beaches mostly cleared and some shops and restaurants restored. But Kietaibl fears her dream job may have been washed away forever because, like thousands of others in the region, it depends on tourist dollars.
Phuket relatively lucky
Kietaibl has been out of work since Dec. 26th and the Agassiz native may have to return to B.C. soon if the tourists don't return. Lost in the deluge of images of devastation and relief efforts is the fact that in places like Phuket, the best chance for recovery rests on faraway strangers again yearning for exotic getaways to Kietabl's adopted home.
"I'm going to stick around for a couple weeks and as things settle down we're hoping that the tourists will come again. There really are a lot of people out of work right now," she said. "Basically, the people here are worried that more damage will done in Phuket by the lack of tourism during the high season than by the waves themselves."
"For the most part Phuket was quite lucky," Kietaibl said, in part because it was shielded by Indonesia. "We were watching on the news and we've been hearing rumours about disease and contamination and we're going, 'Really? It seems pretty normal.'"
Compared to other areas on the Indian Ocean, like Sri Lanka and Indonesia, Phuket was not as severely affected by the tsunami waves. There were relatively few deaths and most of the debris has been cleared. Despite the outpouring of relief, Thai tourism officials say the best thing for people to do to help is to book a vacation.
Ten million tourists a year
Pat Sumpuntaruk, spokesperson for the Royal Thai Consulate General in Vancouver, said even in Thailand, areas like Koh Phi Phi or Krabi were hit harder than Phuket. While efforts in those parts are now being focused on identifying missing people, in Phuket efforts are concentrated on saving the tourist season.
"We want to clean it up as soon as possible, but we hear it won't be cleaned until February," Sumpuntaruk said. "We need to recover the traveling and the tourism. People don't want to go to Thailand. People don't want to go to Phuket. The government is trying to convince the foreigners to go to Phuket and try to say that there is no more tsunami. It is done. It's scary, but actually, it is done."
More than 10 million travelers visited Thailand in 2003 and tourism itself accounts for six per cent of the nation's economy. After the tsunamis hit, the tourists fled the West Coast and the islands near there that were littered with debris and where rumours of cholera and other diseases abound. Most travelers left the area for the eastern side of the Thailand which was unaffected by the waves.
By last count, nearly 5,200 of the more than 150,000 killed in the tsunami were killed in Thailand. However, there are 3,800 people still missing in the country.
Initially, relief efforts called for volunteer divers to go on "rescue missions," Kietaibl said, "But really what they meant was a recovery mission to Koh Phi Phi to help them recover bodies. Some of my friends did it, but I just couldn't do it."
Scattered by strange currents
While Kietaibl is determined to pursue her goal of diving instructing, she'll likely never lead tourists on an underwater expedition to match the day of December 26.
At about 30 metres below the surface, the water was pretty calm, at first, Kietaibl recalls. But then a raging current came through in the opposite direction to where she was heading.
"We're kicking and kicking and not really moving. In fact, we were moving backwards," she said.
Kietaibl only had one student with her. She linked arms with her and moved up to a shallower level to try to avoid the powerful current.
The other diving instructor with her that day had four students with him. The current scattered his students in different directions and he lost sight of them all.
"At about 15 metres, there was a strong current moving in the opposite direction, but that was the direction we wanted to go, so that was okay. We followed it for a bit, but there were upwellings and downwellings pushing us back and pushing down, which is pretty dangerous when you're diving," she said. "Usually when you get a current, you move in one direction, but this was moving all over the place. East, west, up, down, everywhere."
The current eventually swept Kietaibl and her student around to the other side of the island where things were calmer.
"We had no idea what had happened. We thought, 'Why would they take us to this awful, awful spot to dive?"
'Oh by the way, an earthquake'
Despite being separated, all the divers managed to surface and find the boat, Kietaibl said, but most of them felt the same way she did.
"When we got up to the top everyone was kind of sulky and angry and wondering, 'Why did they take us here?' We were on the boat pouting for an hour or so when the boat crew said, 'Oh, by the way, there was an earthquake a few hours ago while you were underwater and the currents were caused by tsunamis passing you by."
The boat's crew only saw the water level rise by about six metres and then subside again.
"It's weird. It's not really like a wave when you're out that far, it's just sort of like a rise and fall in the ocean," Kietaibl said.
The real affects of the tsunamis were lost on the group until they got to shore.
The harbour authorities told the crew to wait in the harbour until the aftershocks subsided.
"When they did finally let us in we saw boats on their sides and boats on top of each other and half the pier was gone. We had no idea. When we got in, it was crazy. We got into the trucks and started driving back and that's when saw there was quite a bit of damage done."
With everything cleaned up and looking much like it did before the waves struck, all there is for Kietaibl to do now is sit and hope the tourists come back and restore her little piece of paradise by the sea.
Scott Deveau is on staff at The Tyee.