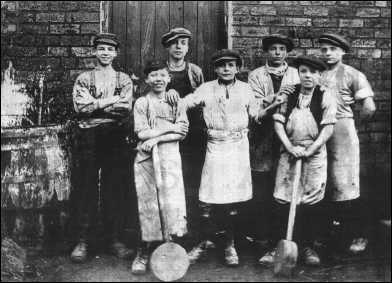 TheTyee.ca
[Second of two-parts]
On December 14, the B.C. government is due to finalize a law that will give this province the lowest child-labour standards in Canada. It will also effectively lower the minimum working age from 15 to 12, rewriting a rule first set in 1948. So who wanted Bill 37, and why?
Business leaders in the restaurant and retail industries which employ a lot of younger workers claim they never pushed for the specific changes. But the Liberals broad commitment to cutting every law and regulation by half, along with the "core review" that demands that staff and services be cut to save money, appears to be the main engine behind Bill 37.
Putting children in the workforce caps off changes to the Employment Standards Act that began last year, when the provincial Liberals cut overtime benefits, eliminated universal statutory holiday pay, and introduced the $6 per hour "training wage." Workers under 15 - almost certain to be entering the workforce for the first time - will mainly come under this new minimum wage, making them more appealing than adults to employers.
"Youth unemployment is already at 16 percent. It's not like businesses are clamouring for more workers," says Jim Sinclair, president of the B.C. Federation of Labour. "It's just a new source for the training wage."
In fact, there does not appear to be any business group that considers changes to child labour laws a priority. Officials with the B.C. Restaurant and Foodservices Association, Retail Council of Canada (western Canada section), and Business Council of B.C. confirmed thattheir organizations did not ask for the changes.
The B.C. Chamber of Commerce did, but president John Winter said eliminating the government-reviewed permit system for workers under 15 years of age was only one part of a broader employers' wish-list. The Chamber was consulted on the child-labour changes as early as two years ago. "I can see no downside to it," he says. "We were looking for more flexibility to the Employment Standards Act, and a lot of what we wanted has occurred. This is just one example."
'Parents won't put children at risk'
Notably, the greatest number of injuries to young workers in B.C. (which the Workers Compensation Board defines as age 15-24, as there were too few under-15s to rate previously) occur in restaurants, supermarkets and retail, in that order.
The B.C. Agriculture Council also lobbied to get rid of the permit process. "We're very supportive of the change," says Steve Thompson, executive director of the B.C. Agriculture Council in Kelowna. He says the Liberals did consult with his group before the law was introduced.
"It will make it easier for youth to enter the workforce and earn some summer money. They still will need parental approval , and parents won't put children at risk. In any case, all the workplace standards are the same as previously. The only real change is, before they needed the permit. But none of those were turned down anyway."
In fact, as reported earlier in The Tyee, approximately one in five permits were refused, and three in five altered to improve working conditions.
Of the 3,835 under-15 permits issued last year, only 30 were in agriculture. Still, the sector accounted for the largest total of Workers Compensation Board claims for injured 12- to 15-year-olds over the last five years, at $93,650. Agriculture is the third most dangerous industry in the province, after logging and mining.
Workplace oversight has also changed dramatically in the past year, as the Liberals have closed 10 of 19 employment standards offices and cut staffing by nearly one third. In the restructuring to come, a single employment standards official will be assigned to the entire agriculture sector.
'Nobody dreamed it would come up'
"When the Liberals came into office, they consulted with me in the way that they consult - they asked my opinion, I wrote them a letter stating that B.C.'s employment laws were comparable with those across Canada, and then they did what they wanted," says Mark Thompson, a professor emeritus in the UBC school of business, who was a consultant when the NDP overhauled the Employment Standards Act in 1995. "Of course, I didn't mention anything about child labour, because nobody dreamed it would come up, until this government came along."
One other group that was consulted on child labour was the nearly $1-billion-per-annum film industry - which actually opposed the changes. Producers and the powerful actors' union are lobbying to maintain the very specific rules (such as how long children of various ages can work under spotlights, minimum length and number of breaks, and chaperone requirements) they had under the previous system.
The goal: to stay in line with labour laws in California, or risk losing American production business. B.C. Labour Minister Graham Bruce has acknowledged this reality in the legislature, and said he would work to accommodate the industry. The most likely scenario appears to be regulations that will be made public when Bill 37 passes into law on December 14.
As for the many groups that specifically represent children and youth, they have been left out of the loop entirely. Most did not hear about the proposed changes until the first draft of Bill 37 hit the legislature in May. Even First Call - a coalition of 60 provincial groups including the BC Paediatric Society, BC Council for Families, Child and Youth Care Association of BC, BC Farm Women's Network, Save the Children Canada, Society for Children and Youth of BC, and the BC Teachers' Federation - was left scrambling to react to the proposed changes.
"No one here thinks Bill 37 is a good idea. It withdraws protections from years gone by," says Steve Kerstetter, First Call's communications advisor. Representatives of the Vancouver-based coalition have asked repeatedly to meet with the labour minister, but have yet to be granted a meeting. The coalition has also asked for input into the regulations that will come into force December 14, but have yet to see a draft.
"Will they be useful, or just a bunch of words on paper?" Kerstetter muses. "The basic problem is that the government doesn't seem to be listening to anyone on this issue."
Yesterday: B.C.'s child labour standards slated to be weakest in Canada
Vancouver based Alisa Smith has written for the Globe and Mail, National Post, Ottawa Citizen and Vancouver Sun.