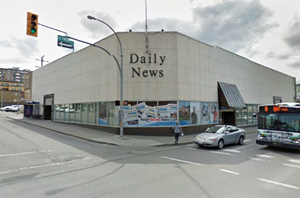 Vancouver-based Glacier Media, which recently gave notice it will close the long-publishing Kamloops Daily News, enjoys profit margins above 30 per cent, according to financial reports available on its website. It also reportedly pays its top executives millions of dollars a year and pays its directors $1,000 for each meeting they attend.
Glacier, which publishes 37 newspapers in B.C., including six other dailies, served the required 60-days notice of closure under Section 54 of the B.C. Labour Code, according to Unifor Local 2000, which represents about 45 of its workers.
In a front-page story, the Daily News blamed its demise on financial pressures. "The reason for the closure is economic -- revenues have declined and The Daily News has been unable to reduce expenses sufficiently to continue as a viable operation." Daily News publisher Tim Shoults attributed the pending closure to a persistent inability to make ends meet.
"We have struggled for the last several years, worked tirelessly and taken many difficult steps along the way which were designed to ensure our future," he was quoted as saying in the article. "Unfortunately the realities of our industry, our local advertising market and our labour situation were too great for us to overcome."
Unifor Local 2000 president Mike Bocking declined comment, saying the union is currently in talks with the company on behalf of its members. A source at the Kamloops Daily News told The Tyee that the newspaper could be closed as early as this week after an agreement is reached with the union on severance pay for terminated workers. Shoults did not respond to a voicemail request for comment.
Move to monopolies
Its latest quarterly report, however, shows that Glacier posted earnings of $66 million on revenues of $219.5 million through the first nine months of 2013, for a profit margin of 30.1 per cent. That was down from earnings of $70.7 million on revenues of $219.9 million in the same period during 2012, for a profit margin of 32.2 percent.
In November, Glacier announced a program of "Value Enhancement Initiatives" designed to "enhance its operations and financial position." Among the listed measures were real estate sales and the sale of non-core assets, including two money-losing community newspapers. "Given the softness currently being experienced in the Company's community media operations, a variety of significant cost reduction measures have and are being implemented to reduce overall operating costs." Included in the cost-cutting measures, according to the Vancouver Sun, has been the contracting out of advertising production to companies in India and the Philippines for several of its newspapers, including the Kamloops Daily News.
In 2010, Glacier sold 11 of its newspapers to Victoria-based Black Press, including the Nelson Daily News and Prince Rupert Daily News, which competed with Black Press newspapers in those markets and were immediately closed, giving Black Press two lucrative local monopolies. Late last year, Glacier also sold Black Press its Abbotsford/Mission Times, which competed with the Black Press-owned Abbotsford News. Black Press promptly closed its new acquisition, giving it another monopoly.
The pending closure of Glacier's Kamloops Daily News, which began life in 1931 as the Kamloops Shopper, continues the trend toward consolidation and monopoly in B.C.'s community newspaper industry. The competing Kamloops This Week, which now enjoys a monopoly, announced plans to increase its publication frequency to three times a week in the wake of the Daily News closure. Kamloops This Week is owned by Kelowna-based Aberdeen Publishing, a small chain that owns about a dozen community newspapers, including in Prince George and Fort St. John, where Glacier publishes dailies. It is operated by the low-profile Bob Doull.
Less-than-glacial growth
Glacier has grown rapidly to rank as one of Canada's largest publishers of small and medium-sized newspapers. In addition to B.C., where it also owns Business in Vancouver, the Vancouver Courier and the suburban Now newspapers, Glacier also owns newspapers in Alberta, Saskatchewan, Manitoba and Ontario. It began life as a bottled water company in 1988 before moving into the newspaper business a decade later.
Glacier grew in 2000, when it bought several newspapers, including the Kamloops Daily News and Prince George Citizen from Conrad Black, who had acquired them a few years earlier in his takeover of Southam Inc., Canada's largest newspaper publisher. Glacier grew considerably in 2006 by buying another 25 newspapers and 73 magazines from Black's imploding company Hollinger International.
It grew again in 2011 by purchasing 23 newspapers from Postmedia Network (the latest incarnation of Southam) for $86.4 million, including the Victoria Times Colonist. Glacier is controlled by Vancouver real estate magnate Sam Grippo and operated by CEO Jonathon Kennedy, a former investment banker and Harvard MBA.
According to the B.C. Reporter, a blog on community journalism in Western Canada that was discontinued in March, Glacier's top three executives were compensated with salaries and fees exceeding $2 million each in 2009. According to the blog, which cited figures gleaned from the company's 2010 annual report, the company's directors were also each paid $1,000 for every meeting they attended. Neither Kennedy nor Orest Smysnuik, Glacier's chief financial officer, returned calls after more than 24 hours.