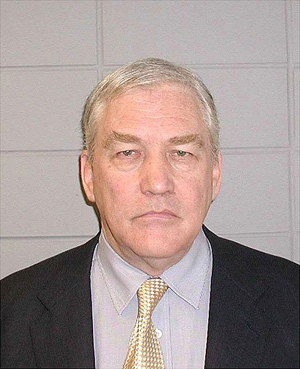 Having recently been released from a Florida prison and somehow been admitted back into Canada despite having renounced his citizenship a dozen years ago, Conrad Black is on a campaign to rehabilitate his image. The litigious Lord Black of Crossharbour has loudly proclaimed the "legal and moral propriety" of the business dealings that landed him behind bars for the past few years.
"A Canadian court would not have returned any convictions on the basis of the facts," Black swore last month in a Federal Court affidavit. "I was treated inappropriately and unfairly." Black is a bona fide historian, with a clutch of weighty biographies to his name, including two of himself. His attempt to rewrite history by whitewashing his own misdeeds will turn more on the public's gullibility and short memory than on his self-serving eloquence and the pleadings of his acolytes in the press.
At stake is Black's prestigious Order of Canada, which was bestowed in 1990, well before he reached his full fame as an international media mogul. Infamy, actually. If you doubt that, check out how he is regarded in Australia, where he cut a swath two decades ago. His back room political dealings Down Under sparked outrage and prompted a Senate inquiry that saw Black beat a hasty retreat from the country.
Black went on to build the third-largest newspaper company in the world by the time he completed his tortuous takeover of Canada's Southam newspapers (my former employer) in 1996. His empire also included the Daily Telegraph in London, the Post in Jerusalem and the Sun-Times in Chicago. Oh, and if you're curious how Black is remembered at the latter publication, check this out.
It all came crashing down, of course, when shareholders of his company Hollinger International started asking questions in 2003 about the lavish sums Black and his right-hand rodent David Radler were paying themselves in "management fees." An investigation showed that was just the tip of the iceberg, counting more than $400 million it claimed Black and others had appropriated for their own use from 1997 to 2003, or more than 95 per cent of Hollinger International's adjusted net income during that period. Its 500-page report detailed what it called a "self-righteous and aggressive looting" of the company by its controlling shareholders and described Hollinger's management by Black and Radler as a "corporate kleptocracy."
Included in the questionable dealings the report chronicled was $8 million of company money spent to buy some personal papers of Franklin Delano Roosevelt while Black was writing a biography of the former U.S. president. It also found Black ordered $40,000 of company money spent on a lavish birthday party for his wife Barbara Amiel, and used the company jet to take her on a holiday to Bora Bora in the South Pacific.
Black's cronies
Most contentious, however, were the millions of dollars in tax-free "non-compete" payments Black and others received after selling Hollinger newspapers in dismantling his empire. Such payments are standard practice when selling a business, but shareholders argued they should have gone to Hollinger rather than to Black and others personally.
Black loudly dismissed the claims as overblown, claimed the payments were authorized, and characterized the dissident shareholders as "corporate governance terrorists." He had long flouted such notions as appointing independent directors, instead installing political cronies like former U.S. Secretary of State Henry Kissinger on Hollinger's board. Most egregious of all, he appointed Richard Perle, a former U.S. Assistant Secretary of Defense under Ronald Reagan, as the third member of Hollinger International's executive committee, along with himself and Radler. Perle admitted to investigators that he signed documents he "generally did not even read." Instead, Perle apparently spent most of his time working on one of Black's pet projects, the 2003 U.S. invasion of Iraq, as head of the Pentagon's volunteer Defense Policy Board.
In the end, as Black rightly points out, he was acquitted of most of the 13 charges against him after Radler turned state's evidence and testified against him. Black was charged with six counts of fraud in relation to the non-compete payments, and was convicted by the jury on three of them. He was acquitted on five other fraud counts, including one relating to the Bora Bora holiday, and on one count of racketeering.
Black was also convicted on one count of obstruction of justice for removing 13 boxes of documents from his Toronto office in contravention of a court order, for which he was sentenced in late 2007 to six and half years in prison. (Who knows what those documents might have shown?) He was also sentenced to five years on the fraud counts, to be served at the same time as the sentence for obstruction. Black won a partial victory on appeal in 2010, when two of his fraud convictions were overturned and his sentence was reduced to three and a half years. But he's still a convicted felon, and a crook by any name.
Surfing his own shift
Maybe we're stuck with him as a Canadian, but to allow him to continue to enjoy the country's second highest honor (after the Order of Merit) is an insult to the others who hold it.
The only way his campaign for absolution can succeed is through a disinformation campaign in a media he helped shift from largely liberal to mostly conservative. His takeover of Southam and founding in 1998 of the neo-conservative National Post helped alter Canada's political zeitgeist. It took a few years, but the electorate eventually went along with the change in perspective, electing Conservative governments since 2006 and handing Stephen Harper a majority at the last vote. Black's acolytes are pushing hard for his exoneration in the eyes of Canadians, but they can't change the facts. He's a crook.