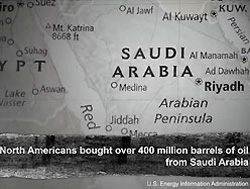 Late last August, EthicalOil.org began running a 30 second TV advertisement on the Oprah Winfrey Network in Canada, chastising America's dependence on Saudi Arabian oil.
"We bankrolled a state that doesn't allow women to drive, doesn't allow them to leave their homes or work without their male guardian's permission," a female narrator said.
"Today there is a better way," she added. "Ethical oil from Canada's oil sands."    
A YouTube video of the advertisement ended with a plea: "Help keep this ad on the air. Visit ethicaloil.org and make a donation today." 
If the subtext wasn't clear enough, EthicalOil.org founder and former federal Conservative Party staffer, Alykhan Velshi, later applauded "the grassroots support from across Canada" which had "made possible" this ad campaign.
In an email exchange with a Huffington Post reporter about the ads, he wrote: "We are 100 per cent independent of government and industry."
The Facebook page for Velshi's website, as well, describes his group as a non-governmental organization based in Toronto, Ontario. 
Yet any online donations to EthicalOil.org appear to go to the Ethical Oil Institute, a non-profit registered in Alberta.
This non-profit happens to share a street address with a prominent Alberta legal firm, one claiming to do business with nearly two-thirds of all major oil sands companies. 
And Velshi's grassroots-supported "Ethical Oil Institute" apparently had enough money to sponsor a celebrity golf tournament in Calgary last June.
"Nobody likes Big Oil, so they like to work through front groups which are seemingly independent," Greenpeace Canada's Keith Stewart told The Tyee. "And these groups usually put forth an oil company agenda in the name of the public interest."
Evolution of 'ethical oil'
The phrase "ethical oil" was popularized last year in a book of the same name by right-wing commentator Ezra Levant. 
The former Western Standard publisher turned tobacco lobbyist turned Sun TV personality argued that oil from Liberal democracies such as Canada is morally superior than, for example, "conflict oil" from Saudi Arabia.
His message has gained political traction in Ottawa, where it's been repeated by Conservative Environment Minister Peter Kent and even Prime Minister Stephen Harper.
This summer, 27-year-old Alykhan Velshi, a former communications director for Conservative Immigration Minister Jason Kenney, took up the "ethical oil" mantle, relaunching EthicalOil.org with support from Levant.
Velshi has since staunchly maintained his independence, telling the Globe and Mail he "won't take money from any foreign corporations, any governments." (Though he did admit in the same interview he wouldn't refuse money from a Canadian company). 
At the same time, he's pleaded with ordinary Canadians to donate to his cause.
"We rely on small donors like you to sustain our grassroots advocacy," reads the EthicalOil.org website. "Please consider making a $5, $10, or $15 donation."
Oil sands industry connection?
Click on the "Donate" button and you're taken to a PayPal page belonging to the "Ethical Oil Institute."
According to Alberta's corporate registry, the "Non-Profit Private Company" was incorporated last March and has the same Edmonton street address as McLennan Ross LLP, a prominent Alberta legal group.
That group, which also has offices in Calgary and Yellowknife, claims on its website to be "one of the few firms in Alberta specializing in oil sands work."
"We've been involved in every aspect of operations within the oil sands since 1975."
These days, McLennan Ross LLP handles everything from regulatory approval to labour disputes for its clients, who comprise "63 per cent of the most dominant oil sands players." 
A recent information request from Greenpeace Canada revealed that the legal group shares more than just a street address with the Ethical Oil Institute.
McLennan Ross LLP lawyer Thomas Ross sits on the Institute's two-person board of directors, alongside Ezra Levant, according to Alberta's Corporate Registration System.
"This is a group that's running TV ads on the Oprah Winfrey network, which means they have cash," Greenpeace's Stewart said. "Canadians should be asking, where are they getting this money from?"
(Neither Ross nor Velshi responded to The Tyee's requests for an interview by posting time).
Celebrity golf tournament
Whether the Ethical Oil Institute's money is coming from regular Canadians or elsewhere, the group had enough of it last June to help sponsor the Kinnear Classic Rockyview Invitational Golf Tournament.
Participants at this year's Calgary event, which raises money for municipal health care programs, included former Eagles guitarist Don Felder and pro golfer Gordon Sherry.
"One wonders why a cash-starved startup non-profit would participate in such an event," reads a blog post on deepclimate.org. "Presumably, you have to spend money to make money, and what better way to introduce the new kid on the non-profit block to Calgary's corporate elite."
Farts 'emit more than that'
This weekend, two weeks of civil disobedience against Alberta's oil sands in Washington, DC, came to an end. It was an event that saw more than 1,250 activists arrested for protesting, among other issues, the industry's large carbon footprint.
Just weeks before the protest began, Environment Canada predicted that soaring oil sands emissions would eclipse any carbon gains made by phasing coal out of Canada's electrical supply.
EthicalOil.org's viewpoint on the controversy? 
"GHGs from the oil sands total just over one-hundredth of one per cent of all the greenhouse gases going up into the atmosphere, or 0.015 per cent," reads an entry in the "Myths and Lies" section on its website. 
"Farts emitted from all the cows and pigs on Canada's farms emit more than that."