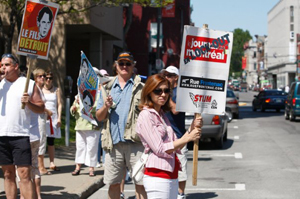 The seemingly interminable labor dispute at Le Journal de Montréal finally ended last week after 763 days when workers voted to accept terms of surrender offered by the newspaper's owner, Quebecor Media. And a surrender it was, as about 75 per cent of the 253 workers who were locked out in early 2009 will lose their jobs. It wasn't the longest labor dispute in Canadian media history, however, as some news outlets reported. A strike at the Castlegar Sun that started in 1999 went on for more than five years.
How ironic that Le Journal got its start in 1964 as a result of a strike at La Presse, which was then the dominant French-language daily in Montreal. Pierre Péladeau, who owned several neighborhood weeklies, took advantage of the strike to start a new daily. Through a young labor lawyer named Brian Mulroney, he offered generous terms to the unions in order to keep labor peace. His tabloid, which focused on sports and crime, took the market lead from La Presse after the conservative broadsheet resumed publishing.
Quebecor is now run by Péladeau's son Pierre Karl, who was reportedly so left-wing as a student at L'Université du Québec à Montréal that he distributed leaflets for the Communist party and even changed the spelling of his middle name in honor of his idol Karl Marx. That all changed once he began to climb Quebecor's corporate structure.
The sorry outcome is a cautionary tale of the perils of media convergence. Quebecor locked out Le Journal workers after demanding contract concessions that included lengthening the work week by 25 per cent without additional pay, reducing benefits by 20 per cent, laying off 75 staff, and introducing an "unlimited convergence plan." It required newsroom staff to produce content for all Quebecor media, including its Canoe (Canadian Online Explorer) websites and its television outlets.
The company was able to continue publishing from behind a picket line for more more than two years using only management personnel, because it owns so many other media outlets in Quebec and across Canada, including the country's largest chain of daily newspapers. It could repurpose the content of those outlets and print it in Le Journal de Montréal to keep it publishing. It skirted Quebec's anti-strikebreaking laws by exploiting a loophole that allowed it to create a news agency to provide this content to Le Journal. This created what some called "the perfect lockout" and resulted in a call for Quebec's labor laws to be strengthened.
Even more disturbing is the power that convergence now allows publishers over public perceptions. Quebecor is a hugely profitable multimedia corporation, racking up record revenues and earnings every year, despite the recent recession. Its 2010 financial figures won't be released for another month or so, but its third quarter report showed that revenues were up 4.9 per cent and earnings rose 9.4 per cent over the first nine months of last year. As usual through last Sept. 30, Quebecor was keeping in profit one of every three dollars of revenue it took in.
Quebecor Media: Year/Revenue/Earnings/Profit (millions)
2006: 2,998 / 788 / 26.3 per cent
2007: 3,365 / 949 / 28.2 per cent
2008: 3,730 /1,121 / 30.0 per cent
2009: 3,781 /1,276/ 33.7 per cent
Yet somehow, newspapers have managed to portray themselves as just hanging on financially due to the recent recession. The fact is that newspapers are still some of the most profitable enterprises going. That seems to be a mystery even to some who should know better, judging by this account of the lockout's end:
"It's just a sad commentary on what's going on with the newspaper business," said Linda Kay, chair of Concordia University's journalism department. "I think we're going through cataclysmic times in the industry. Even for the 62 who do go back to work, it's such an uncertain future."
Here, for the record, are the earnings and profit figures for Quebecor's newspaper division, which is the largest in Canada and includes the Sun Media chain and Osprey Newspapers.
Quebecor Media newspapers: Year/Revenue/Earnings/Profit (millions)
2006: 928 /207 / 22.3 per cent
2007: 1,028 /226 / 22.0 per cent
2008: 1,181 /227 / 19.2 per cent
2009: 1,029 /199 / 19.3 per cent