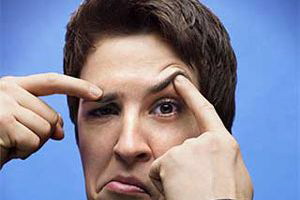 Canada, if I may -- I have a proposition. This fracas surrounding Quebecor media's forthcoming 24-hour news channel, Sun TV News? You know, "Fox News North?" The station so threatening it birthed conspiracy theories about backroom deals between Quebecor and Harper? The station that inspired a 20,000-signature petition condemning its mandatory inclusion in cable packages? That one? I hate the idea of it. And I say, let's throw open the doors and let them in.
Let's clear a few things up. I'm not an idiot. I'm politically engaged (to a point). In my twenty-seven years, I've voted in every election I could, and I make an informed decision at the ballot box.
I admit, however, that when I'm not about to vote for someone I'm not following their every move. If the cogs of government are turning, why should I have to be looking over my shoulder? Of course, history has shown why, but that's beside the point. What I'm talking about is engagement, and what I'm saying is that, unless an election looms, or something is awry—unless I have a stake—I do not pay close attention to politics here in Canada.
But hopefully I will, when Sun TV News arrives. That is to say, I will when our country's now-neutered "lefty" media (hopefully) rises to meet its challenge.
Rachel stole my heart
Here's how I know: Right now, I am über-engaged in the political machinations of a country in which I cannot, nor will I ever be able to, vote. It makes little sense. And yet here I am. And I will tell you why: pundits.
Punditry. Was a dirtier word ever spoken? Don't answer. It was once part of my job to watch the 24-hour news channels (breeding ground for pundits, as a Petri dish is for bacteria), and while I was getting paid, it was not enough to stomach Fox News. And yet, as Fox News festered, so rose its lefty counterpart, MSNBC. Both threw objectivity to the wind, though one threw right and the other left.
Then MSNBC did something brilliant. They hired an Oxford scholar -- a self-described "infrastructure nerd." The first openly gay American to win a Rhodes scholarship AND host a primetime news show. Ladies and Germs: Rachel Maddow.
Maddow is the much-needed yin to the yang of the Daily Show and the Colbert Report -- they uncover the ridiculous and she finds its labyrinthine origins. She holds her own against aging senators and whip-smart young bloggers alike. Smell the air -- that's her youthful, New England lefty-elitist breeze. Savour it.
And while Maddow's not afraid to call out the Dems (she has said, "I'm undoubtedly a liberal, which means that I'm in almost total agreement with the Eisenhower-era Republican party platform"), she spends much of her energy exposing the Republicans' multifaceted, oft-terrifying moves and views. Here's a small example: On a recent show, Maddow revealed that a staffer of House Minority Leader John Boehner authored the Republican midterm agenda. No surprise, except that said staffer used to work for lobbyist groups like Pfizer, Exxon and AIG, and the document was trying to distance itself from this aspect of the party's background. Awkward!
How did Maddow discover this fun link? Well, the agenda was a PDF, so her researcher simply right-clicked and examined its properties. The staffer's name was in the author field. And thus she succeeded at both making the party look stupid, and making them look STUPID. This is a nightly joy for the Maddow viewer. The show also recently took an entire hour -- at the height of the midterm news cycle -- to air an in-house documentary about the assassination of abortion doctor George Tiller. Is your liberal-lefty heart a-flutter yet?
But, you might say, isn't that too easy? Isn't she nitpicking at the bottom of the barrel? Certainly. But unlike Fox News, every tidbit Maddow examines is backed up by research, and she always gives the target an opportunity to respond. Fair and balanced, anyone?
It's called the Internet
Furthermore, she knows her audience: I do not hunker down in front of my TV every night at six to watch the Rachel Maddow Show. In fact, I do not even require a TV. Maddow's show is available for free, from iTunes. I often watch the previous night's show while cooking dinner. Getting a left-leaning American political education is therefore a) free, and b) easy to the point of passivity, the two most salient features of my generation's access to information habits. (The same goes for Colbert and Stewart, whose shows can be streamed on the Comedy Network's website.)
Ah ha, says you, there you go mentioning comedians again. We have those here, in Canada, political comedians! I retort: Yes we do. They say mildly inflammatory things about all politicians, regardless of party or policy, and then go snowshoeing with them. (Cough. . . Rick Mercer.) Tell me how this makes me think, or want to act?
Okay! says you, maybe it doesn't, but even Colbert and Stewart have -- quite literally -- rallied against the nuttiness of punditry. They hosted the Rally to Restore Sanity, in D.C., and 200,000 people came! How can they be in favour of punditry when they wish to calm things down? To this I say, good point. Then I say, please realize: Stewart, Colbert, Maddow? They exist because of this system. They may wish to draw attention to the wackiness, but they do not truly wish to restore sanity. Perhaps in the "second amendment remedies," Tea Partiers, abortion-doctor-killers sense they do, but if they actually restored sanity, they'd be out of a job. Understand, Canada, that they are Newton's Third Law at work: the equal and opposite reaction to every O'Reilly, Beck and Gingrich.
So you admit it, you say: Maddow and Co.'s high-and-mighty tone, their methodical madness, is a further cleaving of an already divided nation! A nation that's less about have and have not and more about think and think not! Perhaps so, but at least this way the ignorance and arrogance of both sides is brought to the fore, not hidden behind attempts at being magnanimous. Sunlight is, after all, the best disinfectant.
Relieve Canada's boredom
Fine, you say, but remember that I am Canadian, galdarnit! We're not like that here! We're sensible. We're parliamentary. We're all "Mr. Speaker" and "the Honourable." Our government doesn't do untoward, scary, divisive righty/lefty things here!
Sure, sure. And I'm a fake lake.
My point is this: I know the names, faces and policies of a fair number of American politicians, because of Maddow's show and her diligent reporting. I can't say the same thing about Canada. I know my own premier. I know my prime minister. I know the possible replacements, come election time. I don't know anyone else, anytime else. And worse, I don't hear near enough about what they're up to. Why is this?
I'll tell you why: Canadian political TV is boring. The news networks here are staid. In an effort to remain sane, other cheek turned from our screeching neighbours to the south, we've drained the colour from our own political life. Our punditry, if it can be called that, lacks the bombast, the direct-to-the-gut punch of U.S. political commentary. This is supposedly a good thing -- it shows our intelligence as a country that we don't have to yell. We can discuss. We can roundtable. We don't need to restore sanity. But might we need to restore interest? There are awful things afoot here -- the dropping of the Kyoto accord, the systematic disassembly of women's rights, the fragmentation of our health care system, to name a few -- but I only see them in the back pages of newspapers, hear them analyzed in low, dulcet tones on the CBC. I'm half asleep before I can even engage.
So I say: What if the birth of Sun TV News has a Newtonian consequence? What if Fox News North breeds MSNBC North, and our very own Rachel Maddow rises from the mist, one fist tight around a PhD, the other clutching a MacBook? Would that be so bad for you and me?