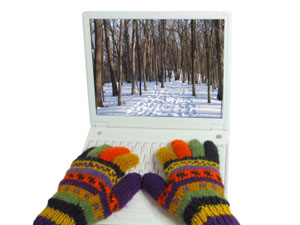 It was a holiday gathering much like any other, until I was introduced to a fellow "media person." To my surprise and amusement, he happened to be the director of communications for the Canadian Olympic Committee (COC). I had a million questions: What did he think of independent and social media? What about the resistance to the games? What does his job actually entail?
Apparently, the director of communications is primarily responsible for keeping the "rights holders" happy and making sure they get to the front of the line of any sought media moment. His job seems to be to ensure that big media maintains its gatekeeper status. As for social and indie media, he didn't have much to say -- they aren't a part of his job. When I asked him about those critical of the games, he gave me a look that read, "Yeah, there's a few people who don't like the games, and that's too bad..."
At the very least he seemed unprepared.
At worst, he's working in a media ecology that doesn't exist anymore.
Crumbling big media and a new media force
Fellow Fresh Media co-founders Kat, Vivian, Jacqueline and I have noticed an interesting development through our work with Fresh Media -- there is an influx of public interest in innovative web-based media. Our Fresh Media festival in October 2009 was an amazing success as nearly 300 Vancouverites filled the venue to the rafters, joyfully interacting and creating new media together. Why was it so successful? Perhaps because it captured the excitement and optimism that people feel for the new dynamics created by the open web, and the general web practices and values that are embedding themselves across the spectrums, from electronics to medicine to public space.
With big media in a state of crisis and new independent media taking up increased amounts of market share, media, communications and society itself are in a state of flux. It is becoming increasingly evident that big media is losing its stride, with new stories emerging every day about how that decline is being realized. Canwest has lost many of its leading newspapers to creditors and Rogers has fired media workers across the country at its various CityTV operations. Meanwhile, compared to 2008, the number of visits by British Columbians to TheTyee.ca rose by 26 per cent, and overall traffic to the site has increased to 3,167,783 visits. In Vancouver, two new publications -- The Vancouver Observer and Megaphone -- have vastly expanded and reinvigorated their work over the last year.
Bloggers like newly liberated journalist turned blogger Frances Bula are also helping fill the void. Citizen media platforms like NowPublic, and social media tools like Twitter and Facebook, have increasingly become go-to sources for breaking news and first-person accounts. Social media is now recognized not merely as a tool for news, but also a driver of it. Look at the 216,000 people who have now joined the Canadians Against Proroguing Parliament Facebook group and the 60-plus rallies and media sensation that resulted -- all this from an upset grad student in Edmonton who simply decided to use Facebook to vent. In terms of hard numbers, stats published by Nielsen show that social media usage has increased by 82 per cent in the last year!
A focal point for media innovation
With new venues emerging in Vancouver that are dedicated to citizen-produced art, ideas and journalism -- like W2's Media House -- and with Vancouver's active social justice scene, the Olympics could be a lot more inclusive and dialogue-focused than other mega media events. With so many resources set up for Vancouver residents to get involved -- as legal observers, citizen-media analysts with blog stations at W2, tweeters sharing updates with the world from the streets (see The Vancouver Observer), or protesters/participants of the Games themselves -- there will be a truly awe-inspiring variety of voices and views represented both on the web and in the physical world.
Community organizations like PIVOT and the B.C. Civil Liberties Association are also committed to working with the media in order to protect citizen-based free speech throughout the games. PIVOT hopes to catch the attention of the 14,000 plus reporters that will be here to cover the Games with their Red Tent campaign by handing out bright red tents stamped boldly with the words "housing is a right" to some of the more than 500 people in Vancouver without shelter.
The B.C. Civil Liberties Association will unleash hundreds of volunteer legal observers into the streets with video cameras to report observations. BCCLA's team of volunteer lawyers is prepared to go to court to protect people's rights where complaints cannot be resolved informally. You can bet that any violations of civil liberties caught on tape will quickly be uploaded to the web and shared using social media. In a sense, all of us will be legal observers and protectors of citizen rights during the Games.
Make the Games FRESH
The inherent value of Fresh Media lies in its collective re-imagining of traditional forms of media. W2 will be hosting a Fresh Media Olympics conference to re-imagine a major social event by bringing it back to the citizens. The conference will encourage participants to seize this mega-media moment on Feb. 22nd and tell their own version of the Olympics story. The conference features keynote speaker Andy Miah, author of "A Digital Olympics: Digital Games, Ethics & Cultures," and panels with senior journalists, bloggers, and industry watchers from the U.S.A., U.K., Canada and elsewhere.
The W2 building itself -- situated in the heart of East Hastings (that infamous strip known to the world as "Skid Row") and home to bare-boned rooms filled with laptops, artwork, boardroom tables and the murmur of media making -- is known for its collaborative atmosphere. It is that atmosphere that makes the W2 building an ideal headquarters for citizen-led media during the Olympics. W2's open meeting platform means there will be an exciting mix of professional, indie, citizen journalists, artists, and social media enthusiasts all in one space during the Games.
All this activity doesn't necessarily mean that the overall meta-narrative of the Olympics will be that different. But it does mean that everyday people have an opportunity to participate in creating a narrative around the games and that as a result, there will be more than just one story or version of the Games. It's hard to say what those stories will be, but everyday people will get to play an active role in shaping them. With social media tools in the hands of Olympic fans, and pervasive reporting by citizen journalists and bloggers, will social media have its real journalistic coming-out party this February?