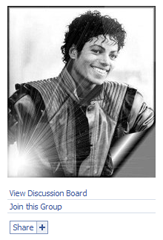 Millions watched live on TV. Many more followed online. Despite claims of ambivalence, MJ-overload, and "obitutainment" fatigue, the public's interest in Michael Jackson's death and subsequent eulogizing has met and arguably exceeded that of Diana, Elvis, Lennon and James Dean. It's what happens when primal emotion meets both the analog and digital ages.
As one commentator answered the question, "How big is the MJ memorial?," "Just imagine if there was an Olympic sport in which Elvis, Frank Sinatra, the Beatles and Mozart duked it out with nuclear weapons. Maybe that would be a bigger deal."
Jackson's memorial, tickets to which were given away on a lottery system, then sometimes sold for up to $20,000 online (with many fans flying in from overseas, even without a ticket) was broadcast live on a dozen channels, including each of the big networks. It was also shown free of charge in more than 50 theatres across the U.S. I've met very few people who tuned in to none of it.
During the 10-day grief-a-thon, ratings for cable news channels have seen the largest spike since the presidential election, and CNN's ratings alone have been up 85 per cent in the 25- to 54-year-old demographic, compared to the average audience year-to-date.
But more interestingly, mourning happened even more online than on or off TV. The memorial was live-streamed on dozens of sites including Facebook, MySpace, TV network sites, and media outlets like the New York Times. More than 30 per cent of Twitter posts were about Michael Jackson 10 days ago, and all 10 top Twitter topics were about him on Tuesday. That's not even mentioning the millions of blog and comment forum posts about him.
That's the great irony of this grief: it's over a celebrity who could only have become this famous in an analog time, being mourned in a way that could only happen in a digital age.
Twenty years ago, the few media outlets that existed crowned the rare pop kings and queens, and fed us information through the TV and print one-way highway. Now, so many outlets cater to different tribes that seemingly as many musicians exist as fans -- so there can't be one King of Pop like MJ. But those same channels mean when there is a topic of common interest, the Net can spread (mis)information fast.
So MJ's mourners have created the biggest funeral phenomenon ever, not only because of sheer numbers (due to the analog age), but because of their ability to connect quickly with each other (due to the digital age). We might never see this confluence of factors again.
But as with Diana and other recent mass-market memorials, everyone starts asking whether the criers are idiots. I mean almost none of them have ever met him or know the real him. And most are swept up in a groundswell -- they wouldn't be crying if others weren't too. But I'm not going to tell his mourners to beat it because the MJ phenomenon is hitting on three big anthropological forces that we're all susceptible to. Ahem.
Death of a friend
Jake Halpern, author of Fame Junkies, writes "Humans who formed groups in ancient times increased their chances of survival and reproduction," so evolution created a kind of internal mechanism that makes us stressed when we're isolated and stimulates the production of opioids -- chemicals in the brain that make us feel pleasure -- when we have social relationships.
Scientists in the 1950s found that people form "para-social" relationships with people on TV, which are very similar to "face-to-face" relationships.
People have seen and heard so much of MJ -- first in his music and music videos, then on the Internet and some on tour -- that to many, he is as real as their "actual" acquaintances.
Almost everyone I know has a story they want to share about MJ: a sighting in Disneyland, a moonwalking-related accident, a copycat white glove-wearing year. To me, he's like an estranged school friend: I knew him back then, haven't seen or heard from him till last week. But now, he's the only topic of conversation.
A symbol of sadness
And to boot, though he may have been a perpetrator, he was clearly a victim. Which means extra outpourings of emotion.
C'mon, admit it, whether or not you like MJ, or think he was talented, you think it's sad that he died young of a heart attack, leaving three kids behind to a tangle of custody battles.
And like all famous people, he's come to symbolize not just the triumph of his own brand, but the tragedy of his personal failings. And of the latter, there are plenty.
You, and millions of your closest digital and real friends, have probably mused, even in passing, about how messed up he was. And then have gone on to bemoan the prevalence of parental abuse, painkiller and drug addiction, appearance obsession, and vanity not just in his life but in the world. That it's a tragedy that culture is obsessed with something as empty and unrewarding as fame. That self-loathing can lead to such self-destruction. That being messed up can lead to harming other innocent people.
So the mourning over Jacko's death is only about him a little bit, and more about what's connected to him.
Lightning rod
Then there are people whose blues might be triggered by this mass mourning thing, but not connected to him or his darned issues at all. They mention him in passing, and then delve into the tragedy of the recession, current wars, Iran, torture, incompetence, the real estate situation. An alien might assume that as North Americans, we don't handle sadness very well, and big mourning events for one person tend to open the floodgates.
The memorial cost the L.A. taxpayers $3.5 million. One friend said that given how much he brought to L.A., it was still a good investment. But it seems to me like it's an investment getting our collective grief out.
Related Tyee stories: