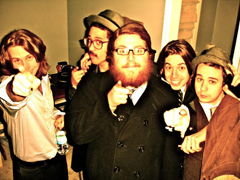 One of my biggest regrets is not being part of a successful but understated groundbreaker of a rock band while still a young man.
When I was in my early twenties, I held pre-"Spoonman" Soundgarden as the ideal. Later, as my façade of integrity began to influence my musical taste, I longed to be a member of indie rock heroes Archers of Loaf, followed shortly by a brief but torrid love affair with Pavement. By my early thirties, regret had all but set in as I endlessly spun Modest Mouse discs, drunkenly lamenting to all who would listen that this is the kind of band I would love to be in. Deep down, of course, as my floppy hair thinned and my ability to stay up past Craig Kilbourn's opening monologue waned, I was fully aware that the window of opportunity had been painted tightly shut.
And like all grandiose dreams of youth, I promptly set if free, lest the pain of regret scar me even deeper.
But now, as I close in on forty, a little band called Manchester Orchestra has somehow made it okay to dream once again. Oh, I am not suggesting the boys in Manchester Orchestra have inspired me to transform into one of those aging troubadours belting out well-crafted anthems that never quite hit their mark (see: The Hold Steady), but it's the passion with which this Atlanta, Georgia quintet delivers its big-brained brand of rock and roll that has made the hurt go away. It's as if its songs are so good, they make me forget my own regret, wanting nothing more than for the world to hear such greatness while Manchester Orchestra inspires a whole new generation of future music fans long on dreams and short on talent.
The band's second release, Mean Everything to Nothing, is as brilliant an album as I've heard since, well, its near impeccable debut, 2006's I'm Like A Virgin Losing A Child. Churning lyrics and hard-hitting arrangements swing hand-in-hand with an approach reminiscent of rock and roll's earliest days. Singer/songwriter Andy Hull and company tackle topics far beyond those of their peers (i.e. partying), while still maintaining a charm that the shallowest of toe-tapping hipsters can get behind. Throughout the album's filler-free tracklist, Manchester Orchestra channels the hookiness of Spoon, the unique familiarity of Built To Spill, and the energy of At The Drive-in -- but Hull's distinctive serenade and the band's progressive-without-ever-being-challenging arrangements still manage to deliver originality above compare.
For a record review, that may be laying it on a little thick. But my love of Manchester Orchestra is about more than just the music; I love that it's taught me to dream again. And even if I know my dream won't come true, Manchester Orchestra still manages to deliver me to a place where, at least for a little while, it doesn't matter. And what more can you ask of a rock and roll album?
Manchester Orchestra comes to Vancouver's Commodore Ballroom for a two-night stand starting on August 18.
Related Tyee stories: