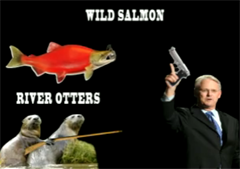 Gordon Campbell hates river otters and has tried to kill grandmothers -- or at least, this is what a new online video claims.
In light of the Election Amendment Act, 2008 -- better known as the notorious Bill 42, a law that, among other things, limits third party advertising spending in the three months preceding a provincial election, something many are calling a gag law -- it is widely expected that online videos like this will prove increasingly popular tools in the run-up to B.C.'s May election. After all, when a campaign is shocking enough or funny enough or compelling enough, it goes viral on the Internet. And viral is free.
"Gordon Campbell Hates You," is part of the MoveForwardBC campaign funded by Local 378 of the Canadian Office and Professional Employees Union (COPE 378). Despite the video's goofy narrator, over-the-top claims and low-fi quality, this campaign brings some serious heat. Designed to draw attention to the premier's flips, flops and flubs over the last eight years, the MoveForwardBC campaign spotlights the union's acrimony towards El Gordo.
COPE 378's controversial campaign is starting to generate both hits and hate -- the latter coming from BC Liberals who claim the campaign sinks to new lows. While it is too early to call the campaign a success, it is a clear sign that COPE is not content to wait and see what results from the legal action brought by it and six other B.C. unions to overturn the election law. The campaign creatively undermines the Libs' legislation by serving as another reminder that you don't necessarily need a ton of cash to get your message out to the people.
And in this, COPE 378 isn't alone: several other campaigns are starting to generate buzz, including one from B.C. citizens protesting the election law, independent construction companies hating on the NDP in their VoteSmartBC campaign, and the NDP itself gets in the game with VoteSmartBCExposed. We'll see what the coming weeks bring -- the real players are likely to get into the mix a little closer to election day -- but if these opening salvos are any indication of what's to come -- well, then, betta getcha popcorn.
Related Tyee stories: