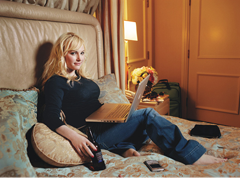 This week, one woman said another woman was fat. The insulter didn't say it to the insultee's face; the insulter said it to other people in a public forum.
OK, I'll admit this schoolyard-style behavior probably happened far more than once this week. So I'll be more specific, though I'm loath to lend the insultee any more publicity (more on that below): right-wing pundit Laura Ingraham body-snarked on Meghan McCain, blogger daughter of John McCain. And the story spread like wildfire to both newspapers and tabloids, where many people expressed outraged about the slight, jumped to her defense, and even declared allegiance to Team Meghan. I'm with them on the first point, anyway.
I'm also with anyone who notices the oversized double standard. There are few or no remarks made about a man's shirt (besides the odd sweater vest), jacket or pants size when he performs a job (save when his job is directly related to his physique, say in...oh, I don't know...powerlifting?) Sure, a few people have commented on Obama's greying hair, but none have remarked on whether he shed those campaign pounds, or finally recovered from the campaign by re-gaining a few. Case in point: I know about Cindy McCain, Michelle Obama and even Carole James' weight, having read countless articles about them, but don't know anything about Barack Obama, Michael Ignatieff or Stephen Harper's relationship with the scales.
And sure, Al Franken was the toast of all media for his book Rush Limbaugh is a Big Fat Idiot. But in that case, most people knew that was a figure of speech, and that even if it wasn't, it wouldn't matter because there are no consequences to a man's career or status for being a few pounds up on the scale. Men don't have to talk about loving their curves, or tell anyone to "kiss my fat ass," because it simply doesn't matter.
Weight as 'red herring'
I'm not saying fat is an irrelevant issue altogether. Obesity is a major health issue, and food overconsumption is arguably plumping out our footprints faster than SUVs.
But weight is a red herring, an ad hominem (ad-hermanim?) attack when it comes to evaluating someone's work. It's not that I want to protect women from criticism; it's that I want to grapple with the substance of their words, not of their girth.
In this case, there are more than enough substantive, if not weighty (sorry), criticisms of Meghan McCain's work to fill hundreds of column inches. McCain's Daily Beast articles show her to be a frequently self-obsessed, lightweight writer, who gratuitously and repeatedly mentions her famous dad. A recent column focused on just how hard it is to get a date when you have a famous dad, and like, are right wing and stuff.
"Of all the things people warned would happen post-election, no one ever said anything about how complicated dating would become," she writes. "Especially if your dad loses the election. There are things that have been difficult, but nothing quite as tough as dating. I fear the election has destroyed my ability and desire to date. Now, I cannot say at any point in my life that I have been very good at dating. But I have become something I used to despise: people who let politics dictate his or her attraction to someone."
Big fat nepotism
Even the fact that she has such a prominent publishing platform is a nod to the supposedly extinct age of the aristo-brats, which also deserves attention, and column inches, and rigorous discussion.
But instead, she's been offered countless opportunities to repeat the pseudo-empowering phrase "kiss my fat ass," which also acts as a shield against legitimate criticism of her work.
Because of this attack, McCain now has the sympathy vote. As Gawker pointed out, "rabid nutcase pundit Laura Ingraham called Meghan McCain fat. Wonderful, now we're stuck with her, Laura.
"She was on TV, and she was inarticulate and boring. But then Laura called her fat! And now Meghan gets to take the high ground in a 'I tried to have a serious debate about the issues and look what happened' piece."
Like many, I have a dream that my sisters will one day live in a nation where they will not be judged by the size of their jeans, but by the content of their character and the quality of their work... or lack thereof.
Related Tyee stories: