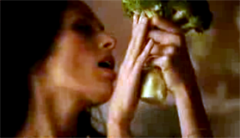 Last week PETA (People for the Ethical Treatment of Animals) unlocked the secret to how to make a video go viral -- get your Super Bowl spot banned by NBC. Known for using sexually suggestive imagery to promote its cause, the organization's latest consciousness-raising effort depicts lingerie-clad women prancing around erotically with veggies.
As ridiculous as that might sound, PETA was denied the opportunity to invest in one of NBC's coveted $3-million Super Bowl ad slots. However, the mainstream media attention and hundreds of thousands of YouTube hits the organization has enjoyed since their video was banned has been much more strategic -- and free.
On the other hand, getting banned by YouTube, as the AIDS Healthcare Foundation (AHF) discovered, is enough to kill a campaign. Last week, the AHF's video targeting Chicago-based pharmaceutical giant Abbott Laboratories Inc. was mysteriously removed from YouTube. The AHF's video of a fake interview poking fun at Abbott CEO, Miles D. White, was released as simultaneous protests were held in Colombia, Mexico and the United States targeting Abbott over the pricing of its key AIDS drug, Kaletra. Abbott allegedly charges five to 10 times the amount per HIV/AIDS patient per year for Kaletra in Mexico and Colombia than it does for patients in many other middle-income or low-income countries. Though AHF's video was set to air as a commercial on select Chicago-area television stations, its YouTube debut was killed.
Cases of censorship on YouTube like the AHF's have been bugging bloggers since the site's inception. The YouTube community guidelines are relatively clear: no videos that include scenes with copyrighted material, sex and nudity, hate speech, gratuitous violence or dangerous and illegal acts. (Interestingly, there's no mention of libel or defamation, though perhaps that's implied?). But, as some point out, no one seems to have a problem with Rambo chopping off someone's head, or the PETA video for that matter, which arguably contains explicit sexual content that objectifies women (and veggies). This has some thinking that YouTube is less concerned about upholding the site's guidelines than keeping viewer complaints to a minimum.
So, politicos beware: get banned from a major network and win free publicity. Get banned from YouTube and lose your chance to be the next Dramatic Chipmunk.
Related Tyee stories: