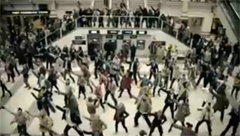 It's a nice idea, one you've probably dreamt up before or seen in a movie: You're on your way home after a long day at work, shuffling amidst hundreds of other commuters, each immersed in their own thoughts. Then the music hits, and everyone starts to dance...
Well, that's what happened here:
The dance was created by the ad agency Saatchi & Saatchi for mobile phone company T-Mobile UK. Some 350 dancers took over Liverpool Street Station in London last week for the dance off.
The concept is nothing new, really -- the flash mob has been around since at least 2003. And the New York City-based art troupe Improv Everywhere has been doing things like this since the start of the decade. The troupe's most recently staged event -- a no pants subway ride -- has also been a big hit online, but hasn't generated quite the same buzz as the dance routine.
The difference between the two is in the orchestration. Nothing like this has ever been so well organized on such a massive scale. I guess that's what a massive ad agency, one of Britain's top choreographers and a group of professional dancers will do for you.
Footage from the event first aired Friday during a commercial break from the U.K.'s popular celebrity Big Brother, and it's already been viewed some one million times on various online video sites. The "fully-integrated" campaign will also be shown in cinemas, print and radio. The company has also created a YouTube channel where people can upload videos and rehearsal footage.
It's an exciting clip to watch, and does succeed in capturing some of the spontaneity and joy seen in other flash mob scenes. There does seem to be, however, an unusually high number of sequences showing people talking on their cell phones.
Patronage is nothing new in the art world, of course. And we've seen clever online campaigns like this before. The wildly popular "Where The Hell Is Matt?" series showing a dancing Matt Harding at points around the globe -- which has amassed more than 30 million views -- is sponsored by Stride Gum.
If anyone thought online technology would democratize art, they were only half right. The flash mob -- even logistically speaking -- would not be possible without Internet to get the word out about an event. But here that idea is turned on its head -- the event has already taken place, and now Internet is being used to spread the message. And the message they want to get out is not just that "there are often unexpected, wonderful, exciting things that happen" -- as the company's press release says -- but also that you need a T-Mobile phone to share those moments.
It's hard to look past that.
Related Tyee stories: